It's safe to say that you can't think about Imagination without our GPUs coming to mind, and in our eyes, you can't think RISC-V without using one of our GPUs.  That's because we have some serious pedigree in graphics processors.  
With over 30 years of PowerVR GPUs, we know our way around a graphics processor. In that time, we have continued to innovate to maintain a technological lead in the graphics market. PowerVR's unique tile-based deferred rendering (TBDR) architecture was revolutionary back in the early 90s, while as recently as 2020, we delivered multi-core GPU technology with our B-Series, opening a whole new range of performance points. We followed that in 2021 with IMG CXT, the first mobile ray tracing core that remains the most efficient on the market, sitting at Level 4 of the Ray Tracing Levels System (RTLS).  
All our GPU innovations can operate alongside a RISC-V CPU. Our broad graphics performance range means that we have IP to fit any project. High quality, bug free IP is our focus and as one of the most established players in the industry, with long-term support always available to customers, we can help you quickly integrate our IP into your RISC-V project to ensure its success.  
The best performing GPUs for RISC-V 
When putting together a complex chip you want to know you can rely on the technology inside. PowerVR GPUs are created by one of the most dedicated graphics processor development teams in the world and is tried and tested in many leading markets, for example, in smartphones with MediaTek's Helio P90 and P95 series, or in Renesas' R-Car automotive SoCs (system on chip).
No matter what scale of product you are putting together, our GPU range includes a solution to match. Our GPUs range in performance from 1 to 72 pixels per clock and 16 to 2,304 FLOPs/Clock - and beyond with multi-core. Different GPUs have different optimisations, so depending on your target SoC you can opt for a GPU targeting area efficiency, power efficiency or performance efficiency. For example, in our B-Series, the BXE-1-16 is highly area efficient and perfect for a cost-optimised RISC-V-based set-top box product, while the desktop-level BXT-32-1024 MC4 focuses on top-level performance efficiency.  
Great software support 
Of course, hardware is only half of the puzzle. We strive to ensure our GPU software is best in class and supports the latest APIs (Application Programming Interface), making it quicker for our customers to get differentiated products to market, and easier for developers to create cutting-edge applications on our IP. Our commercial driver is fully optimised with market-specific features and is continually updated throughout the year to support the latest software trends. It has supported RISC-V as a target application processor for Imagination GPU based SoCs from Release 1.13 onwards. 
Alongside this, we are working on high-quality open-source GPU drivers, aligned to open-source coding standards, that allows silicon vendors, OEMs, and graphics developers to take control of their complete graphics software stack. This means users can add, remove, and customise features for their specific use case without the need for a licence, approvals or any other cost or logistics. The open-source driver initially supports Vulkan 1.0 on Linux, with plans to extend support to OpenGL ES. 
At Imagination, we are committed to our long-term strategy to support open source, and our resources and community are the perfect fit to pair with the open-source RISC-V architecture.  
A proven and robust ecosystem 
It's all well and good to talk the talk about PowerVR GPUs being the best partner for RISC-V, but we can also walk the walk. There are RISC-V products on the market already featuring our GPU IP.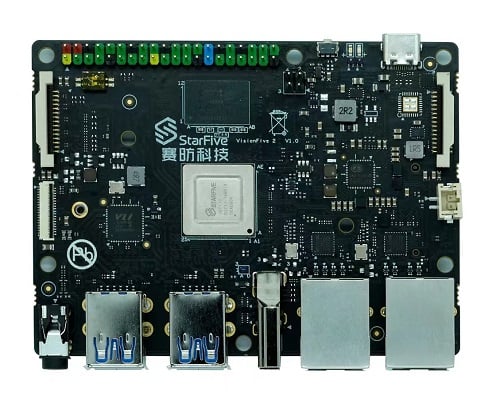 StarFive's VisionFive 2 board
Last year, StarFive selected our IMG BXE GPU IP for its VisionFive 2 single-board computer (SBC), the world's first RISC-V SBC with 3D graphics capability. StarFive said it selected our GPU due to our "proven track record of delivering high-quality semiconductor IP across industries" that led to our GPU being selected and stating that our GPU offers "considerable advantages in power, performance, and area (PPA) for cloud, industrial, networking, consumer, and automotive applications."  
In the video below of an automotive cluster application demo running at Embedded World 2023, the StarFive VisionFive 2 Board with its quad-core, 64-bit U74 CPU running at 1.5GHz can be seen working seamlessly with the IMG BXE GPU.  
As another example, Alibaba licenced our IMG B-Series GPU for its T-Head Semiconductor AIoT applications. The video below shows the high-performance T-Head TH1520 with a quad-core Xuantie C910 CPU running a preliminary version of Android 12 for RISC-V at Embedded World 2023, supported by an IMG B-Series GPU and NNA (Neural Network Accelerator). 
Jianyi Meng, Vice President of Alibaba T-Head Semiconductor, says: "We're delighted to collaborate with Imagination. The combination of its GPU and NNA IP provides an ideal solution for our low-power and cost-efficient AIoT products. Getting the right performance-power trade-off allows us to unlock more possibilities in applications, and Imagination is a strong partner in this aspect."  
Lessen the RISC with Imagination
When selecting a GPU for your RISC-V project, it's important to work with someone committed to this architecture's success. We have been an active member of the RISC-V community for many years and recently upgraded to Premier RISC-V International membership level confirming our commitment to growing the RISC-V ecosystem.  Alongside this, our current university programme (IUP) offers an award-winning RVfpga training course that accelerates the use of the RISC-V architecture. All the above, and more, solidifies our RISC-V expertise – and emphasises why our GPUs and RISC-V are a match made in heaven.  
To keep up to date with the latest development from Imagination follow us on social media on Twitter, Facebook, and LinkedIn.