In December 2019 (in what seemed like a different world) we announced IMG A-Series, which, as the fastest GPU IP ever created, we were proud to describe as, "The GPU of Everything." We were perhaps a little premature with that naming as with the arrival of IMG B-Series we have a GPU range that is ideal for everything – and more! OK, that might not make sense, but Buzz Lightyear's "to infinity and beyond!", catchphrase was equally nonsensical, and everyone loves him! In all seriousness though, GPU launches are regular occurrences at Imagination but it's no exaggeration to say the launch of the new B-Series is the most exciting yet in its recent history.
There's a lot going on in B-Series, so we'll unpack it bit by bit. As ever, we have our three-standard ranges of GPU, so for B-Series, that's BXE, BXM and BXT, representing the entry-level, mid-range and high-end. This time they are joined by a fourth – the BXS – our cores focused on automotive safety. We've already announced the XS family for automotive, and BXS marks the first available cores for that market.
Do More With Multi-Core
What's special about B-Series is the sheer range of options available. There's a total of 33 to choose from so if there's a performance point you need, you're likely to find it in our B-Series. It means we can deliver fantastically small cores for the most area-sensitive use cases, while the design can scale up to help us reach exciting new markets. (Did someone say cloud gaming? Read on to find out more). This wide range of options has been made possible due to the key feature of the B-Series architecture – multi-core. This is something that is standard fare in the desktop and mobile CPU space, but it's something of a big deal for GPUs – especially for mobile IP.
That said, it's not a completely new development for us – our highly successful 5XT-series range features multi-core, this time, it operates in a fundamentally different way that makes it far easier to scale up to larger cores.
We call this a "decentralised multi-core", where cores can be added without having to rely on a central unit. The cores can also be configured to be used to run either independently or combined to collaborate on the same task, which can be useful depending on the market and the use case.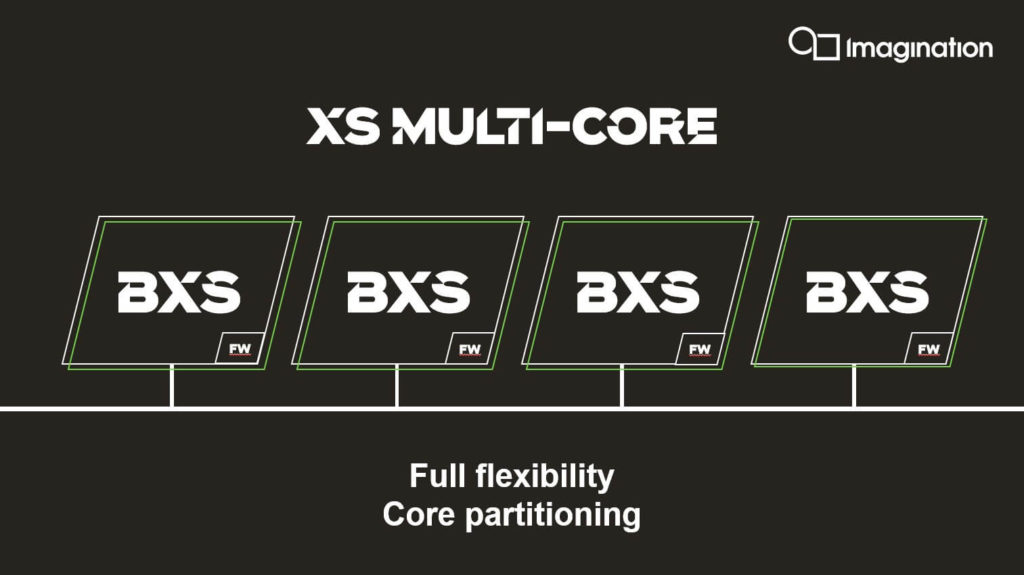 To learn more about how decentralised multi-core works in greater detail we'd recommend reading our flyer. To summarise, the key benefits are that it enables us to offer a greater range of options to our customers as we can now offer configurations between one and four cores
This enables us to double, triple or quadruple performance, without needing to radically redesign layouts. We refer to this as physical design flexibility and is critical for our customers who can now scale up their designs much more easily. For example, the work they put in to lay out a single-core design can be reused for an "any-core" solution, reducing costs and accelerating their time to market.
Another key boost over our previous markets is power efficiency; we've taken the excellent A-Series and increased power efficiency up to a further 30%, based on cores manufactured on a 7nm process.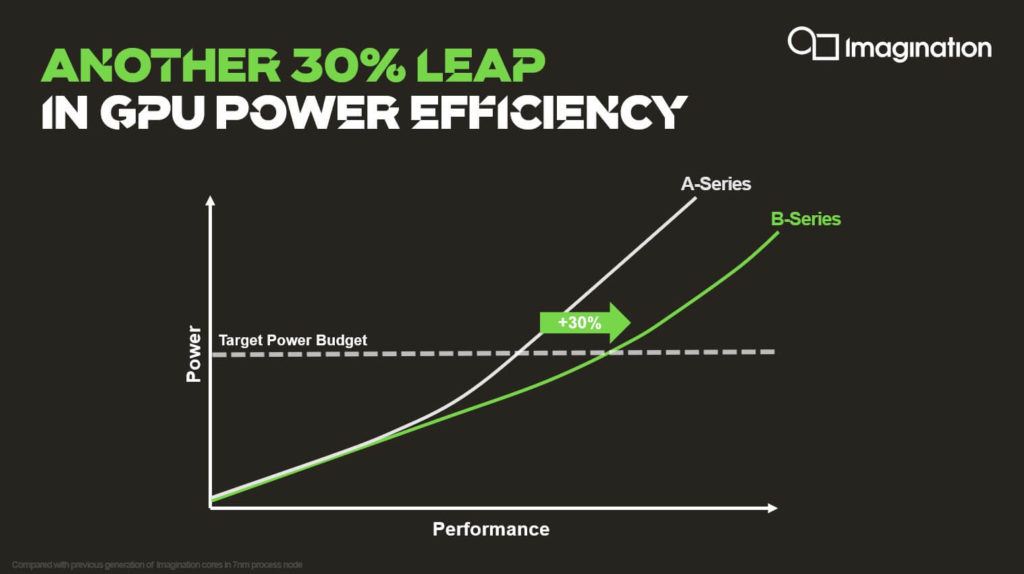 More image compression options
Another major boost to B-Series is the arrival of Imagination's latest image compression technology, IMGIC, (or "Eye-Magic" as we like to say). We believe IMGIC is the most advanced GPU image compression technology in the market today. It builds on our already impressive PVRIC4 with four modes of compression.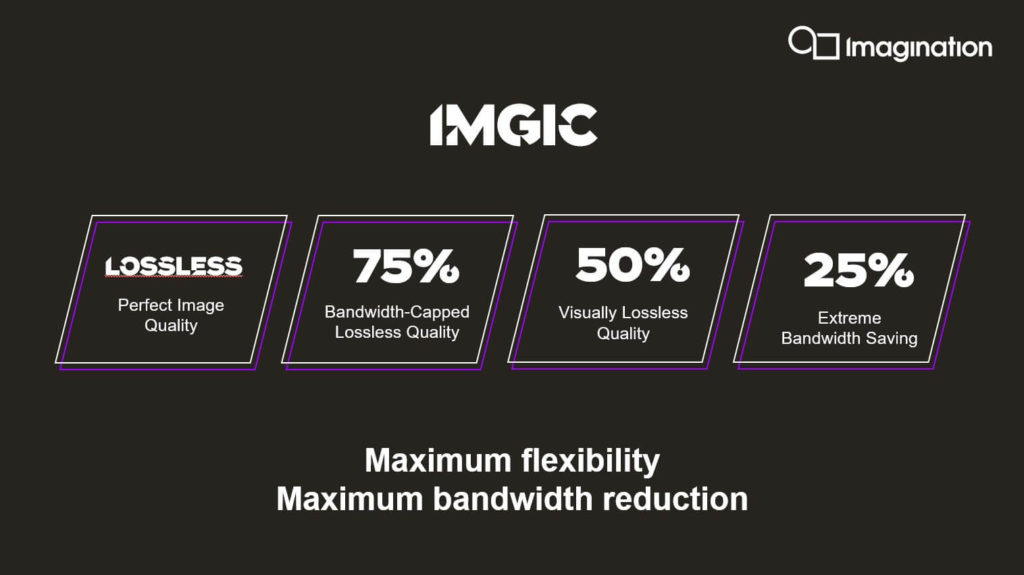 As we had before there's a fully lossless mode and a visually lossless 50% minimum (2:1) compression mode. However, system builders now have the choice of two additional modes – a 75% mode, applying a 4:3 compression for even better quality, while providing a bandwidth cap, or a 25% (4:1) compression as an extreme bandwidth-saving mode for when the user experience trumps the need for quality. What's great about IMGIC is that it uses less silicon area than our previous compression blocks and has broad compatibility so can be applied to our previous Series 9 and A-Series cores and will also be the standard for our future cores.
For beautiful high-resolution displays
With an area-saving of up to 25% over our 9-Series cores, and up to 2.5x the full rate performance, BXE is perfect for markets such as the IoT, which needs small but powerful cores. For example, BXE 1-16 delivers 1Gigapixel/s 16 GFLOPS, while still containing IMGIC. Scale up to a four-core part though and you have the BXE 4-32 MC4 – with 16 gigapixels/s and 128 GLOPS. This means you can offer native 8K GUIs for DTV or media streaming sticks, with no need to upscale from 4K, providing a better user experience for next-gen products.
For more complex graphics experiences
If you want to add complexity to those displays, be it for DTV, set-top box or automotive, or offer superb gaming for a mid-range mobile, then BXM has that perfect mix of fill rate and compute – the BXM 4-64 offers 16 gigapixels/s and 256 GFLOPS.
Unprecedented performance for new markets
It's with the BXT range that things get really interesting. With a BXT 32-1024 MC1 offers 1.5 TFLOPS of performance, while the flagship four-core "MC4" part offers an incredible 6 TFLOPS, 192 gigapixels/s fill rate and 24 TOPS of AI/neural network performance, taking us firmly into desktop graphics card levels of performance.
We are aware that on forums and social media, we are often asked when we might return to the desktop graphics add-in board market. With our high-end Vulkan®-capable BXT configurations we can scale up beyond mobile and up to desktop and cloud solutions, so this is something that is certainly on our radar. Indeed, we are excited that we have already a licensee for BXT, who will be using it to build graphics solutions for the nascent Chinese cloud-gaming market.
Of course, we are not forsaking the mobile market and the BXT makes a formidable partner for premium, high-end solutions for smartphones and tablets, delivering outstanding performance combined with high-quality graphics, and great power consumption characteristics.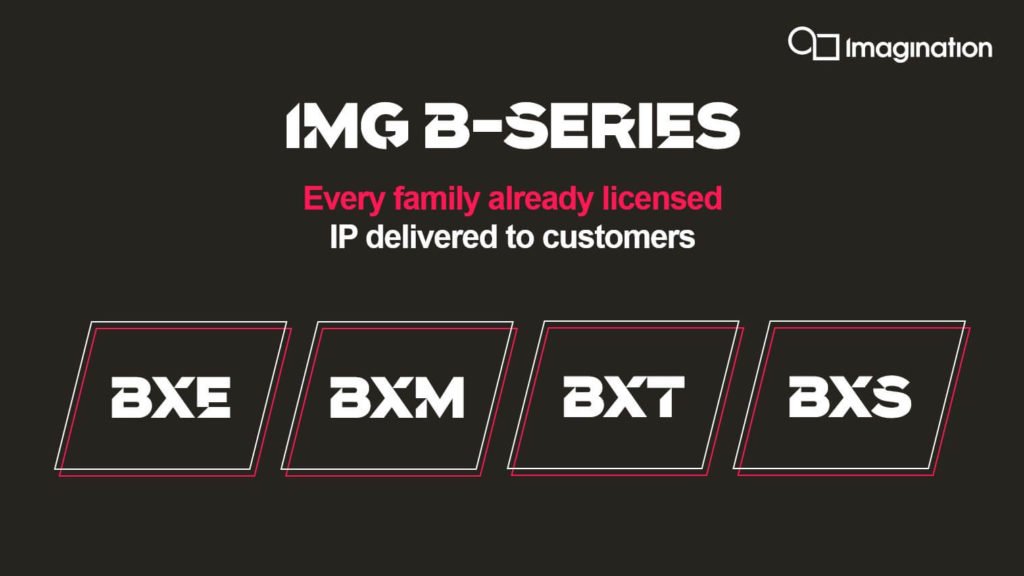 With great power comes great responsibility
The final piece in the B-Series puzzle is the BXS range, the world's first cores designed specifically for automotive safety. We unveiled our XS range of cores back in July, so read our blog post to learn all the details of what these provide. As a summary, these cores are built using our processes that have been independently verified to conform to ISO 26262, the safety standard for automotive electronics. As such, it makes it quicker and easier for our customers to integrate them into systems that are designed to be functionally safe, ensuring that it can detect and log errors and permit the system to respond accordingly. These cores are not only designed to be relied upon to display critical information on high-resolution digital dashboards, but they also have the compute power to run advanced driver assistance systems (ADAS) and have been optimised to run ADAS applications with greater efficiency than any other cores on the market. Naturally, as well as the hardware they are supported by our Imagination safety-critical driver and are supplied with all the documentation that goes along with ISO 26262 conformance.
A key feature underlying the BXS range is Tile Region Protection (TRP), where render checks are performed only on those parts of the screen displaying safety-critical information, so we can maximise performance while maintaining safety. Our loosely coupled decentralised technology means that where functional safety is not necessary, multi-core solutions can either be set to run together to maximise performance or, when it is required, to check each other's output for the highest levels of safety.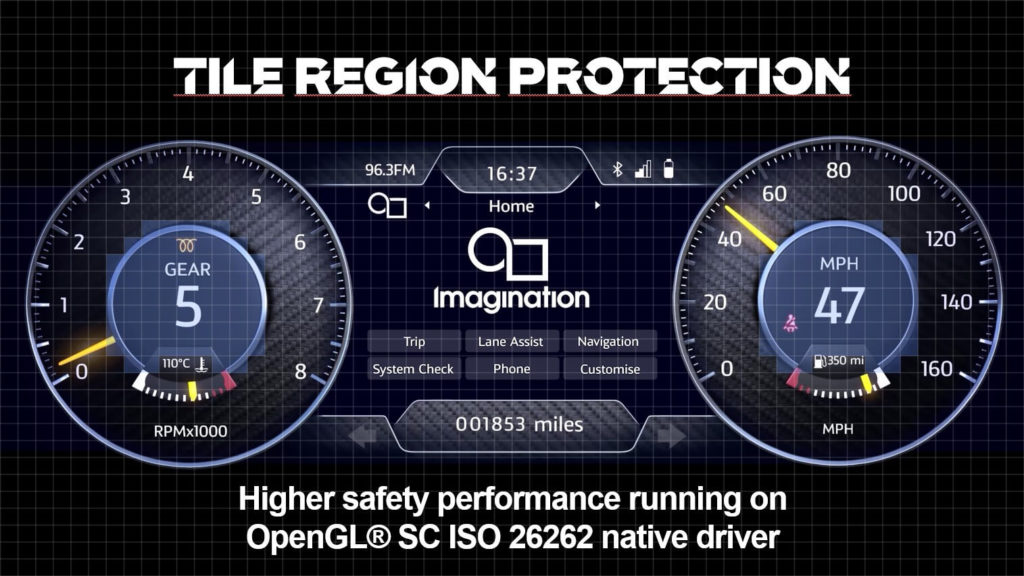 Of course, as well as multi-core our GPUs also offer hardware virtualization, a feature that we have had for several years. This uses our HyperLane technology so that even within each core you can run multiple applications, on different OSs, with full isolation and security, offering even more flexibility for automotive applications. On top of that, with AI Synergy the same GPU could be used for both graphics and AI applications. For example, in an automotive use case, using a dual-core GPU, one display could be funning a functionally safe dashboard, while the other GPU could be using its graphics performance to run an infotainment screen and its AI performance to run a driving monitoring function, all at the same time, with full robustness and security.
One more thing…
With so much to get excited about we would normally be happy to leave it there, but we never are ones to rest on our laurels. One feature that many might be wondering about is ray tracing. It's one of the biggest buzzwords in graphics and we know that many will be keen to know when it will arrive in Imagination IP. The answer is next year, now that we are reaching these higher levels of performance, we can confirm that we will be delivering an industry-leading "Level 4" ray tracing solution in IMG C-Series. We recently established the six levels of the Ray Tracing Levels System and you can read our recent white paper to learn more about these.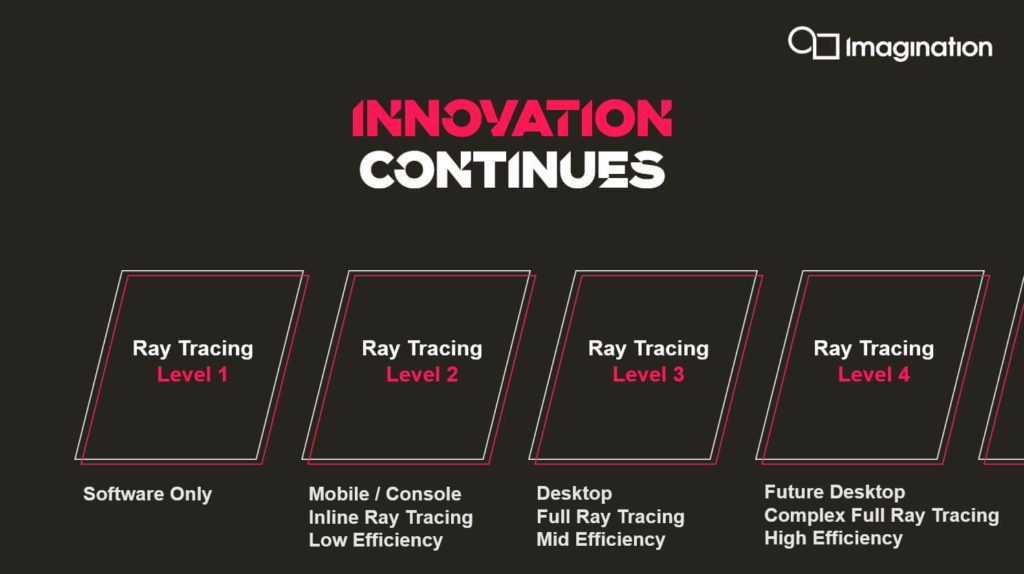 Incredible performance and flexibility
B-Series then represents Imagination's most powerful ever designs, meeting the demands of a wide range of markets along with superb design flexibility. Raw performance, with features such as multi-core, IMGIC and TRP makes for industry-leading GPU IP solutions so it's no surprise that we have licensees across all product families. We have great options for small but powerful processors for the IoT, for everyday, affordable smartphones, and also for exciting new areas such as cloud gaming.