This year MWC and GDC 2015 are happening during the same week which is unfortunate for me because I really enjoy going to both events.
Although attended by different demographics, a common theme you will be hearing next week is how the exponential increase in performance is paving the way for console-quality graphics on next-generation embedded devices, including smartphones and tablets.
In this article I would like to give you a teaser of what I'll be talking about next week to the many press and analysts who will be visiting our booths in Barcelona and San Francisco, respectively.
PowerVR GT7900 is a super-GPU designed for ultimate performance
At last year's Mobile World Congress, I unveiled PowerVR GX6650 – a high-end Series6XT GPU for flagship devices; the announcement was covered by AnandTech, The Register, VentureBeat, Android Authority and many other publications.
Now I'd like to focus on PowerVR GT7900, the highest performing GPU from our Series7XT family. We have already seen eight cluster configurations used in mobile devices and we expect this trend to continue, especially since the new 14/16 nm process nodes offer significant improvements in performance, power and area.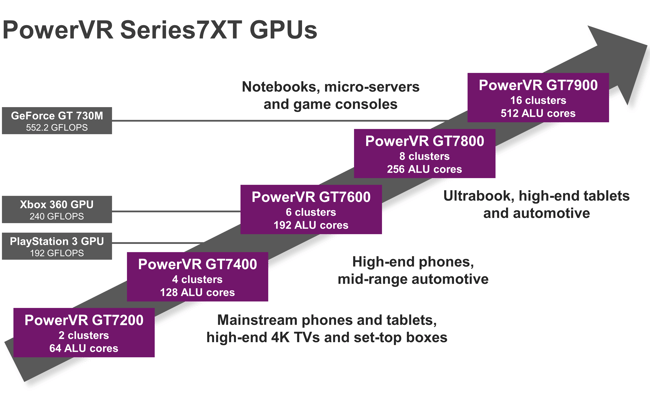 PowerVR Series7XT GPUs scale from two to sixteen cluster configurations
However there is a new category of devices that can use these embedded GPUs: affordable game consoles.
PowerVR GT7900 is a super-GPU designed for ultimate performance in embedded applications; this new design takes everything from its predecessor and turns the dial to 11:
For example, peak GFLOPS performance is more than tripled thanks to a 2.6x increase in ALU cores and further architectural improvements.
Analyzing the architecture displayed in the diagram below, we find 512 ALU cores (vs. 192 in the GX6650) arranged in 16 unified shading clusters (USCs). For those who want to learn more about the internal architecture of our Rogue USCs and our definition of an ALU core, you can read this blog post from my colleague Rys.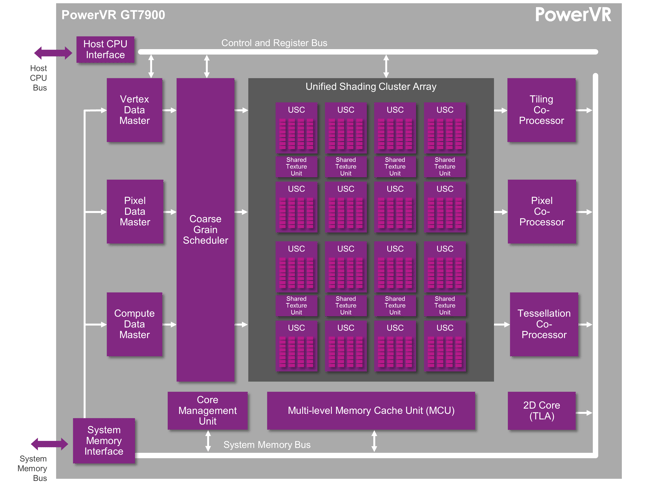 The internal architecture of our high-end PowerVR GT7900 GPU
PowerVR GT7900 delivers the ultimate PC-class gaming experience for embedded devices: it packs the complete feature set for OpenGL ES 3.1 + AEP (Android Extension Pack) compatibility, including full hardware support for tessellation and ASTC LDR and HDR texture compression standards.
We've also added virtualization at the GPU level to complement the same technology found in our MIPS Warrior CPUs; this is a unique feature in embedded graphics which enables multiple operating systems to run concurrently in secure containers at the platform level.
Take the heat off
One of the most common problems affecting flagship devices targeting ultimate performance is overheating. This is where an unbalanced design can really cause issues under long-term usage due to an inefficient architecture.
PowerVR GPUs deliver sustained performance thanks to a sophisticated TBDR architecture that has been refined over the years to deliver unmatched efficiency.
The chart below shows compares several mobile devices running a demanding graphics application – the same type of content you would encounter when playing a console-level game; notice how our quad-cluster PowerVR Rogue GPU outclasses competing solutions while also maintaining sustained performance: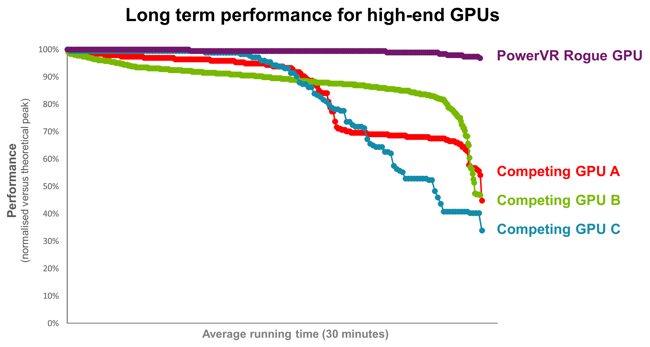 PowerVR GPUs deliver sustained performance over time
To help system designers prevent thermal throttling, we've also implemented an advanced power saving mechanism called PowerGearing which enables the GPU to shut off parts of the design in power-constrained applications.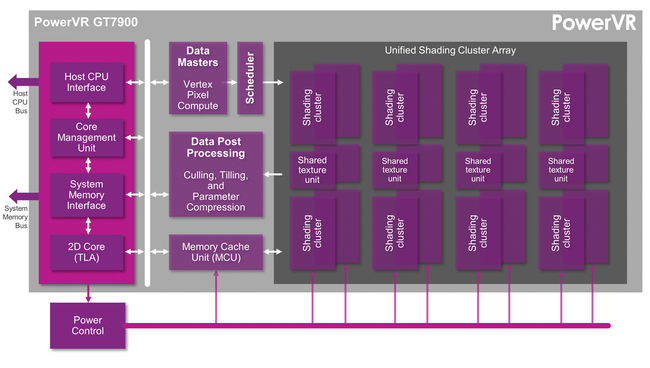 PowerGearing is an advanced power saving mechanism designed to prevent thermal throttling
Furthermore, PowerVR GT7900 includes a low-power FP16 mode which can provide more than 1 TFLOPS of graphics and compute performance within constrained power budgets.
At a target frequency of 800 MHz for 16nm FinFET+, PowerVR GT7900 delivers 800 GFLOPS in FP32 mode and 1.6 TFLOPS in FP16 mode.
4K resolutions and beyond
PowerVR GT7900 is the second generation of GPUs to feature native 10-bit YUV color support. The diagram below shows how system architects can build a high-performance platform capable of handling 4K resolutions at 60 fps and beyond from capture to display; this includes:
Main processor: dual-threaded, quad-core MIPS I6400 CPUs organized in two clusters delivering best-in-class performance for Android 5.0 Lollipop
Multimedia: PowerVR GT7900 graphics processor (GPU), PowerVR Series5 video encode and decode processors (VPU), PowerVR V2500 camera processor (ISP)
Connectivity: Ensigma Explorer radio processor (RPU) for high-speed, low latency 802.11 ac 2×2 Wi-Fi, Bluetooth 4.0 (and Bluetooth Smart) and digital radio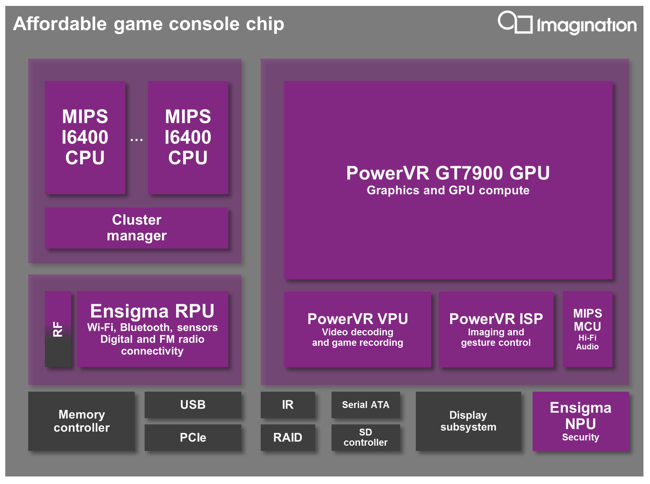 An example of a chip designed for affordable game consoles
For consumers, PowerVR GT7900 – and the Series7XT family in general – will usher a new era of console-like gaming experiences. To give you an idea of the level of performance these new high-end GPUs will be able to achieve, here are a few screenshots from Dwarf Hall, our latest demo to be shown at GDC 2015.
Dwarf Hall implements console-quality effects and runs on high-end PowerVR Rogue GPUs
Some of the effects we've implemented in Dwarf Hall include:
1 million triangles per frame in some scenes
Deferred shading with 128-bit physically-based G-buffer
Many dynamic lights
Multiple specular probes treated as lights
Soft particles
Lens flare effects
Full post-process pipeline with colour correction, saturation, dynamic exposure and HDR tonemapping
I'm really excited to see how our partners will use these new high-performance parts in designs coming later next year.

If you are at GDC 2015 and want to learn more about the future of mobile and embedded graphics, make sure you don't miss our idc15 developer day. We will also be showing our latest demos running on PowerVR Rogue GPUs.

If you will be at MWC 2015, drop by our booth to see some console-quality content running on PowerVR Rogue GPUs; you can also click on the button below if you'd like to book a meeting.

Book a meeting at MWC 2015

Make sure you also follow us on social media ( @ImaginationTech) for the latest news and announcements from both these events.