It's hard to believe but Imagination's PowerVR technology has achieved its silver anniversary – 25 years of leading graphics technology. To celebrate, we take a look back with a brief history of where PowerVR came from and how we got to where we are today.
In the 1990s, graphics technology entered a period of explosive innovation and growth. Around that time we saw the first commercial graphics processors capable of 3D rendering, video and GUI acceleration, and the introduction of open applications programming interfaces (APIs) for 2D and 3D graphics. A number of exciting new companies entered the market with innovations that would ultimately move graphics beyond PCs and game consoles and into mobile devices.
One of these new, exciting entrants to the semiconductor market was a small company called VideoLogic, founded in the UK in the 1980s. The company originally focused on video (hence the name), using a combination of technologies developed in-house and leading third-party solutions. In the summer of 1992, just over 25 years ago, the company began a new project in the area of graphics. The project, which would become PowerVR, led to the development of an entirely new method of rendering 3D graphics; one that we believed would give us a notable lead over rivals.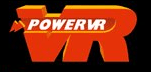 The very first PowerVR logo
This key innovation was a tile-based deferred rendering (TBDR) technology which we introduced in the mid-90s.
VideoLogic's PowerVR architecture was the first consumer deferred renderer. The basic idea behind deferred rendering is that visible pixels are drawn, and the covered/occluded pixels are discarded. This was a very different method compared to the traditional rendering process at the time, which drew every pixel, even if the rendered output would never be visible. With TBDR, PowerVR processors were able to make better use of system memory and dramatically increase overall efficiency. (Read our blog post for an in-depth look at TBDR)
At first, only two people worked on the project: Martin Ashton and Simon Fenney. Martin and Simon created an FPGA demo version of the architecture which was shown in secret at SIGGRAPH '93, the annual conference on computer graphics.
In July 1994, the company was listed on the London Stock Exchange, first under the name VideoLogic, then later as Imagination Group plc. There were a lot of expectations from our first shareholders and we relied on PowerVR to deliver it.
The initial target for PowerVR Series1 was arcade systems. As we made progress on entering that market we also created PC-based solutions in conjunction with NEC, which were packaged and sold to the mass market PC OEMs and direct to consumers under our own VideoLogic brand, and later other brands, such as Matrox. The PowerVR Series1 products, the PCX1 and PCX2, were introduced in 1996 and 1997 respectively.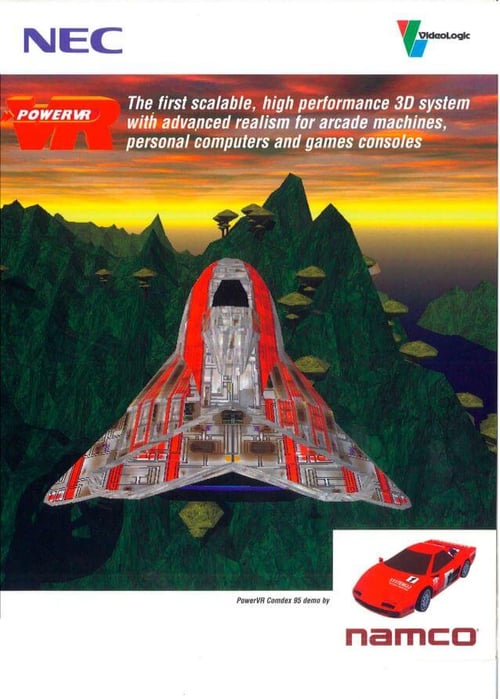 An NEC/VideoLogic brochure from 1995
PowerVR Series2, also developed with NEC, was integrated into Sega's Dreamcast console, which was released in Japan in November 1998, as well as in Sega's Naomi arcade system. Naomi games found in arcades at the time included House of the Dead 2 from Sega and Power Stone from Capcom. By 1999, NEC had shipped over one million PowerVR 2DC chips to Sega for use in the Dreamcast and Naomi systems. This was a major coup for PowerVR as it had been in competition with 3Dfx for the Sega slot. Sega went on to ship over 10 million Dreamcasts.
There were also PowerVR Series2 products for the PC (the NEC Neon 250 graphics accelerator) and other arcade and gambling systems.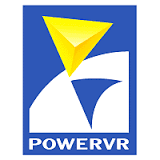 The logo from the first commercial PowerVR boards

The PMX1 – a prototype of what later became the Neon 250
A strategic relationship with STMicroelectronics in 1999 was instrumental in bringing PowerVR technology into dozens of new products from a wide range of brands, such as Hercules. ST's KYRO was the first full-featured PC graphics and video accelerator based on Imagination's PowerVR Series3 technology.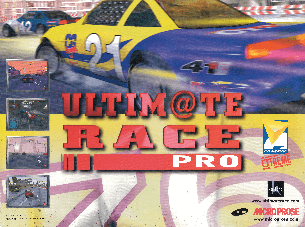 Ultim@te Race Pro was a racing game released in North America and Europe in 1998
While we were enjoying our success with the two major customers making chips based on our technology across several segments – arcade, console, PC, gambling etc., we decided to make the technology available to the wider market as IP.
In 1999, the company formally refocused on intellectual property licensing, and we changed our name to Imagination Technologies to better reflect these IP licensing activities.
Consequently, the company was split into two operating business units. The PowerVR Technology division developed and marketed PowerVR graphics/video technology, and the VideoLogic Systems division produced a range of innovative and award winning products in the areas of 2D/3D graphics and multimedia.
Imagination was awarded the title of 1999 Company of the Year in the prestigious PLC Awards, sponsored by PricewaterhouseCoopers in association with The London Stock Exchange and the Financial Times. Then in April 2000, Imagination was awarded two Queen's Awards for Enterprise for the work of the PowerVR Technologies division.
As is inevitable in the fast moving technology space, we were faced with a double challenge of finding new customers after Sega axed the Dreamcast and STMicroelectronics pulled out of the PC graphics market.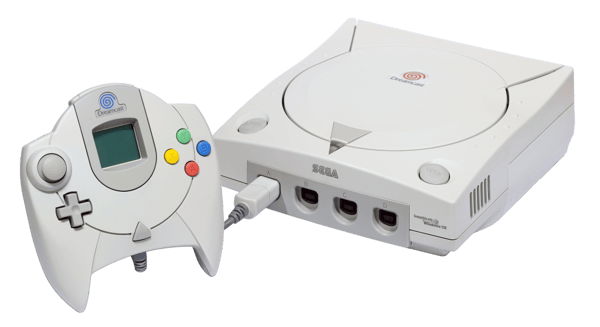 The Dreamcast was hailed for its leading-edge graphics and is now regarded as ahead of its time.
Nevertheless, our role in making the Dreamcast a technical success was noted by another big-name manufacturer, who approached us about creating GPUs for them. However, we realised that we would have to commit the entire PowerVR team to support this so chose not to pursue this. We did return to the console market some 10 years later when we supplied the SGX architecture to Sony for its handheld PS Vita.
In the meantime, we announced another long-ranging strategic decision: we would take the PowerVR architecture into mobile devices. While even the best mobile computing devices of the late 1990s had precious little graphical capability, we were convinced that PowerVR technology, which had been designed with low power consumption in mind, could enable a revolution in mobile visual applications.
With innovative differentiators such as TBDR, as well as low memory bandwidth and low-power advantages, PowerVR GPUs were well positioned to kick-start the mobile graphics revolution. Beginning in early 2001 we signed a number of strategic partnerships and launched a new product family for mobile: PowerVR MBX. MBX featured our PVRTC texture compression technology, which enabled mobile games to be implemented in much smaller file packages – a significant factor in those days.
Initial PowerVR MBX mobile licensees included Hitachi, Renesas and TI, and it was a key component of the STMicroelectronics Pocket Multimedia (PMM) platform. MBX ended up licensed by seven of the top ten semiconductor manufacturers at the time.
2005 marked a major milestone with the introduction of the PowerVR SGX GPU architecture. The first SGX cores targeted mainstream and high-performance mobile graphics with a feature set that exceeded OpenGL ES 2.0 shader requirements. 2005 also marked the introduction of PowerVR video encoder and decoder IP cores.
By the end of that 2006, there were more than thirty handsets using PowerVR GPUs in production from a range of vendors, including handsets from Nokia, Samsung, NTT DoCoMo and Sony Ericsson. However, as remarkable as it seems now, many people still doubted that mobile 3D graphics had legs.
Then in 2007 the iPhone was launched with PowerVR inside and with its app store model, unlocked the developer market: 3D games took off, the vast majority of them running on PowerVR devices either on NTT's DoCoMo platform, Apple's iOS or the newly launched Android OS.
In 2010 we acquired Caustic Graphics, a developer of hardware/software real-time ray-tracing graphics technology, and as of 2017 Imagination has turned this technology into the licensable PowerVR Wizard ray tracing IP.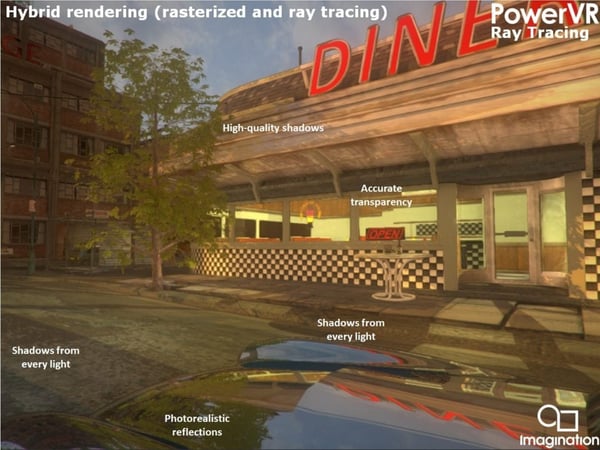 In 2012, Imagination introduced the PowerVR 'Rogue' GPU architecture, which we are still shipping today, alongside the newly introduced Furian architecture.
Of course, PowerVR GPUs are also capable of doing more than just graphics. As enter a new world of machine learning, the GPU is becoming the new CPU. By supporting compute-based APIs such as OpenCL, Renderscript and Filterscript, the PowerVR architecture delivers vast parallel processing power and we are enabling new applications in vision and AI. These new markets represent a new front for the technology industry and PowerVR stands ready to take advantage of the opportunities.
Back in 2001 we had shipped over 15 million units and thought we'd done well. By 2008, PowerVR graphics were the de facto standard in mobile graphics, reaching a milestone of having been shipped in over 100 million consumer products. A quarter of a billion PowerVR-enabled devices had shipped as of 2010, and by 2013 that number had reached over 1 billion units. Today, that number is well over 4 billion and PowerVR is still at the forefront of graphics technology for mobile and embedded applications.
Today, we are in a huge range of markets including TVs, streaming devices, smartphones, tablets, watches, VR, automotive, gaming, Chromebooks and more; and we have customers around the world in the USA, Russia, China, Taiwan, Japan and Europe.
We had over 50 competitors in the 1990s. Today, you can count the survivors on one hand. We have faced many challenges and while we are today going through another phase of disruption, we are committed to continuing to do what we have always done: make the best embedded GPU technology in the industry.
There has been a quarter of a century of PowerVR-based products and as we execute on our strategy and continue to innovate we look forward to seeing PowerVR in many more iconic products in its future.
A promo video from NEC Electronics for PowerVR PCX1 video board – 1996.