The past year has seen our PowerVR graphics technologies maintaining and extending their leadership. Design wins continue to flourish worldwide, as many new devices with both Series5/5XT and Series6 GPUs have been released, particularly in emerging markets.
This significant growth in high volume smartphones and tablets (China and Taiwan being major areas) has promoted the PowerVR Series5/5XT 'SGX' as the dominant GPU. Moving forward, next-gen PowerVR Series6-based devices will bring a whole new level of performance and power efficiency to end users, enabling developers to create even more amazing applications that take advantage of the latest graphics and compute APIs such as OpenGL ES 3.0, OpenCL 1.x, Renderscript and others.
Here is what the people at Sunset Lake Software, the guys behind the GPUImage project, have said about our latest generation GPUs:
That GPU [PowerVR] is a break from the others, with some operations on it being 10-100 times faster than the previous generation. It's a real monster when compared to other mobile GPUs. – Optimizing Gaussian blurs on a mobile GPU, Sunset Lake Software
One of the reasons for our continued success is the strength of our ecosystem. We've grown the PowerVR Insider program to more than 45,000 active developers while our efforts to optimize Android apps for MIPS has lead to one of the highest platform compatibility in the industry (over 93%).
A selection of the best mobile games of 2013
Although amazing titles are released to iOS or Android on a weekly basis, here are some of the best mobile games of 2013, in no particular order.
Infinity Blade III – ChAIR Entertainment Group (Epic Games) – Unreal Engine 3
Epic Games has been one of our leading partners ever since the first PowerVR-based smartphones were introduced. The company is responsible for the bestselling Unreal Engine which is designed to accelerate developers' productivity for creating high-quality games and applications, training simulations, 3D visualizations, digital films and animated entertainment.
Their current-generation UE3 game engine has been thoroughly optimized for our TBDR architecture; have a look at Niklas Smedberg's (Senior Engine Programmer for Epic Games) presentation from GDC to understand how they were able to bring AAA games to mobile platforms.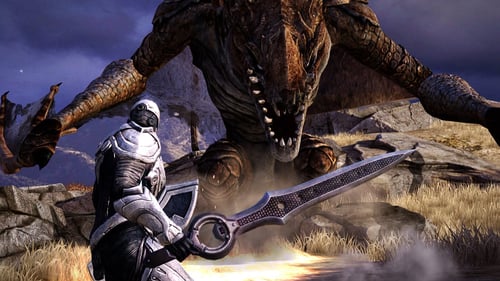 Infinity Blade makes full use of the latest features of OpenGL ES 3.0, featuring full-screen anti-aliasing, bloom, full-screen vignettes, distortion, high-resolution shadows, and environmental reflections.
Asphalt 8: Airborne – Gameloft
Gameloft is one of our leading partners for both Android and iOS and its Asphalt 8: Airborne game is the newest addition to the popular racing series. The game features a brand new physics engine and includes 47 selectable cars, with 37 new models making an appearance. Asphalt 8: Airborne features stunning visuals thanks to next-gen PowerVR Series6 shaders that include real-time geometry reflections and other amazing effects, including new Infected and Drift Gate modes and a detailed damage system.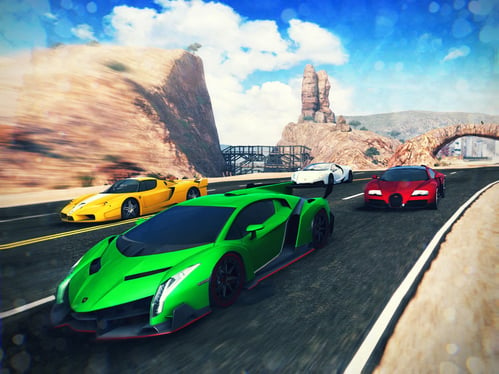 Modern Combat 4: Zero Hour – Gameloft (Montreal) – Havok Engine (Intel)
The number one FPS is back with new maps, a blockbuster solo campaign and new multiplayer modes. Modern Combat 4 offers gamers the ultimate FPS experience with console-quality graphics and sound. Players can feel the chaos of war on the battlefield with lifelike animations and dynamic objects that push the boundaries of mobile gaming even further. Moreover, Mobile Combat 4 brings a new level of realism as it is the first Gameloft title powered by the Havok Engine for amazing ragdoll effects.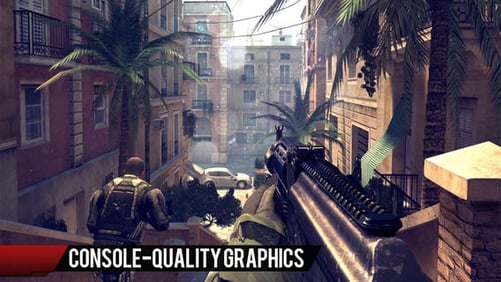 The Havok Physics Engine supports three-dimensional real-time collision and complex dynamics of rigid bodies. It provides multiple types of dynamic constraints between rigid bodies and offers the fastest, most robust collision detection and physical simulation technology available. The Havok Physics Engine has been used by leading game developers in over 400 launched titles and many more in development.
Clumsy Ninja – Natural Motion – Euphoria
Clumsy Ninja takes the interactive characters genre to new heights. Natural Motion said Clumsy Ninja was downloaded more than 10 million times in its first week; at that rate, the title could be on track to be one of the most successful iOS games of all time. It boasts several 'industry firsts': it is the first mobile title to use the Euphoria animation engine for realistic animation and character behaviour and, at launch, became the first app to be promoted with a video trailer embedded in the App Store.
Real Racing 3 – Firemonkeys (EA) – Mint 3
Real Racing 3 delivers the full mobile racing experience. Powered by the remarkable new Mint 3 Engine, Real Racing 3 features persistent car damage, fully functioning rear view mirrors, and dynamic reflections for a super-enhanced racing reality. Enjoy a rich, next-gen game with the most advanced cross-platform social and competitive racing community ever.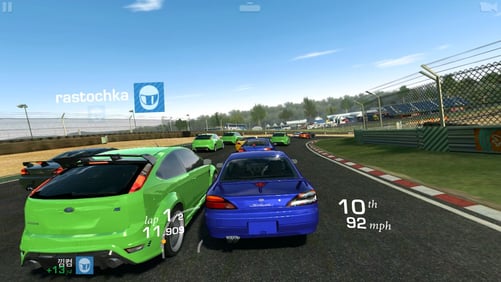 Here's a review of Real Racing 3 running on one of the many PowerVR SGX544-based platforms out of China:
Real Racing 3 really makes PowerVR SGX544 MP2 shine against Mali-400 MP4, as you can see in the animation below. The game is very smooth in [Kimdecent] CS868, whereas it's a bit choppy in [Tronsmart] T428. The difference is particularly evident in this complex scene, but the games definitely feels smoother when run with Allwinner A31.
Temple Run revolutionized the running game genre. Temple Run 2 keeps the winning formula; you navigate perilous cliffs, zip lines, mines and forests as you try to escape with the cursed idol. It features beautiful new graphics, gorgeous new organic environments, new obstacles, more powerups and achievements and special powers for each character. Both Android versions of Temple Run and Temple Run 2 have been fully optimized for MIPS and run better than ever on our mobile CPUs. Here's a snapshot of the game running on an 8″ tablet from China which features a MIPS32-based Ingenic JZ4780 processor with PowerVR SGX graphics.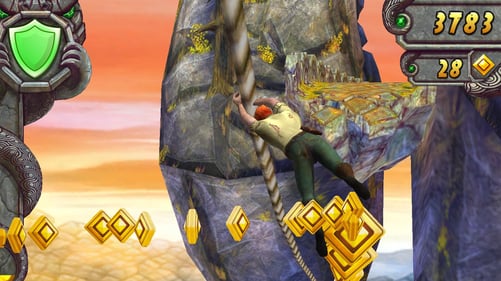 Anomaly 2 – 11 bit Studios

Anomaly 2 is a sequel to the critically acclaimed Anomaly Warzone Earth. Maintaining the core elements of the original, Anomaly 2 adds new features to the single-player campaign and finally puts your skills to a test in a completely unique experience: the dynamic tower defence vs. tower offence multiplayer model. Anomaly 2 takes the RTS tower-offence concept from Anomaly Warzone Earth to a new level, with the core elements of the original having been spiced up by a number of important new features.
To make Anomaly 2 even better, 11 bit Studios have introduced an interesting concept that enables them to quickly optimize their game for all mobile platforms. They have released an Anomaly 2 Benchmark app which builds a database of devices; thanks to this feedback system, 11 bit Studios were able to allow more players to enjoy the next-gen mobile graphics and improve the performance on already tested devices. For example, they managed to reduce memory requirements (fewer crashes on older devices), create extensive particle effects optimization and boost overall performance on a number of lesser-known devices.
Sid Meier's Ace Patrol: Pacific Skies – Firaxis (2K Games)

Sid Meier's Ace Patrol: Pacific Skies is a turn based strategy game that takes place during World War II. You get to command a squadron of pilots in an attempt to change the outcome of the war in the Pacific. The graphics have been optimized to run smoothly on all PowerVR-based platforms for both iOS and Android; get this game now and experience the ultimate flying experience.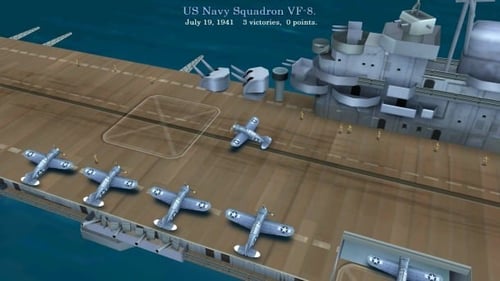 Assassin's Creed Pirates – Ubisoft

Assassin's Creed Pirates expands on the universe created in the Assassin Creed franchise for PCs and consoles. The mobile version allows you to fight in real-time naval battles and choose between cannons, mortar and swivel guns to destroy your enemies up close and from a distance. Upgrades for your vessel include massive cannons for your deck, new rudders or better sails which empower you to take on bigger and more powerful enemies.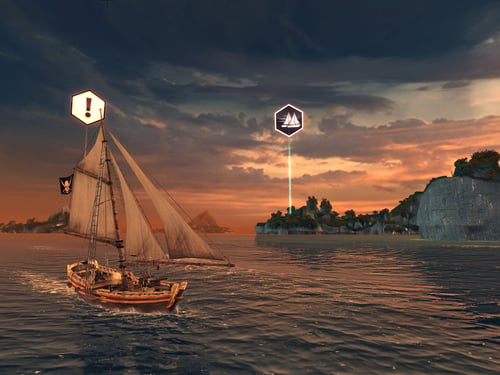 Ubisoft designed Assassin's Creed Pirates with a clear goal to set the new visual standard for mobile. Ubisoft Paris is developing a brand new mobile engine that brings groundbreaking 3D visuals to smartphones and tablets. As you sail those breathtaking moving waters and discover lush islands, keep a watchful eye for the wind cycle and changing weather conditions that will directly impact gameplay.
The Drowning – Scattered Entertainment (DeNA) – Unity

The Drowning introduces a new concept for controlling your character that replaces the traditional virtual stick controls you use in most first-person shooters. Scattered Entertainment Studio have come up with a unique control system where you tap on locations to move around while also keeping pinpoint aim on enemies. The two-finger shooting system provides better accuracy and, more importantly, the ability to see where your enemies drop. This shooter is definitely a fun ride, providing graphics that look like they came straight from a current-gen console.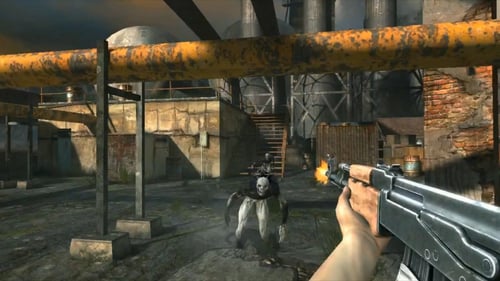 Scattered Entertainment have used the Unity game engine for this release. Unity is a game development ecosystem: a powerful rendering engine fully integrated and optimized for PowerVR, with a complete set of intuitive tools and rapid workflows to create interactive 3D and 2D content; easy multiplatform publishing; thousands of quality, ready-made assets in the Asset Store and a knowledge-sharing community.
Bonus apps
The Chase demo – Unity
Unity Technologies is developing interactive technologies for the high-end spectrum of mobile hardware, relying on the latest generation API standards to create amazing effects. The Chase demo was created by Unity to show what can be achieved when game developers collaborate with silicon providers to push the limits of modern mobile GPUs.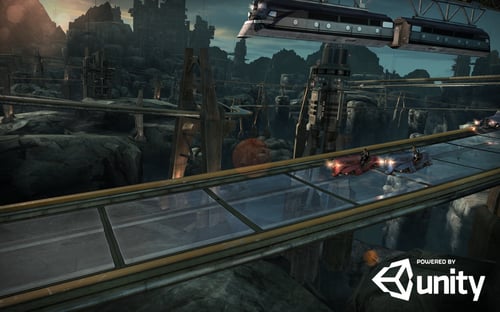 The main goal of the Chase demo is to achieve believable shading and lighting of human skin, and to probe the practical limits of modern mobile hardware. Features include 250-300K vertices per frame at ~10% of GPU workload (40K vertices per character), subsurface scattering at ~5% of GPU workload and skin shading at ~50% of GPU workload (in close-ups). Other notable effects can be seen in hair close-ups (making full use of procedural animation techniques), atmospheric scattering, anamorphic lens flares on GPU and metallic surfaces.
Perhaps the most interesting aspect is that this demo achieves >30fps on high-end PowerVR-based platforms; in fact, PowerVR is the only mobile GPU where the framerate is actually displayed on screen.
PVRMonitor – PowerVR Developer Technology Team
Last but not least, PVRMonitor is an Android application that allows a user to view real-time hardware performance stats, giving information about processor usage on the CPU and PowerVR graphics hardware with negligible impact on performance.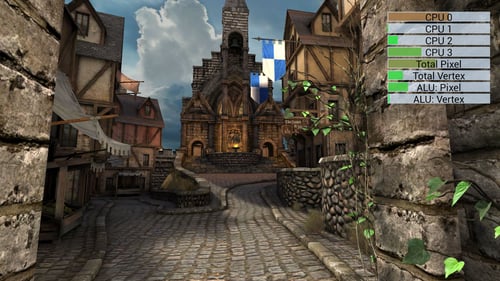 The data is presented as a bar graph, updated in real time and overlaid on top of currently running applications. You can rate and download PVRMonitor on Google Play or get it straight from our website.
We hope you've enjoyed our list. What are your favourite mobile games of 2013? Is there any game you feel we should have included on our list? Leave us your comments in the box below and follow us on Twitter (@ImaginationTech) for the latest news and announcements from Imagination and our ecosystem of developers.
Happy holidays everyone!