If you're in the market for a brand-new vehicle there's a good chance it will feature a digital display, providing a rich, next-gen feel to the user experience and offering a huge amount of flexibility as to how the display can be set up. Want to have a sportier look to your dials? No problem– you just change the theme. Want to have your music selection front and centre and your sat-nav on another screen? That's fine too – or indeed the other way round.
However, you'd like it set up, you want the interface to be smooth, easy to use and great to look at. Whether it's a huge central display or a complete dashboard-spanning "hyper-screen", this human-machine interface (HMI) is essential to the modern car experience. This is especially true as we move to an electric-only future where without a potentially character-defining combustion engine, the in-car user experience will be the new battleground that sets automotive marques aside from each other, and in many cases, will play a key role in the consumer buying decision.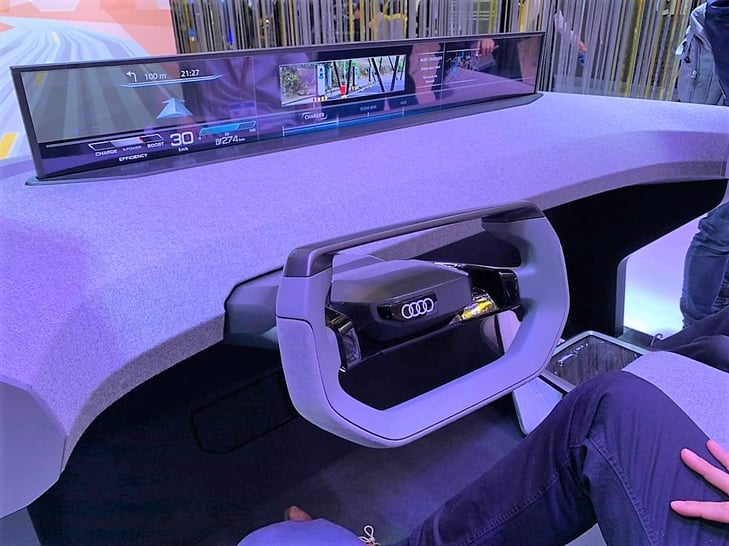 This means that car manufacturers need to ensure that their suppliers are using the best graphics processing unit (GPUs) that they can. What's more, GPUs are not just about graphics. They also have a role to play in both displaying and powering the advanced driver assistance systems (ADAS) that are now standard in new cars. And when it comes to fully autonomous driving platforms that are required for self-driving vehicles neural network accelerators will play an increasing role in supporting the AI algorithms that will underpin this.
While electronics have been a vital ingredient of the car make up for many years, their importance has arguably been undervalued – though it has been brought to the fore by the recent, and at time of writing, ongoing, global chip shortage, which at its worst led to some major car OEMs to temporarily suspend car production.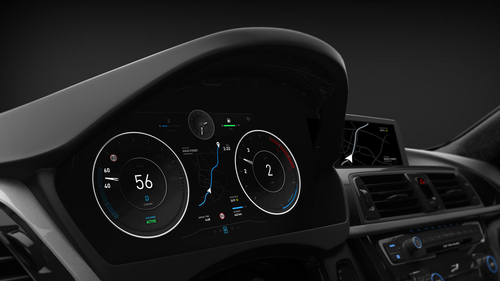 Recognising the trend towards increasing technological complexity of both hardware and software inside the car, 2011 saw the introduction of ISO 26262, the safety standard for vehicle electronics, in order to achieve functional safety, defined as offering an automatic and predictable response to random hardware failures so there is no unacceptable risk to the occupants of the vehicle. The standard offers up guidance on how to mitigate these risks through a focus on systematic design and offers target goals defined as Automotive Safety Integrity Levels (ASILs), ranging from ASIL A, the lowest level, to ASIL D, the highest level.
Imagination has been supplying its GPU IP into the automotive sector for over 15 years and has the number one spot for market share for GPUs for application processors. As such is has silicon-proven experience assisting automotive OEMs to build SoCs that conform to the requirement for ASIL B or higher, while also providing the long-term support that is demanded by the industry.
This last point is critical. We continue to offer support to solutions that were introduced into the market 10 years ago, as these are still in cars on the road today, and customers can rest assured we will be there in long into the future to support our current IP as well.
The safety-critical driver
Our commitment to automotive and functional safety is not just skin deep – we offer unique software and hardware features that cannot be found elsewhere in the industry and are innovating in this space. A prime example is our safety-critical software driver for our GPUs, which was announced in April 2020 and was a first in this area. Based on the OpenGL® SC™ 2.0 API, the SC driver is a clean development, aligned to ISO 26262:2018 process requirements. The benefit of it being developed in-house means that it's optimised for the PowerVR architecture-based GPUs, such as the IMG B-Series BXS, so we can offer a functionally safe GPU without having to sacrifice performance.
Compliance-tested IP processes
Following the release of this driver, we followed this up with news that our processes for developing our IP had been analysed by HORIBA MIRA, a global provider of automotive engineering, research and test services to the automotive sector. The outcome of this was a statement of conformance from them declaring our IP conforms to ISO 26262 up to ASIL B requirements. We don't just stick to the letter of the law though – we go above and beyond. HORIBA MIRA noted our commitment to establishing a safety culture and observed that it was rare to see an organisation implement a process so rapidly and so thoroughly.
Functional safety built-in
With these pieces in place in October 2020 we announced the IMG B-Series, a multi-core GPU IP offering unrivalled levels of performance and scalability for any market requiring low-power optimised embedded graphics and compute, and later in the year introduced our IMG Series 4 neural network accelerator, built using the same functionally safe processes as our GPU.
Along with our regular XE, XM and XT ranges, for the first time, we announced the XS-family of GPUs – a tier specifically designed for automotive. These offered all the benefits of the other IMG B-Series cores such as HyperLane technology, in single, double, or quad-core configurations and our industry-leading IMGIC image compression technology, with additional features that make them automotive-grade.
First, BXS GPUs feature either parity or ECC memory embedded into the GPU, so errors can be detected and flagged to the safety system and optionally corrected, within the core. Another critical feature, Tile Region Protection, enables safety-critical HMI information to be displayed without significantly compromising performance. (Watch the video below to find out more).
To handle safety-critical information on a screen, data must be handed off to a functionally safe component, which today, will likely be a CPU. However, CPUs are not designed for graphics which places an inherent limitation on what can be visually achieved in a functionally safe manner.
However, GPUs are becoming involved in placing pixels on the screen for many safety-critical functions. Features such as blind-spot detection in the wing mirror or presenting information on the surround-view interface based on object detection, are just two examples that require the GPU.
Without safety-critical 3D capabilities, software developers will also want to be able to express their creative skills when designing futuristic interfaces and not be limited by having to fall back on slow CPU-based designs due to functional safety requirements.
HyperLane-powered cores
Complementing our safety-critical graphics is our HyperLane technology, which brings security to the GPU and is a feature that remains unique in the market. It is based on our hardware virtualization technology, which we first introduced way back in our PowerVR Series6XT GPU bac in 2014 – and you can read about it in-depth in our virtualization white paper.
HyperLane offers up to eight individual hardware control lanes, isolated in memory, enabling different tasks to be submitted to the GPU simultaneously, for fully secure GPU multitasking.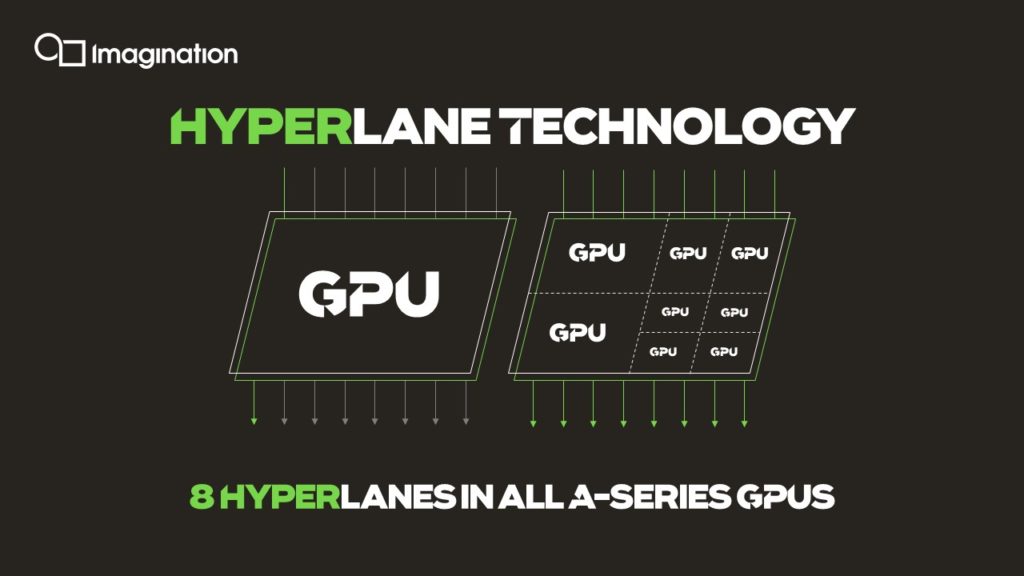 In a vehicle there are many things for the GPU to render, such as the dashboard cluster, the sat nav, the surround-view features and the infotainment. HyperLane enables all of these to be run on a single GPU instance, using prioritisation techniques to ensure full performance for every task, without slowdown, and all fully secure from each other. This might be ideal for the customer looking for a lower-cost, lower-power solution. However, some customers may choose to take a stricter approach and use a second GPU for redundancy. Here, our multi-core B-Series BXS cores are ideal; one core for safety-critical data, with the other running all the other applications, in total physical isolation from each other.
HyperLane is also built for the future. As cars become mobile platforms capable of being updated over the air, entirely new applications and features could come online that were not there when the car left the factory. HyperLane enables these to be added, updated and removed, without compromising security or performance.
IP you can rely on
In plain English, if you are concerned with creating functionally safe automotive products you can rely on our complete IP solutions. We offer a solution combining GPU and NNA featuring class-leading performance and scalability designed in-house to ensure the best possible performance optimisations.
With PowerVR-based IP, HMI designers have functionally safe ASIL B graphics in their grasp, so they can unleash their creativity to push HMI designs forward and create the interfaces that consumers will expect in next-generation vehicles, and with excellent compute performance they can play a key role in delivering next-gen "visual ADAS" too, for features such as surround view. For a true autonomous platform, our NNA technology delivers the huge performance required for AI self-driving algorithms at either the edge or the centre of the car.
Whatever the cars of the future will look like, with Imagination automotive IP, you can be sure the electronics will be designed to be safe, reliable, robust and highly performant.