To some, Imagination Technologies is best known as a supplier of GPUs for the mobile market. However, our GPUs are suitable for a wide range of markets and automotive is a significant one. In fact, Imagination supplies GPU IP to two of the three top players in the automotive application processor market, making it the single largest player for market share. That's why we're excited to announce the launch of the XS family – a new range of GPUs designed specifically for the automotive market, and we believe they are the most advanced automotive GPUs ever created. The reason for this is because not only are these GPUs highly performant and power-efficient, but they are also designed to be functionally safe. But what does that mean?
The industry's first functionally safe GPUs
XS GPUs are built using processes that have been independently verified to conform to ISO 26262, the safety standard for electronics in the automotive industry. ISO 26262 was created to address the needs for all electronics in vehicles to be built in a safe a manner as possible, to mitigate against the impact of any failure, however unlikely. What this means in the real world is that should such a failure occur in the system, it would not be catastrophic, and the vehicle could still be brought to a stop safely or driven directly to a repair centre. This is known as functional safety (FuSa).
ISO 26262 contains four automotive safety integrity levels (ASILs); with ASIL A at the lowest level and ASIL D the highest tier of safety. This is of vital importance. We all know that cars are becoming more advanced and sophisticated; capable of performing many tasks independently of the driver, be it detecting crashes, auto braking, self-managing cruise control speeds, changing lanes by themselves, or detecting if the driver is awake. These are known as advanced driver assistance systems (ADAS). Beyond ADAS, we move into the realm of autonomous driving, where electronics are used to analyse surroundings and control the car for extended periods.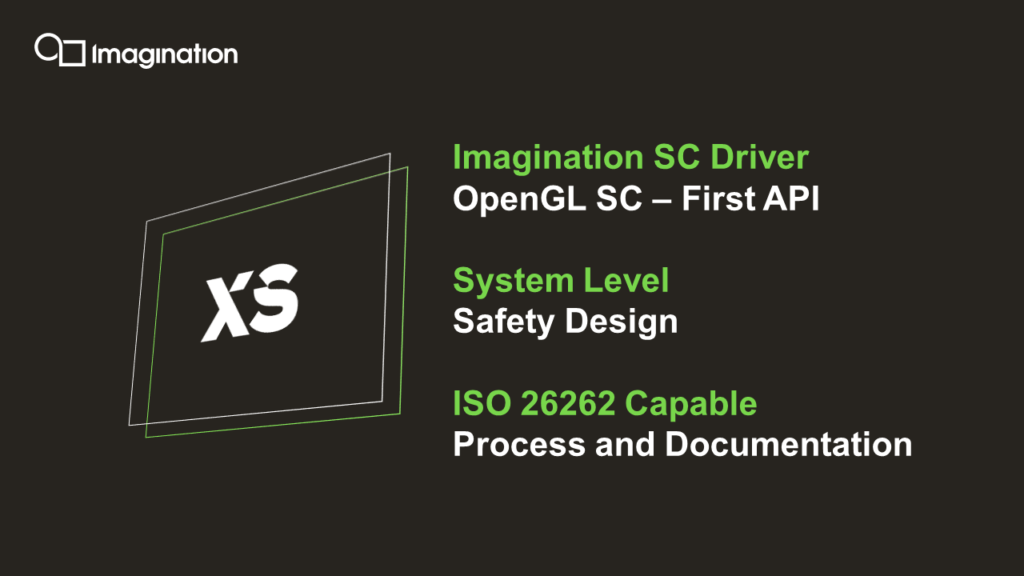 Designed for safety, XS GPUs are ISO 26262 capable
Our GPUs are already found today in SoCs that conform to the highest safety standards and they power the digital dashboards and infotainment systems of millions of cars around the world today. However, we've been improving our reliability in every generation and XS represents a new level of safety. What's new is that the GPU itself can now be brought more directly into the safety equation. With our conformant GPUs, our customers have the full confidence that they can make their designs richer and safer and achieve compliance quicker and more cost-effectively than ever before.
With the introduction of XS, our GPUs now functionally safe, they can be used for certain in-vehicle tasks that previously no GPU could be used for. This can be broken down into two categories: graphics tasks, such as displaying safety-related information on a dashboard cluster or a surround-view system, and computational tasks for ADAS – usually referred to as "compute". Both graphics and compute are a great fit for our GPUs, (and the latter for our dedicated neural network accelerators), but either way, the system they run on must be functionally safe, which means they must be able to conform to ISO 26262.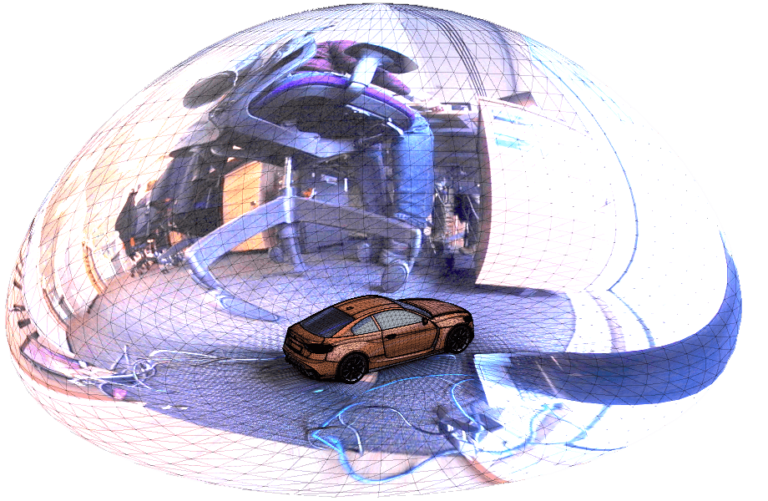 Up to this point, some providers have employed functionally safe CPUs to do these tasks. Consequently, while most of the digital dashboard can be rendered on the GPU, the HMI developer has had to transition the safety-critical parts, such as the warning lights, to run on a CPU, resulting in a more complex workflow. Additionally, CPUs are not designed for graphics, so compared to GPUs deliver lower performance and are power inefficient. Conversely, if everything can be kept on the GPU the workflow is simpler, and the result can be much higher performance, enabling the designers to potentially create higher resolution, sophisticated displays that are better-looking than ever before, without any compromise to functional safety.
To that end, Imagination has been working for some time towards making its GPUs, and the systems they integrate into, conform to ISO 26262. This is something that requires a significant amount of rigour, in terms of quality management processes and to that end, Imagination recently hit two significant milestones. First, it received an ISO 26262 Statement of Process Conformance from HORIBA MIRA, a provider of independent testing and consultancy to the automotive sector – and you can read more about this in our blog post. Secondly, it created and demonstrated a safety-critical graphics software driver, built using the OpenGL® SC™ 2.0 API, showing that existing drivers could be quickly and easily ported over – again, check out our blog post to learn more.
Unveiling the XS family for automotive
The stage is set then for the final piece of the puzzle; the introduction of the XS family of GPUs for automotive. Towards the end of last year, we introduced IMG A-Series, our latest generation of GPUs for a range of markets, offering smoother frame rates for graphics and incredible levels of performance for compute, making them ideal for mid-to premium automotive, mobile and even desktop markets. They also feature our HyperLane technology, eight individual hardware control lanes capable of running independent, secure workloads for multitasking and virtualization, perfect for multi-screen in-car displays running dashboard, infotainment and sat-nav from a single GPU with full prioritisation to ensure the optimal experience. The new XS family combines all of these advantages with a new safety methodology and architecture, featuring specific safety-optimised mechanisms designed to protect against transient and permanent faults.
What differentiates us from other solutions is that rather than brute-force repetition, where every operation is repeated, we use a combination of hardware and software to ensure we can maximise performance, without compromising safety in any way. A key example of this is called Tile Region Protection (TRP). To explain this, take a look at the below example of a digital dashboard. Rendered on our safety-critical driver, the critical warning lights are embedded directly inside the UI. TRP identifies the safety-critical areas of the screen and tags them on a per-object basis, so they can be tracked wherever they are positioned on the screen. This means the display can be dynamic and adaptable. This enables dashboard designers to alter the look of the display on the fly while our XS GPU performs a full safety pass on those critical screen elements every frame.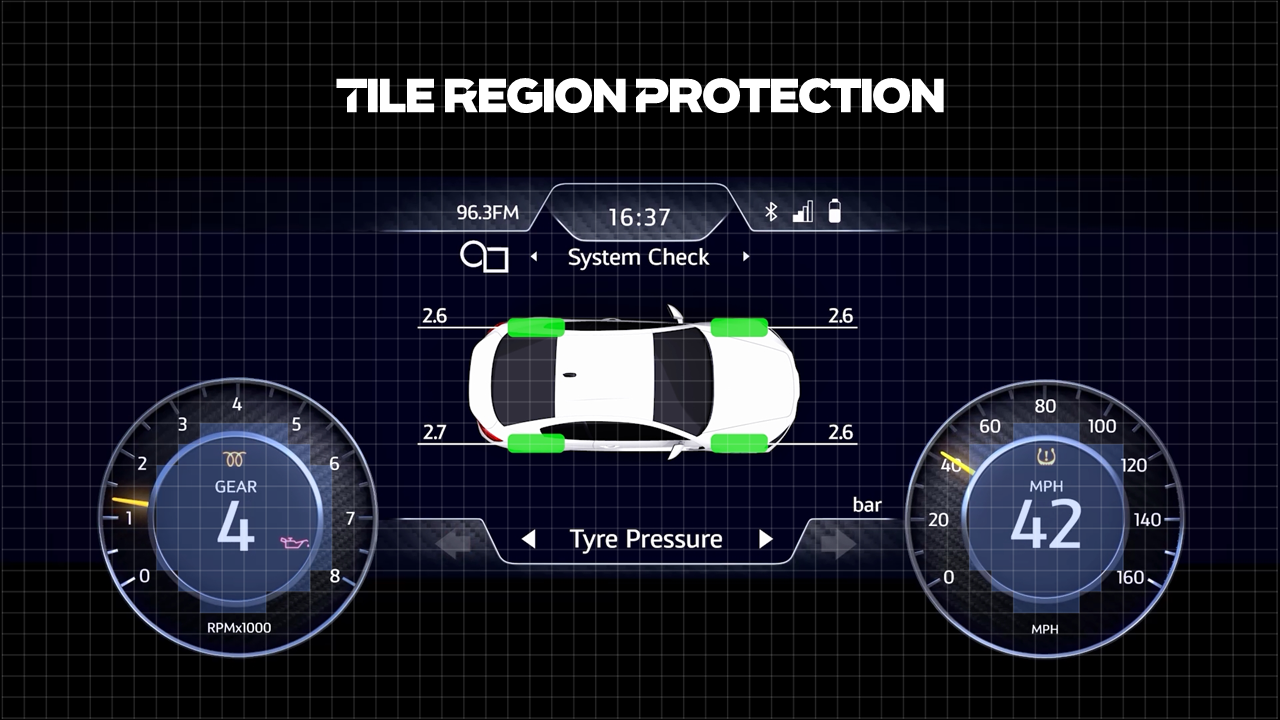 Tile Region Protection tracks safety-critical elements of the screen and performs safety-passes only on those elements, maximising performance.
This is especially applicable to surround-view, where as soon as an object is detected that the system deems to be safety-critical, say a person in the road, the surround-view camera stream becomes a safety-critical system. Once identified, the object is tagged as safety-critical and the safety render would be performed, wherever it appeared on the display. Our GPUs render graphics using tile-based deferred rendering (TBDR), which breaks the screen up into multiple tiled elements before rendering them. This has the additional benefit of allowing us to very efficiently perform the per-object tagging, resulting in minimal performance overhead. So, while other solutions might cut performance by half, with XS the results are fully dynamic graphics rendered with industry-leading levels of performance combined with maximum safety. This patent-pending technology will compare results and verify that data has been executed correctly, repeating workloads if necessary.
Tuned for real-world applications
Another key differentiator of the XS family is that the cores have been tuned and optimised for real-world ADAS applications. As we were building the GPU design, we worked with industry partners to optimise them for actual ADAS applications. As the graph shows the results speak for themselves; XS delivers performance 2x faster than competitors in real-world ADAS applications, and with superior power consumption too.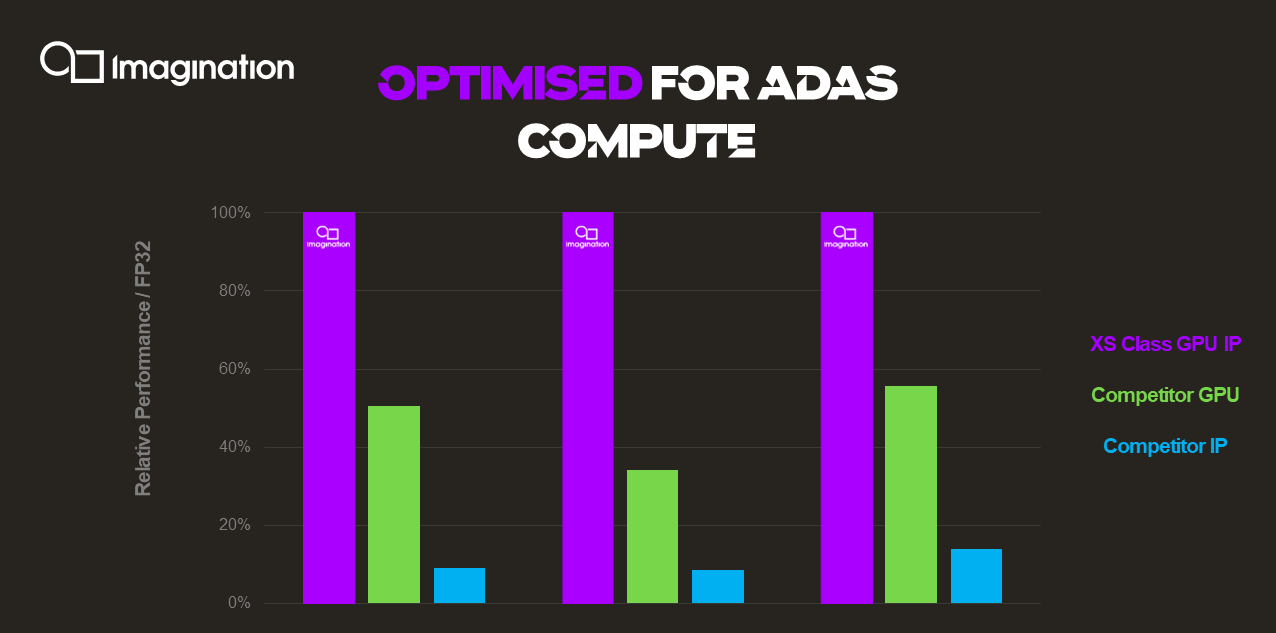 So XS family brings to automotive all the power optimised and performance of our latest GPU designs, with a highly-optimised automotive safety architecture, built on processes that are conformant to ISO 26262, and supported by our OpenGL SC graphics drivers with all the documentation that goes alongside this. This gives our customers complete confidence that they can build functionally safe SoCs, with better performance for graphics and compute than ever before.
We are excited to announce the XS-family and we will be releasing details about specific cores and configurations in the coming months.
Let us know what you think in the comments below. To keep up to date with everything related to Imagination you can follow us on Twitter @ImaginationTech, Facebook, and LinkedIn.