As the Queen will tell you, anniversaries give you a chance to step back and take stock, to see how far you have come and to celebrate your achievements, and today, we are celebrating the 30th anniversary of PowerVR, the graphics architecture that was first unveiled to the world way back in 1992 and is still making waves today.
Back in 2017, we celebrated our 25th anniversary, and you can look back on those articles where we dived into our cupboards and found some fascinating examples of our early technology and memorabilia: Kyro and Dreamcast fans, knock yourself out.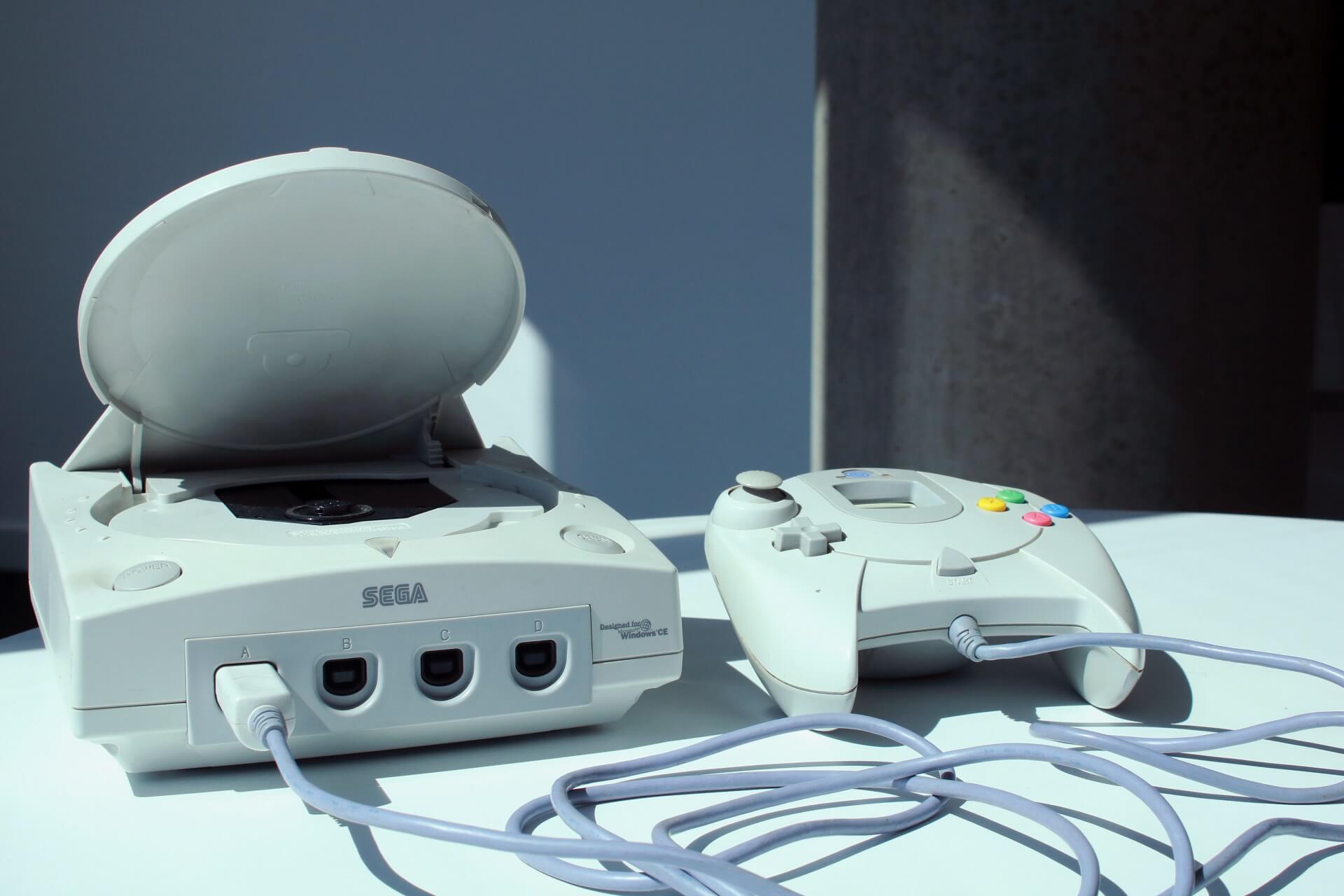 The fondly remembered Dreamcast gaming console from 1998 featured PowerVR graphics.
We've also brought together some of the longest-serving employees at Imagination, who were around at the start of our PowerVR journey, for a get-together in the office to reminisce about those early times. There are some great stories in there, so be sure to check it out.
Sit back and enjoy some reminiscing on 30 years of PowerVR from some Imagination veterans.
Our success is also being acknowledged by industry analysts and our customers. As well as gaming, one of our core markets for PowerVR is automotive. Tatsuya Kamei, Distinguished Engineer, Automotive SoC Business Division, Renesas says: "Congratulations to Imagination for 30 years of excellence in innovative 3D graphics technology. PowerVR forms the foundation of our decades-long collaboration. With the accelerated growth of the electric vehicle market, we recognise the importance of balancing performance with energy consumption. The PowerVR architecture is ideal for our customers since it delivers both power efficiency and advanced graphics performance."
Meanwhile, Dr Jon Peddie, president and founder of Jon Peddie Research, says: "Imagination's PowerVR has had a true and lasting impact in revolutionising computer graphics, thanks to its tile-based deferred rendering technology. The architecture has led 3D graphics innovation, including its PowerVR Photon ray tracing technology and AI acceleration. PowerVR has proven its scalability and has been applied from low-power mobile devices to data-centre applications. Congratulations on 30 years of success!"
However, for our 30th, we didn't just want to look back into our distant past. While we may have had some turbulence along the way, we wanted to celebrate how far we've come, and how we're ready for the future.
So, let's spin the clock back just five years to 2017, and go from there.
New era, new GPU
In 2017, Imagination embarked on a new chapter, with investment firm Canyon Bridge acquiring the company, taking us out of public ownership. To return Imagination to the top of the embedded GPU performance tree it was decided that the focus should be to create a new PowerVR architecture. Internally, this was dubbed "GPU19", and 18 months of hard work was put into motion.
The result was our biggest launch for many years, which arrived in the market in the form of IMG A-Series. With a redesigned ALU, HyperLane virtualization technology, and AI Synergy it was a fresh new take on our classic tile-based deferred rendering architecture.

Why you so MAD? A-Series featured a redesigned ALU for more effective use of bandwidth in real-world use cases.
A-Series offered great scalability and a huge increase in performance density, and from it, we gained our first desktop GPU licensees for 20 years; a market to which many thought we might never return.
Then, early in 2020, we announced a new agreement with Apple which delivered a new multi-year license agreement under which the Cupertino-based company has access to a wider range of our intellectual property in exchange for license fees.
With a great product and a more robust business footing, we were set for a PowerVR renaissance.
Do more with multi-core
Our engineers are never ones to rest on their laurels and our focus quickly turned to the follow-up to the A-Series, which, to no one's surprise, was dubbed the IMG B-Series. As with its predecessors, this family of graphics encompassed three levels: the BXE – an area-optimised design aimed at low-cost devices, BXM, offering a balanced mix of area, power consumption and performance, and BXT, which majored on TFLOPS, and thanks to its multi-core scalability, was able to deliver up to four times the raw performance of A-Series. No surprise then that it was picked by our desktop licensee, Innosilicon, for its Fantasy line of PCI-based graphic boards.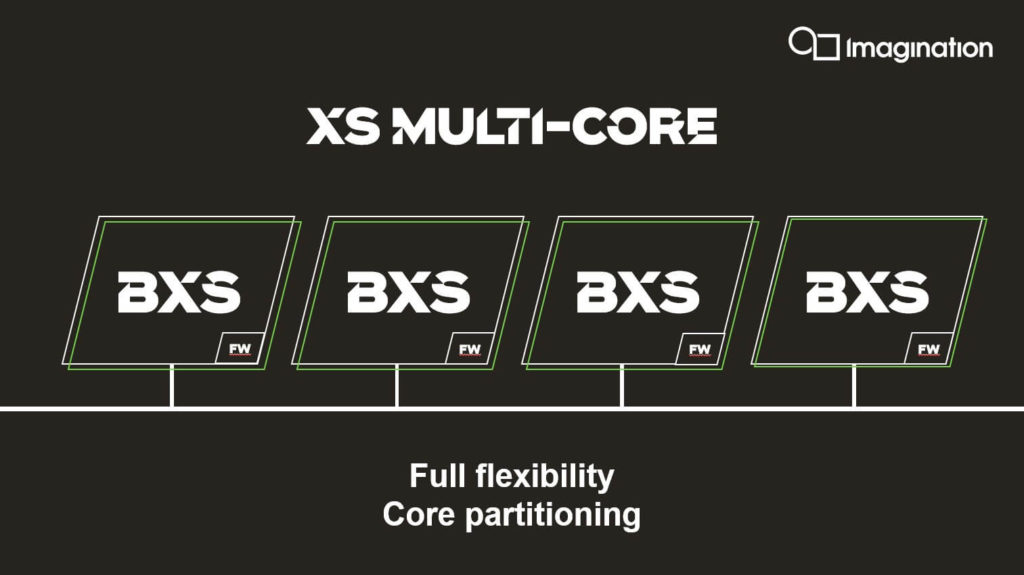 IMG B-Series introduced multi-core to our GPU line
B-Series didn't end there, however. We introduced the BXS family – a range of automotive-focused parts which offered specific features, such as Tile Region Protection and was the first GPU IP to be capable of meeting the ISO-26262 standard, the safety standard for electronics in the automotive market.
Download our white paper on our multi-core architecture
The first mobile ray tracing core
As with so many technologies, Imagination likes to get there first, and ray tracing is no exception. In fact, we arguably got there too soon! Ray tracing represents a step change in graphics performance, and we have been working on the problem of bringing this groundbreaking visual technique into the market for over a decade, with board-level, software and ultimately IP products. In September of 2020, we introduced the six-level (0-5) Ray Tracing Levels System (RTLS), where we laid out exactly what separates the various types of ray tracing that are available in the market today.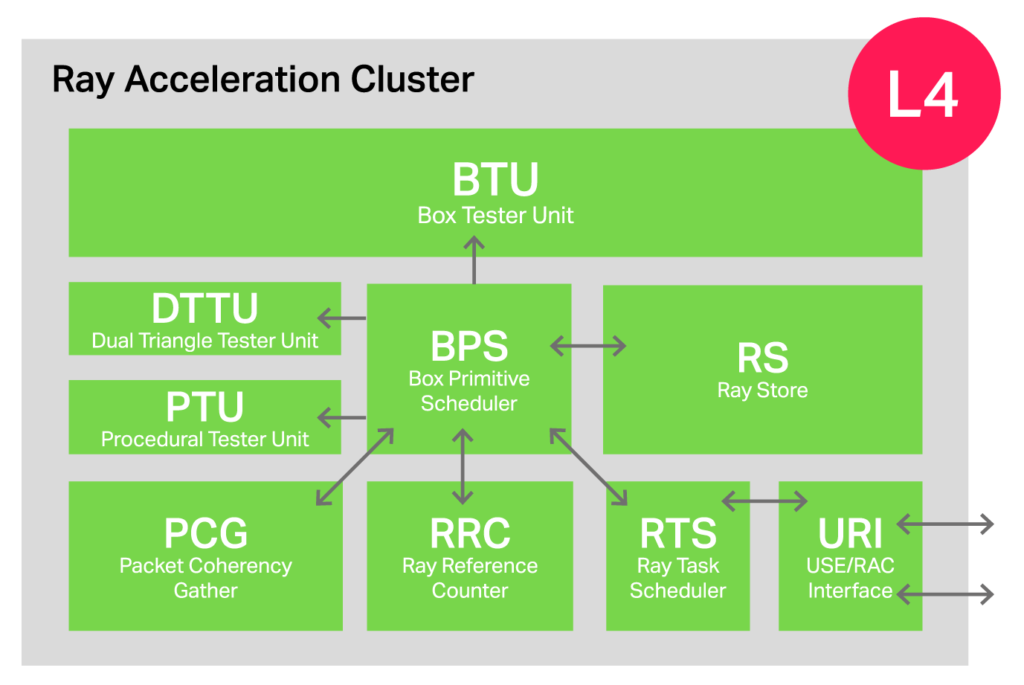 IMG CXT is based on our Photon architecture, featuring a Ray Acceleration Cluster (RAC) for highly-efficient hardware acceleration of ray tracing - sitting at Level 4 of the Ray Tracing Levels System.
This set the scene for our next graphics core – the IMG CXT. Based on our Photon architecture, CXT is the first licensable GPU IP in the world with ray tracing – sitting at Level 4 on the RTLS. Demonstrating our technical leadership, our prototype ray tracing hardware, demonstrated at CES back in 2016, sat at Level 5 of the RTLS. However, we believe that a Level 4 part is the ideal solution for today's market and IMG CXT is still the most advanced ray tracing-enabled solution available today in terms of performance efficiency. It's already been licensed, and we can't wait until the first silicon hits the market – expected in 2023.
Hybrid working
By this point, with the Covid-19 pandemic having a severe impact all around the world, most of Imagination's staff had been working from home and in mid-2021 we became one of the first companies to fully embrace hybrid working. We revamped our UK Kings Langley headquarters with a modern, dynamic look and redesigned working areas with hot desking in mind and invested in improvements or office moves across our locations. Our continued success demonstrated that if you're an engineer looking for a flexible approach to your working life then Imagination is an ideal destination. Our recruitment now is truly global, with workers not just in our offices but wherever we find the right talent around the world.
Return to the desktop
Towards the end of the year, we saw the first fruits of our license to bring our GPUs to desktop-class graphics boards in the guise of the Fantasy 1 from Innosilicon. Its Type-A card sports 16GB of GDDR6x RAM and a 128-bit interface to deliver 5 TFLOPS of compute from the BXT-32-1024 GPU, while a Type B card is a dual-chip design offering up to twice the performance. As much as we love mobile, as our chief marketing officer said, it was good to be back in the high-performance desktop game.
The Innosilicon Fantasy 1 (Type A) is based on an IMG BXT-32-1024 MC4 GPU.
It also includes two of our NNAs for AI acceleration.
To meet our ambitious plans for the future in 2022 we announced an ambitious global recruitment drive to increase our headcount by 30%, and we followed this by opening new offices in Manchester, following up on our opening of a Cambridge office and engineering recruitment drives in Bristol, UK, India, Poland and Romania.
In May 2022, we launched an all-new Open Access programme, providing scale-up businesses with access to a portfolio of our GPU and AI IP without having to pay a license fee
Of course, we're just into the third quarter of the year, and we will have another product launch to get excited about before the year is out.
All told then, it's obvious that the 30th anniversary of PowerVR is not just a great time to look back at what we've achieved, but to look forward to where we are going. In 2022, we enjoy over 50% market share for automotive HMI graphics; have over 35% market share for mobile graphics in general and over one million games running on PowerVR.
And we're not done yet.
Simon Fenney was one of our original technical innovators on the PowerVR project in 1992 and is still at Imagination today as a Research Fellow. As he puts it, "Three decades ago we set on an important path to change the way we process graphics. PowerVR was a trailblazing architecture that allowed us to deliver great efficiency and performance wins, with an impact that echoes through the market today, with billions of devices and vehicles powered by our technology. Since creating the original, the same curiosity and drive have allowed us to push the graphical envelope even further with a first-of-its-kind mobile ray tracing on the PowerVR Photon architecture. We are excited to see where the next 30 years will take us."