Introducing PowerVR Series9XEP, Series9XMP, and Series9XTP
As Benjamin Franklin once said, only three things in life are certain: death, taxes and the ongoing rapid advancement of GPUs for embedded applications*. Proving his point, this week, Imagination has once again pushed the boundaries of graphics and compute performance for power-constrained devices with the introduction of three new GPU families: the PowerVR Series9XEP, Series9XMP, and Series9XTP.
These three families cover the entry-level, mid-range and high-end and represent our best ever GPU line up, with optimisations and enhancements that enable it to provide outstanding performance density and low power consumption. Along with our new PowerVR Series3NX for neural network inferencing, not to mention our new Ensigma location IP, this represents a comprehensive product offering for 2019.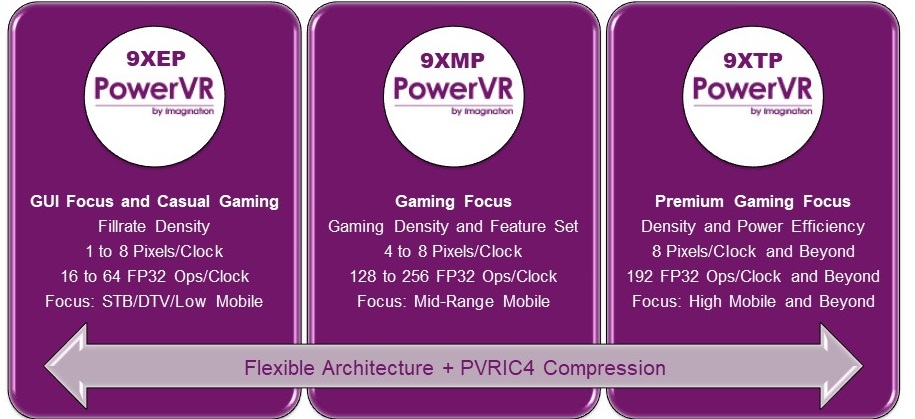 PowerVR Series9XEP: power to the people
It makes sense to start at the beginning, so let's start with the entry-level product; the PowerVR Series9XEP. This is built on our Rogue architecture and is aimed at markets where the physical size, or the cost of the GPU, or both together, are of paramount importance. Think set-top boxes and low-end smartphones, where the smooth presentation of complex, high-resolution GUIs is the priority rather than full 3D gaming. That's not to say you can't game on Series9XEP. It takes our already impressive low-end part and pushes things up a notch with an up to 10% overall improvement in performance over last year's Series9XE, achieved through microarchitectural tweaks. On top of that, timings tweaks: that is, optimisations of the die size, has enabled nominal clock speeds to be increased by an additional 10%.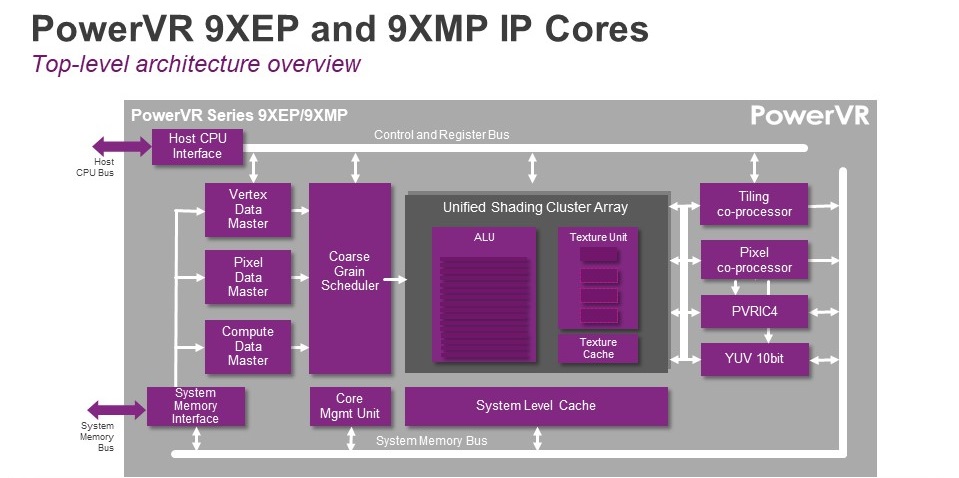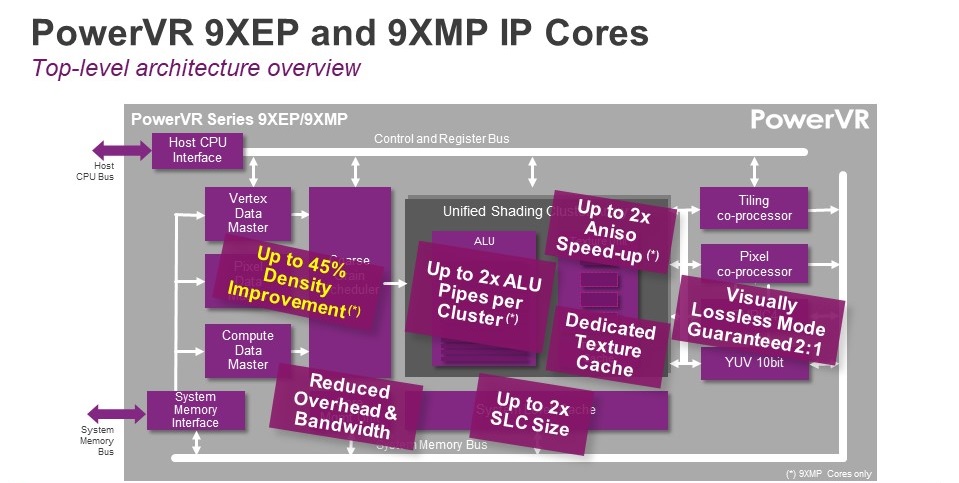 A key enhancement inside the Series9XEP is the presence of PVRIC4, our new image compression technique that we announced earlier this year. This has the benefit of guaranteeing a 50% reduction in system bandwidth and memory footprint, while means further cost savings for SoC designers and helps reduce battery consumption. This is a feature of the course that appears right across the range of all our new Series9 series GPUs. While PVRIC4 has been added the improvements and area reductions elsewhere ensure the Series9XEP maintains the fillrate leadership position of the XE family.
PowerVR Series9XEP will be available in a range of configurations depending on the needs and silicon budget of the SoC designers ranging from 1- 8 pixels per clock and 16 to 64 FP32 ops/clock.
PowerVR Series9XMP: the mid-range master
Also based on the Rogue architecture, the changes to the PowerVR Series9XMP over the Series9XM are more significant and relate specifically to density improvements. For example, a part featuring dual 16-pipeline-wide ALUs and two texture processing units (TPUs) can now be achieved with a single 32-pipeline-wide ALU and TPU, providing a significant area reduction. Overall, Series9XMP offers a 45% increase in cluster density – essentially the same performance for a lot less area, which is hugely valuable in terms of cost and power savings.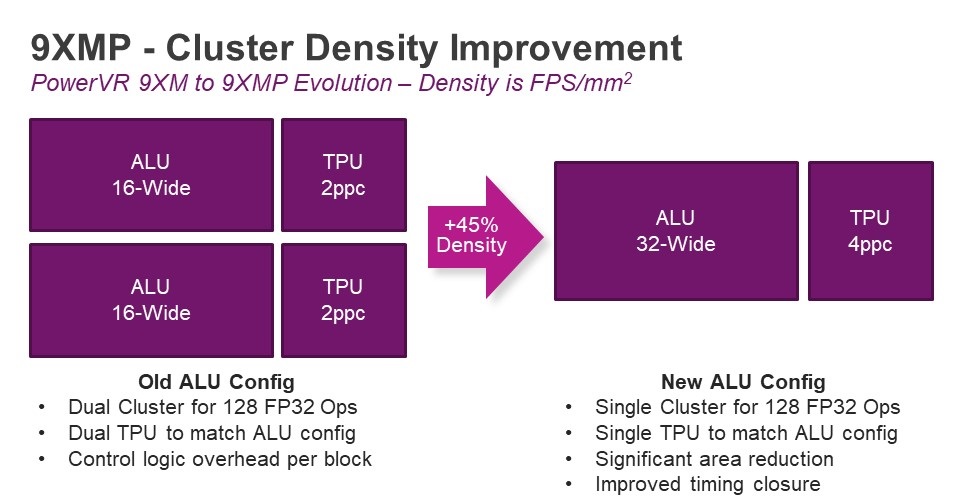 Image quality also gets a big boost with two times the anisotropic filtering performance, helped by the addition of a dedicated texture cache. Greater anisotropic filtering means images look a lot sharper as you look into the screen space and gamers will tell you how it makes a significant amount of difference to the image.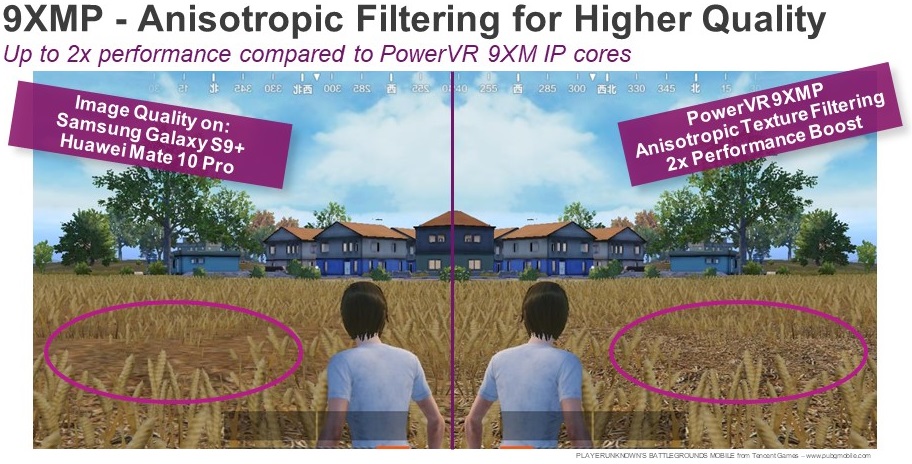 There are also several other improvements such as reducing the overhead and bandwidth in the core management unit, and a doubling in the size of the system level cache. There are also improvements and enhancements to data paths in caching, atomic operations, data master setup rates, and compute overlap with other workloads.
Naturally, PVRIC4 technology is also present. In terms of configurations, the Series9XMP has a more compute-focused design, offering up to 128 FP32 ops/sec at four pixels per clock.
This makes it an ideal fit for the affordable, but powerful gaming and AI requirements of mid-range devices such as affordable smartphones.
Top-end performance
At the high-end, we have PowerVR Series9XTP, built on the newer Furian architecture that included a number of significant changes over Rogue, to deliver enhanced scalability to make it easier to raise the ceiling on performance with better power efficiency. You can head over to our in-depth blog post on the Furian architecture to find out what it brought to the table but suffice to say that the Series9XTP has been further enhanced in a couple of key areas.
To recap quickly, in Furian, the shader processing unit (SPU) contains two unified shader clusters (USC). Inside these USCs are redesigned arithmetic logic units (ALU), the logic that performs the complex mathematical magic at the heart of a GPU. As with the Series8XT, this ALU can perform a MAD and a MUL operation through each pipeline per clock and featured a 32-wide pipeline for the first time.
There are two key enhancements for Series9XTP. First, there's an option for a 40-pipeline wide ALUs, so simply more work can be done at the same time. Secondly, it's also now possible to specify a part with three USCs per SPU, giving more raw GLOPS. This configuration will deliver a core that delivers up to 360 FP32 FLOPS/clock combined with a fillrate of 8PPC, fulfilling the needs that high-end markets demand. By putting down two SPUs this can be doubled to a very powerful, but still power-efficient, core, offering 16PPC with 720 FP32 FLOPS/clock.
The various optimisations in Series9XTP, such as cache tuning and microarchitectural enhancements and the timing improvements for a 10% higher clock speed all mount up. PowerVR Series9XTP is faster than Series8XT for the same area by as much as 50%, with better FLOPS density, better computer density and better Manhattan performance.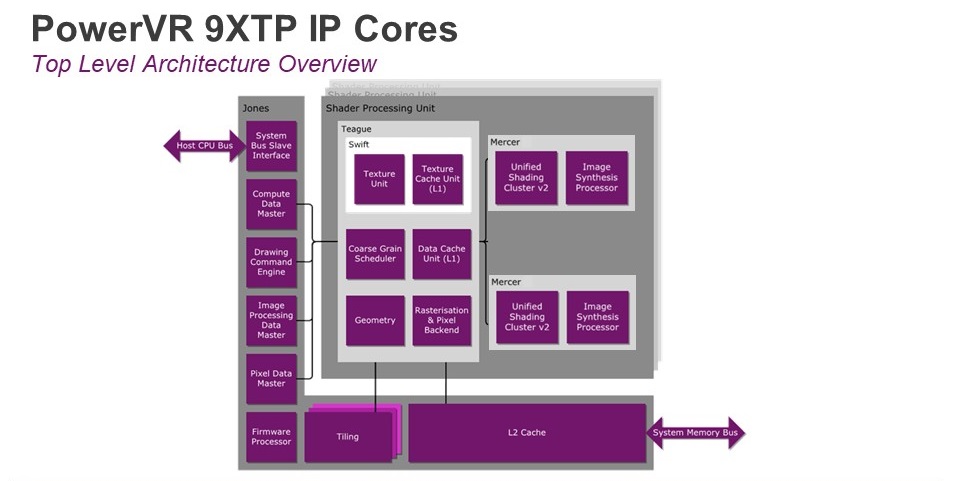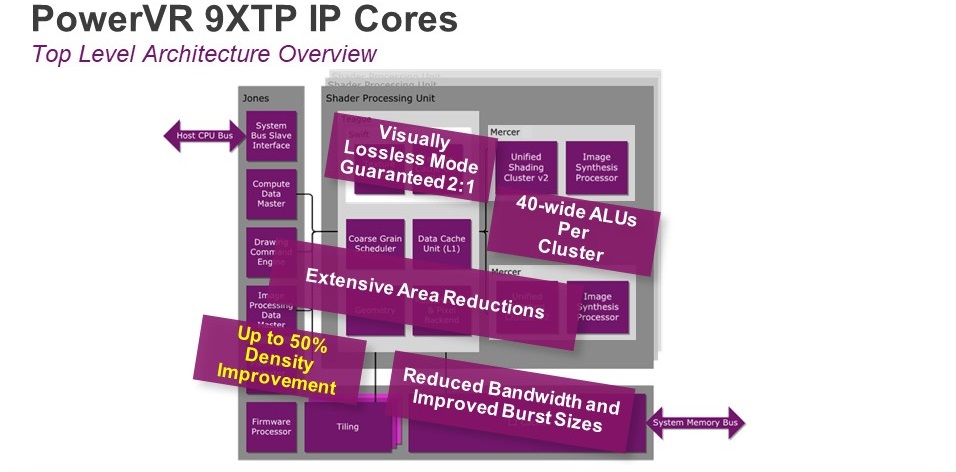 Further cost savings can also be made over Series8XT thanks to the 50% reduction in system bandwidth and memory footprint delivered by PVRIC4.
PowerVR Series9XTP also carries over core features from Series8XT such as support for all the latest, relevant APIs such as OpenGL ES 3.2 and Vulkan 1.1. Our unique virtualization support, also supported on the Series9XEP and Series9XMP, is also present and correct, enabling multiple OSs to be run in isolation for true security, with fast context switching between them ensuring no loss of performance.
It all adds up
The second-generation PowerVR Series9 offering represents a comprehensive line-up of cores that provides SoC designers with a wide range of options depending on their designs needs. The perfect balance of fillrate and FLOPS performance, in a given area with the desired power consumption, can be achieved by selecting a suitable core. Whether it's an affordable smartphone, a powerhouse for your pocket or a design for in-vehicle entertainment PowerVR's new Series9 GPUs have you covered. Benjamin Franklin would no doubt have approved.
For more news and announcements related to PowerVR, keep coming back to our blog and follow us on Twitter @ImaginationTech, Facebook, and LinkedIn.
*OK, I'm paraphrasing…