Another year and another exciting Embedded World show is upon us. This time we're not only talking about all things RISC-V, but we're also announcing a range of exciting partnerships with Telechips, CoreAVI and Ashling.
Automotive solutions have been a constant theme for past events in Nuremberg and this year is no different. We've seen accelerated growth for smart driving solutions in the market, as ADAS and AV become increasingly relevant trends that warrant extra attention. While fully autonomous driving has not yet arrived, it remains tantalisingly close and our customers and partners unanimously recognise the huge potential for development in this space: the next 10 years will be critical in how the world tackles autonomous driving.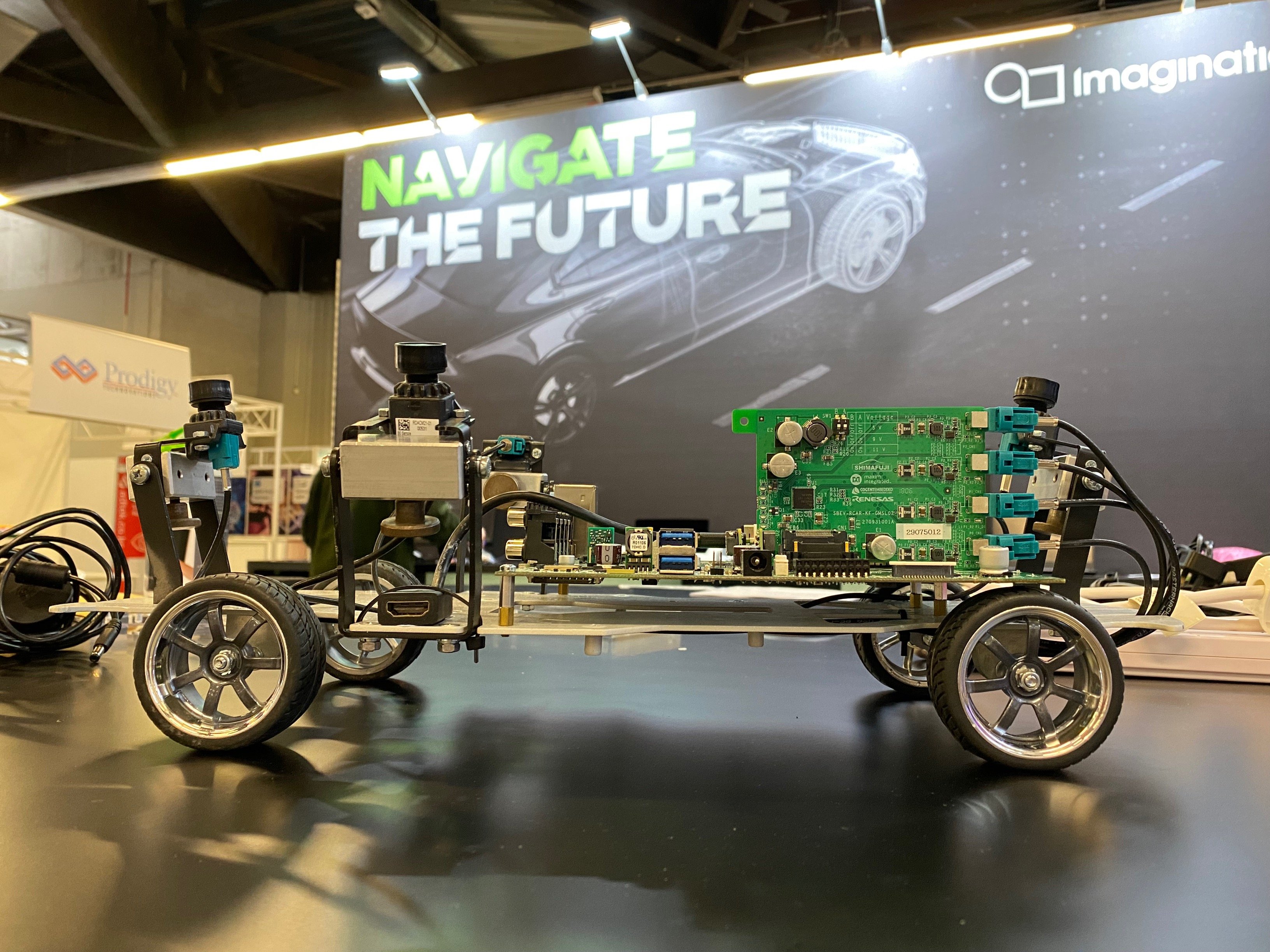 A Renessa R-Car H3 system featuring a PowerVR GX6650 GPU
Automotive drivers
When it comes to assisted or driverless solutions, driver and passenger safety are core concerns. That's why we ensure our GPU, AI and CPU IP are available in options that meet the strict requirements for functional safety features, conforming to ISO 26262.
Working with CoreAVI, we've found a partner that not only understands the importance of safety-critical automotive graphics but also has expertise in building secure solutions across automotive, industrial and avionics markets. CoreAVI's Vulkan®-based graphics driver now supports our IMG BXS GPU, ensuring developers can create advanced HMI experiences that meet the complex safety requirements of the rapidly evolving automotive market. It also allows us to offer our customers enhanced access to API support, for even faster product deployment by allowing developers to migrate their safety-critical software stack seamlessly across different silicon implementations.
Look, No HyperVisor!
When it comes to the driving experience, advanced electronics have revolutionised how we interact with our in-vehicle infotainment systems as well as cockpit displays. OEMs are focusing on the user experience to differentiate themselves from the competition.
But driving multiple displays in a car efficiently and safely requires the right tools. This is where hardware virtualization can kick things up a notch. It provides a secure, hypervisor-less (HLC) solutions, enabling the underlying car system to manage multi-display and multi-channel camera inputs while at the same time handling image signal processing and microcontroller sub-systems in an isolated safety island for complete functional safety.
A widescreen Android-based IVI running on the Telechips Dolphin3 SoC - featuring PowerVR Series9XTP graphics
The Telechips TCC805x (Dolphin 3) SoC, leverages our PowerVR GPU IP to drive outstanding performance for 2D and 3D graphics. As a hypervisor-less solution, the Dolphin3 enables manufacturers to run different operating systems affordably and securely on a single chip. Our own HyperLane hardware virtualization technology makes it possible for different tasks to be submitted to the GPU in parallel. Simply put, together with Telechips, we ensure drivers always have all their critical dashboard data on hand, while simultaneously running efficient and vivid infotainment and cockpit graphics.
RISC-V growth
As excited as we are for automotive innovation, we shouldn't ignore RISC-V's incredible growth. More and more markets are adopting this innovative ISA, and it's rapidly becoming the architecture that underpins leading-edge embedded systems, as well as artificial intelligence and machine learning. This technology makes custom silicon attainable for a wider pool of manufacturers, and companies of all sizes can fully take advantage of RISC-V and compete in the market. As an open architecture, it removes barriers across industries and encourages the development of shared tools and resources that benefit an ever-growing community of members.
> Read why we've joined the RISC-V Premier League
Imagination is aware of the true potential for innovation and collaboration in the RISC-V space. We're developing a CPU family that leverages the best of this architecture, and our IMG RTXM-2200 is the first product on our roadmap. Strategic partnerships with companies in this space such as Alibaba, SiFive, Andes and StarFive, enable us to combine our expertise and work together to grow the RISC-V community while offering customers the leading-edge innovation they seek. In our latest partnership with Ashling, we are focusing on offering enhanced software support for RISC-V development through the company's RiscFree SDK. This means our customers can leverage a wider range of development tools to support their design journeys, while also enabling them to reduce their time to market.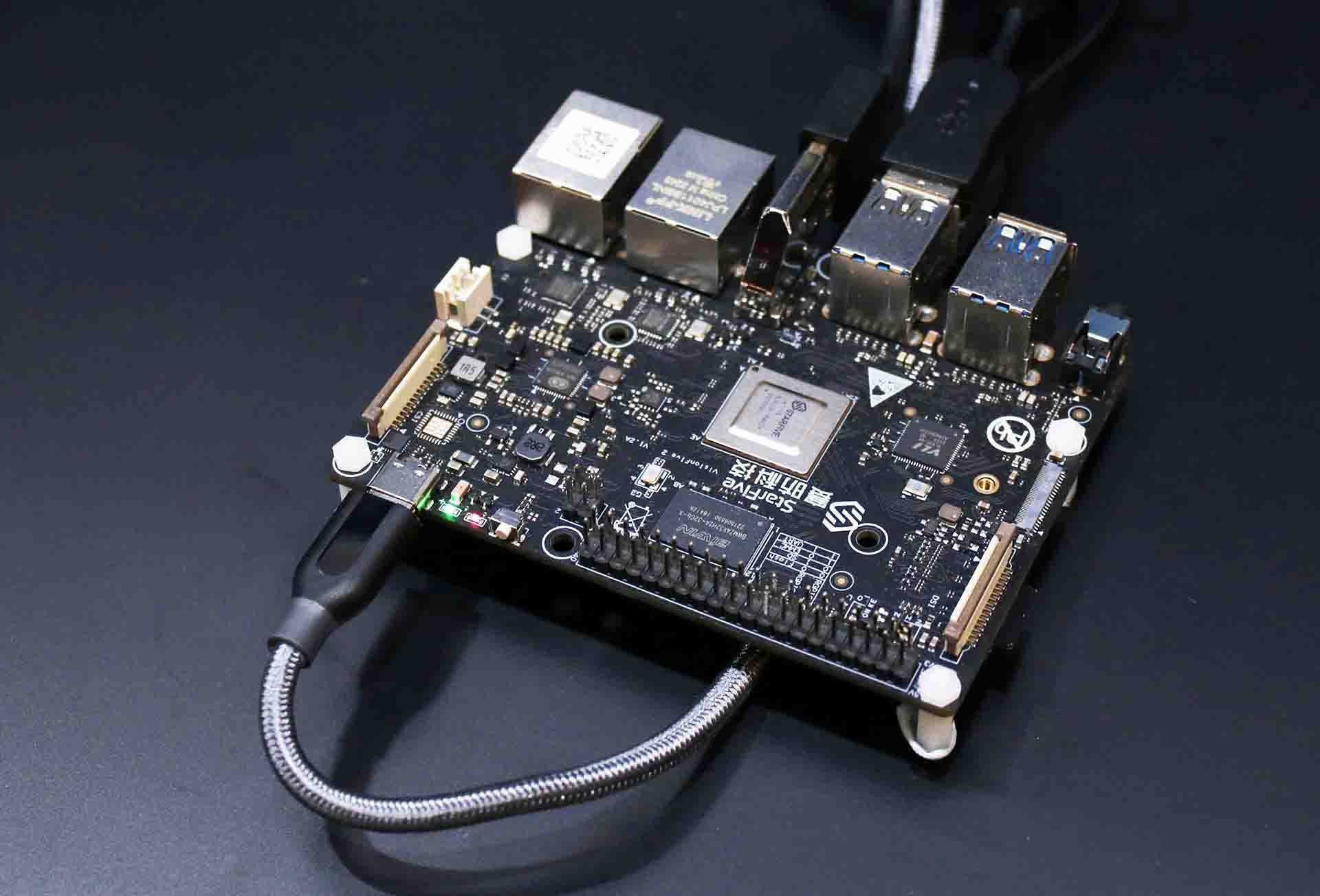 A StarFive Vision2 RISC-V-based single-board computer featuring an IMG BXE GPU
The next generation
When it comes to RISC-V we want to ensure the next generation of engineers have the right tools to succeed. This is where our Imagination University Program (IUP) comes in. We've developed extensive undergraduate courses for graphics, artificial intelligence and RISC-V. The latter course covers two semesters of learning materials for undergrads using RISC-V on an FPGA board and it has received excellent feedback from academics and students alike.
So, with all of this it's no surprise we are looking forward to this year's Embedded World, where we will be expanding our collaborations in RISC-V, ADAS and beyond. We're also keen to see the future embedded trends taking shape at the show, as well as the companies behind them. Starting today, attendees can see our IP in action in a range of interactive demos, spanning automotive and 3D graphics applications, in Hall 4, Booth 558 – we look forward to seeing you there.