Here at Imagination we have a simple goal: to set a new benchmark in efficiency with each GPU core of the PowerVR graphics IP family we release. Efficiency essentially means that each core is optimized to deliver the highest performance possible with the lowest power consumption. The 2012 Embedded Technology Conference and Exhibition (ET) was the perfect place to launch the newest member of the PowerVR Series6 'Rogue' family: the PowerVR G6630. ET is one of the world's largest events for system designers and managers, covering embedded technology, electronics, software, mobile and embedded systems, and semiconductors and Imagination has maintained a strong presence at this event over the years.
Meet the PowerVR G6630: One core, six clusters, endless possibilities
The PowerVR G6630 is the fifth member of the Series6 'Rogue' graphics IP family. It all started almost a year ago, when we introduced the first two members, the PowerVR G6200 and G6400, which were designed to deliver the best performance at the smallest area possible for two and four cluster architectures. With PowerVR G6230 and G6430 we went 'all out', adding incremental area to maximize performance whilst minimizing power consumption.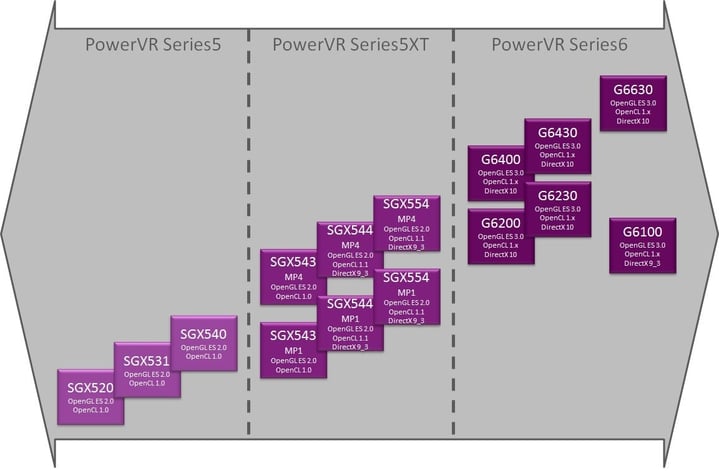 PowerVR graphics IP roadmap: Series5/5XT SGX and Series6 'Rogue'
Now, PowerVR G6630 delivers jaw-dropping graphics and blisteringly fast GPU compute capabilities with six clusters packed inside one GPU core. Thanks to our hard-working engineering team, our unique Series6 'Rogue' architecture allows Imagination to quickly scale the number of clusters inside a core. By offering a dynamic mixture of performance points at different power consumption levels, system designers can choose this six cluster configuration to address higher performance points within mobile processing. As we've recently seen, innovation in mobile computing is driven more and more by integrating the most appropriate GPU within the SoC because the embedded world is all about developing killer apps on the most efficient hardware – and often enough you will find that's Imagination's PowerVR graphics.
The PowerVR G6630 is the latest release of the Series6 family, demonstrating versatile scaling and efficiency. This core offers up to an amazing 60x compute and graphics throughput increase compared to our previous generation graphics IP cores. Many of the platforms shipping from 2013 will be capable to take advantage of PowerVR G6630's ability to deliver the latest features of the industry's major APIs including OpenGL ES 3.0* and OpenCL 1.x from Khronos or DirectX10 from Microsoft.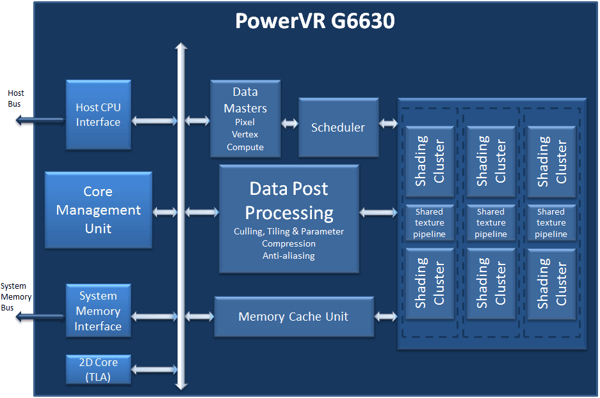 PowerVR G6630 block diagram
All our 'Rogue' cores also include a robust power management mechanism. We've defined power islands which can be turned on or off dynamically to optimize power consumption. For example, the PowerVR G6630 enables each cluster pairs to be managed, allowing three modes of operations (X2, X4 and X6) which will help extend the ever-essential battery life of mobile and embedded computing systems.
Additional features include advanced autonomous processing and enhanced, dedicated scheduling via a C programmable microkernel based on Imagination's Meta CPU technology and a dedicated 2D processor to offload common duties from the shader cluster core such as block image transfers allowing the core to perform basic graphics management tasks. All these improvements are designed to further reduce the overall system power consumption as well as deliver a highly latency tolerant graphics core that requires the lowest memory bandwidth in the industry.
PowerVR Series6 'Rogue': The bigger picture
The PowerVR Series6 'Rogue' architecture is based on a scalable number of compute clusters. This enables mobile computing platforms integrating PowerVR GPUs to be used for a growing range of applications from mobile to high performance embedded graphics including smartphones, tablets, ultra-portable laptops and PCs to automotive, STBs and smart TVs.
PowerVR Series6 GPUs utilize programmable computing elements known as clusters that are designed to offer the highest density of computing performance at the lowest possible power consumption. Clusters are arranged in multiple pairs to form an array of compute elements. Power and performance are further improved by providing optimized compute and graphics data paths, keeping processing on chip and by employing a wide range of lossless and lossy data compression techniques within the processing pipeline.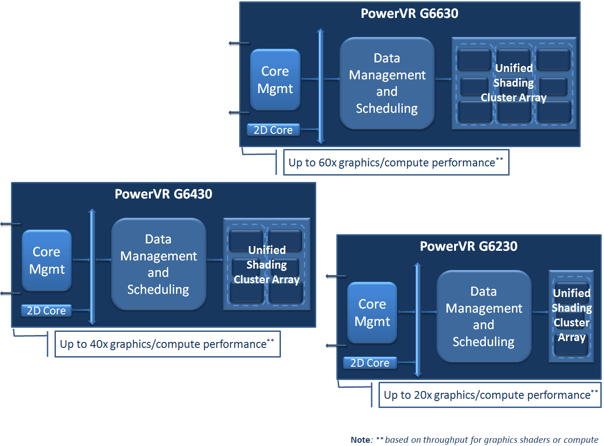 PowerVR Series6 graphics and compute performance overview
With PowerVR Series6 GPUs we've taken our patented tile-based deferred rendering (TBDR) technology and created a design that reaches from a 100 GFLOPS up to more than one TFLOPS of computing performance with significantly greater efficiency relative to our previous cores. This essentially means our partners will deliver platforms with compute capabilities comparable to current generation mains-powered games console but battery powered. Graphics performance has also seen a significant increase compared to previous generations, as Rogue cores are designed to ensure superior fill rates and shader performance for the latest high-resolution smartphones, tablets and TVs as well as multi-screen support for the automotive industry and demanding console-quality gaming.
All PowerVR Series6 cores, including G6630, support the industry-leading PVRTC2™ and PVRTC™ texture compression standards, giving developers a high degree of flexibility and unprecedented image quality levels at 4bpp and 2bpp encoding modes as well as all major Khronos and Microsoft standards.
PowerVR graphics: one GPU solution for all standards
The PowerVR Series6 family is designed to meet all requirements for the latest graphics and compute APIs including OpenGL ES 3.0*/2.0/1.1, OpenGL 3.x/4.x, OpenCL 1.x and full WHQL-compliant DirectX10, with certain family members extending their capabilities to DirectX11.1. The unified shader array architecture offers linear compute scalability within a smaller area compared to competing GPUs, as much of the redundant multicore maintenance logic is no longer needed. One G6xxx core is thus able to offer more compute resources than a design that splits the GPU into independent cores.
Imagination's GPU technology has seen an impressive growth over the past two decades. With roots in the desktop and console market, we now have one of the world's largest engineering teams dedicated to graphics processor development. This industry-wide effort is complemented by our PowerVR Insider ecosystem of dedicated third party developers (now counting more than 35,000 members) and a powerful tool chain including our PowerVR Insider Graphics SDK available for free download.
The PowerVR GPU IP family maintains a leading position within the embedded graphics segment, with over 90 licenses by leading semiconductor companies which have shipped more than 600m devices with Imagination graphics inside. And the story continues: PowerVR Series6 has already secured an impressive number of lead licensees and partners, including industry-leading semiconductor and electronics companies like HiSilicon, ST-Ericsson, Texas Instruments, Renesas and MediaTek.
Excited about our new PowerVR Series6 line-up of graphics cores? Then don't forget to follow us on Twitter (@ImaginationTech) for the latest announcements from Imagination, its partners and the mobile computing market.
* OpenGL ES 3.0 compliance will be subject to successfully passing OpenGL ES 3.0 conformance tests from Khronos (not yet released as of November 2012)