Whether it's the Top 50 Internet of Things applications, UK's Trending Searches for 2012, Tom's Hardware multi-part holiday gift guide or the Top 10 games of the year, everybody seems to be putting together accounts of the things that people care about in technology, ranging from smartphones, tablets and high-end workstations to tech toys and other connected gadgets.
We're here to provide a fresh take on holiday lists, focusing on a selection of the most interesting events, releases and products that we've seen this year.
Imagination releases five PowerVR Series6 graphics IP cores
CES 2012 saw the launch of the first two members from the PowerVR Series6 'Rogue' family: the PowerVR G6200 and G6400. They were designed to deliver the best performance at the smallest area possible for two and four cluster architectures. The PowerVR G6230 and G6430 cores went 'all out', adding incremental area to maximize performance whilst minimizing power consumption. PowerVR G6630 was launched at ET, promising to deliver jaw-dropping graphics and blisteringly fast GPU compute capabilities with six clusters packed inside one GPU core.
Motorola Razr i starts shipping, integrates PowerVR graphics and video technologies
The Motorola Razr i pushes design to the edge (literally) and includes a 2GHz Intel Atom processor built using a 32nm architecture and based on the Medfield architecture. It is using a PowerVR GPU which has been fine-tuned to improve performance, making the UI ultra-responsive and gaming a blast. The Motorola smartphone also includes our PowerVR VPUs (Video Processing Units), which are the world's most advanced and low power hardware decoder/encoder solution. PowerVR VPUs have been shipping in excess of 500 million units to date.
New Amazon Kindle Fire HD 7" and 8.9" tablets with PowerVR GPUs go for sale
A rich HD display requires a powerful processor and optimized software to drive it. Both Kindle Fire HD tablets use a fast dual-core processor with an Imagination PowerVR 3D graphics core, so even graphically-intensive games run smoothly and render stunning scenery. Amazon has also tuned the graphics pipeline and touch-handling software to eliminate delays between when you touch the screen and when the application responds. This means the home screen scrolls more smoothly, videos start playing faster, and games respond nearly instantaneously. The Kindle Fire HD 8.9" tablet includes a stunning 1920×1200 HD display with polarizing filter and anti-glare technology for rich color and deep contrast from any viewing angle. It includes the Texas Instruments OMAP 4470 with PowerVR SGX544 graphics core while the 7" HD version features the OMAP4460 with a PowerVR SGX540 GPU to drive its 1280×800 resolution display.
Huawei's T8830 mobile phone retails for $104 in China
Huawei has just announced the release of the T8830 mobile phone, which is based on the MediaTek MT6517 and integrates a PowerVR SGX 531 GPU. This phone retails at a mere $104 in China, which emphasises how low-cost Android ICS based systems are a viable possibility. The screen resolution has been reduced, as has external connectivity (no NFC or HDMI), in order to reduce cost, but essentially this is still a fully functional smartphone. China is really driving the mobile phone market at present with over 500 million phones forecast to sell in 2014, of which nearly 75% are expected to be smartphones and Imagination is the unchallenged leader in this dynamic market with key partnerships and a growing ecosystem in the ASIAPAC region.
AllWinner launches the A31 SoC with a PowerVR SGX544MP graphics core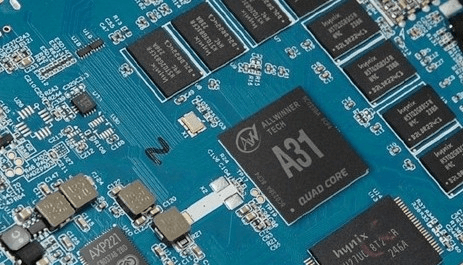 Another fantastic collaboration recently announced from Imagination's vibrant ecosystem of partners is the release of the AllWinner A31 SoC (System-on-Chip) integrating a SGX544MP graphics core. This graphics processor (GPU) IP core is part of the PowerVR Series5XT family of graphics processors which were designed for high efficiency to meet the multimedia requirements of the next generation of consumer, communications and computing applications like UIs running on 4K resolutions at 60fps. The AllWinner A31 processor has been designed to target the growing tablet, smartphone and TV market, being adopted by OEMs like Onda, Teclast or ICOO. DigiTimes estimates that Chinese SoC developers will enjoy robust shipment growth in 2012.
Sony announces new System Software Update v2.00 for Playstation Vita
Sony has announced that they will be bringing PlayStation PS Plus to the handheld console. This allows fans of the world's most powerful portable system (integrating a PowerVR SGX543MP4+ GPU) to access the subscription service. The Instant Game Collection brings subscribers titles including Uncharted: Golden Abyss, Gravity Rush and Chronovolt. Members have access to four games per month and a multitude of other cool perks such as free play, exclusive discounts and online storage.
Caustic Series2 ray tracing R2500 and R2100 PC boards are previewed at Autodesk University and SIGGRAPH Asia
The Caustic Series2 OpenRL PC boards are designed to accelerate the Caustic Visualizer viewport plug-ins for Autodesk Maya and 3ds Max and will be available for purchase from January 2013. The Caustic R2500 OpenRL PC board, including a copy of Caustic Visualizer, is priced at US$1495 and targets the latest high-end workstations. Meanwhile, the Caustic R2100 board, bundled with a copy of Caustic Visualizer, is a mere US$795 and can breathe some much-needed life back into existing mid-range and higher workstations.
Samsung ATIV Smart PC goes for review – Intel 'Clover Trail' SoC and PowerVR graphics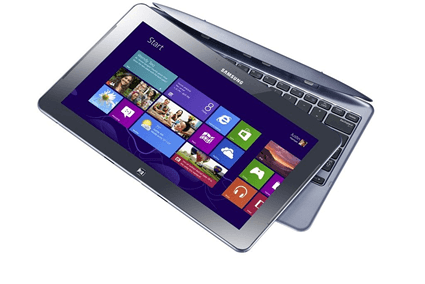 The Samsung ATIV Smart PC 500T is snappy, responsive and capable of anything you'd throw at it for a tablet usage model. It also runs the full version of Windows 8 powered by Intel's latest low power Z2760 SoC (System on Chip). This dual-core platform – initially codenamed 'Clover Trail' – offers integrated PowerVR graphics with up to 533 MHz graphics core frequency and hardware acceleration support for 1080p video encode and decode thanks to Imagination's PowerVR video technologies.
Imagination outstrips all other GPU IP suppliers according to John Peddie Research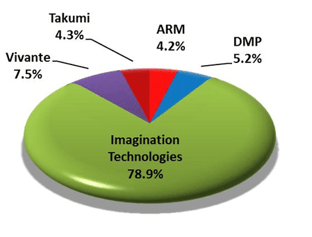 According to a review of the embedded graphics market released by Jon Peddie Research (JPR) in March 2012, Imagination Technologies supplies more GPU IP than all other suppliers combined. The momentum behind the PowerVR Series6 GPUs has generated an impressive number of licensees for our 'Rogue' cores including Renesas, MediaTek, ST-Ericsson, Texas Instruments, and HiSilicon. This is along with MStar, Ricoh, AllWinner, Samsung, Ingenic and Rockchip, joining existing partners like Sony, Sigma and Realtek for our PowerVR Series5/Series5XT family. The next two years will see an exponential growth for mobile graphics, as our research shows shipments of total OpenGL ES enabled GPUs to hit 1 billion units per year by 2014.
MediaTek launches MT6589 with PowerVR SGX544 graphics
MediaTek took the smartphone market by storm this year with the MT6575 SoC and then, later on, with MT6577 and MT6577T processors which have all integrated PowerVR GPUs. All these systems found their way in to phones from local Chinese firms and larger international manufacturers. The new quad-core MT6589 was recently launched in Shenzhen and is part of the company's low-cost, high performance tactic. It includes a PowerVR SGX544 GPU which is the second member of Imagination's PowerVR Series5XT family and has a multi-mode integrated modem that does UMTS/HSPA+ and even TDSCDMA. The MT6589 targets affordable smartphones, currently very popular in the Asian market.
Smartphones, tablets and handheld consoles: Part 2 of the trilogy
We hope you've enjoyed our list and share it around on Twitter, Facebook, Google+ and other social media platforms. We've also published our selection of the best mobile games of 2012 and are preparing the final installment that focuses on the smart TV, set top box and connected home market.
For more announcements and releases from Imagination and its OEM and ODM partners, keep following our blog and Twitter account (@ImaginationTech).