Our DevTech team offers support and creates the tools and documentation that make it easy for developers to create their applications on PowerVR hardware. They don't sit in their ivory tower though but like to get out and about to stay on top of the industry and connect face to face with those looking to learn more about PowerVR. As we hit the middle of summer, we thought we'd take a look back at a few of the events that the team has attended since the beginning of the year and give a taster of what's in store of the rest of it.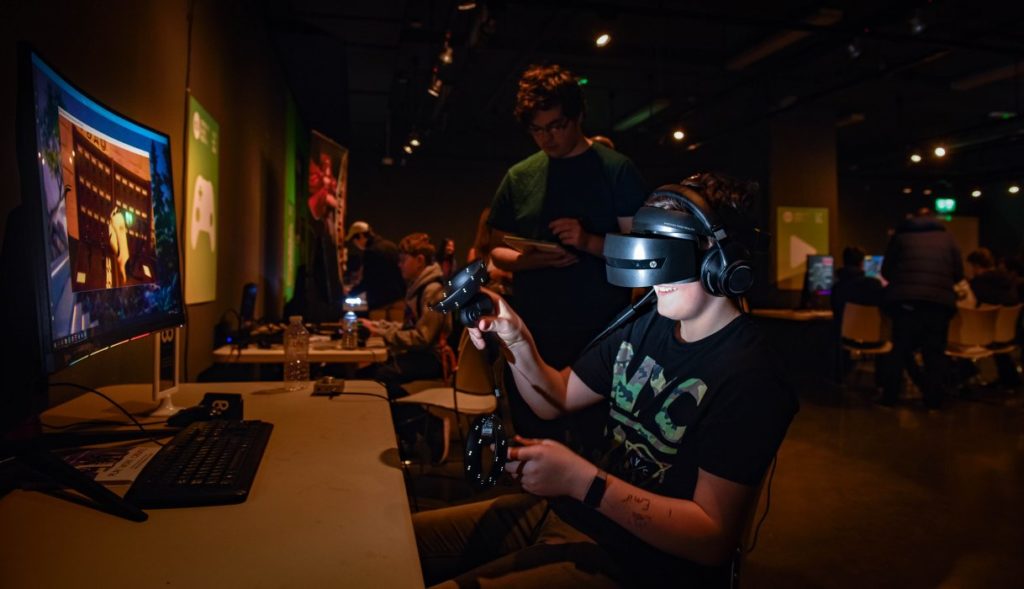 February – Yorkshire Games Festival
Back in February, one of the team attended the Yorkshire Games Festival, a small event mainly targeting children, schools, students but also has space for professionals. The weekend was also an opportunity for indie developers to let the public see and play their games at an early stage to garner some early feedback. There was also a 'Meet the Developers' networking event, where the topic was how to get into the games industry. We attended several talks one of the highlights of which was from Richard England from Reflex Arc, a BAFTA-nominated technologist and creator of the Jurassic World VR Expedition, a photorealistic, 90fps experience which lets you feel what it's like to be very close to dinosaurs without having to worry about being eaten, which is a bonus. We also met Rami Ismail, co-founder of Dutch studio Vlambeer, who gave a talk on independent games development, while Mette Andersen gave an interesting talk about level design in the game Hitman 2, specifically about making levels feel real-world, realistic and varied.
March – Games Developer conference 2019
The big event between March 18-22 was, of course, the Games Developer conference 2019 (GDC 2019) in San Francisco, where Imagination had a booth. As you'd expect from a major event there was a lot of energy on the show floor. Our booth was also a lively affair and we were pleased to see a lot of interest in all of our demos such as 'hangAR' augmented reality, our PowerVR Series9XM GPU demo actually running on a prototype device running a MediaTek P90 chipset, (now widely available in the Oppo Reno-Z). It was also the venue where we got to show off our great new logo for PowerVR.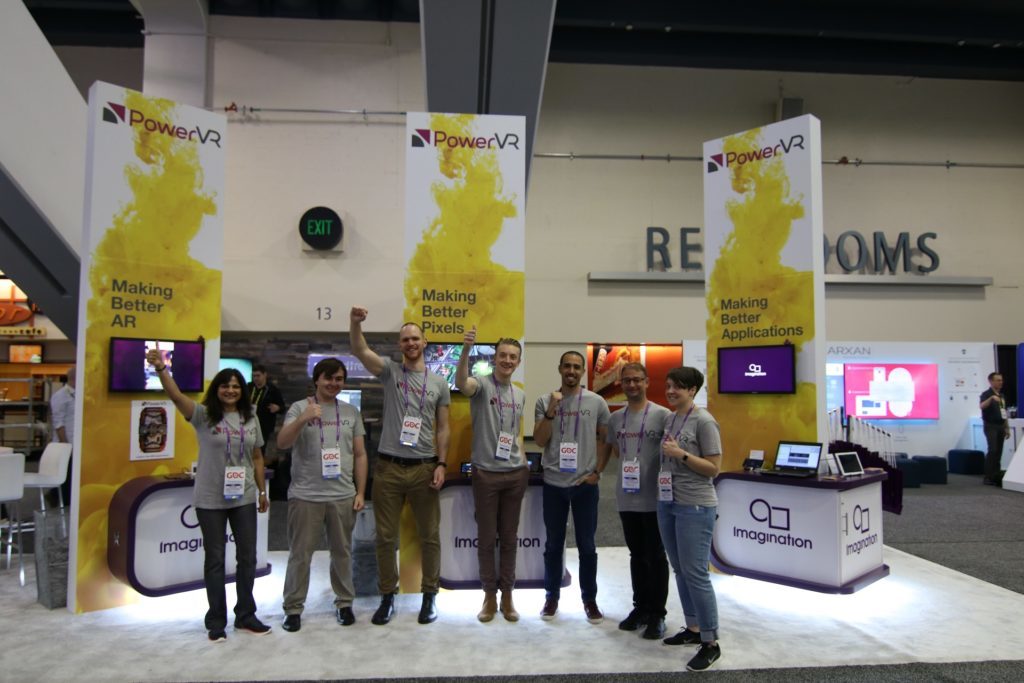 Naturally, there were a great many discussions around new graphics techniques with an emphasis on how to bring console-level quality to mobile using the latest APIs. From what we've seen, it was clear than many developers are moving to Vulkan (especially v 1.1) as the development API of choice – which is, naturally, supported by all our GPUs, from the Rogue architecture onwards.
At GDC our developer technology engineer Omar Zohdi gave a well-received talk about our PowerVR tools, such as PVRMonitor, PVRScope and PVRTune. To enable them to do this he also explained the differences between PowerVR and other architectures – specifically the fact that it's a tile-based deferred renderer and how this makes it the most efficient architecture for mobile and embedded GPUs on the market. Omar then went into detail on each tool, explaining what their capabilities are and describing the best practices for profiling graphics applications.
He showed off the new features available for PVRTune, with the highlights being support for Vulkan and OpenCL. We also showcased our redesigned PVRMonitor app rebuilt for Android from scratch and now featuring an Unreal Engine plugin, while PVRStudio enables developers to debug a graphics application in real-time. Omar talked about how to profile graphics applications using PVRTune, going step by step so as to identify bottlenecks.
April – Reboot Develop Blue 2019
The Reboot Develop conference is an opportunity to mix with industry professionals and while the main focus is on business there was also opportunities to hear interesting talks about the latest tools, tips and tricks that are being used for real.
It was held in Dubrovnik, known for the Sponza Palace famous for its gothic and renaissance architecture. The VIP dinner for speakers was held at the Lovrijenac Fortress made famous as the Red Keep from the TV series Game of Thrones. The dinner was held in the from the show (also known as), which was a pretty cool location.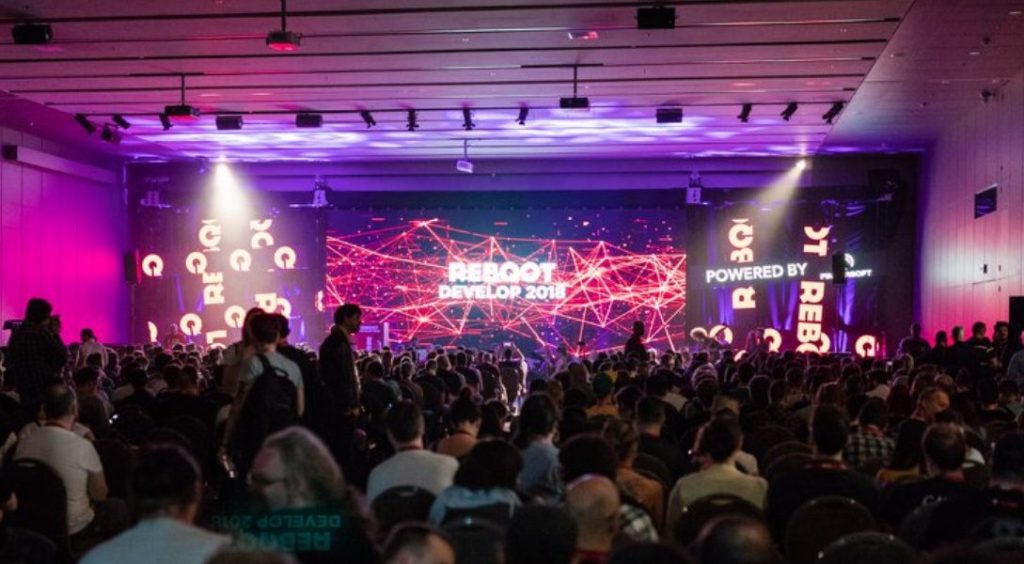 As with GDC, we got to meet many developers and have discussions on some of the latest programming techniques. Among the many talks we attended were one discussing the Halcyon game engine used by EA, a talk on procedural terrain from developer house Croteam, and another by them on how frame stutter is often due to bad timing of game physics rather than poor performance.
We also got to see many of the interesting indie games out there that caught our eye, such as "Vagrus", "Light and Dark" and "Lost Hero" and also gave a talk about our tools similar to our talk from GDC.
May – Vulkanised 2019
Vulkanised is a conference run by the Khronos Group, the creators of the Vulkan standard, to promote and aid adoption of the API. Held on Cambridge, UK, we had an opportunity to hear about talks from the liked and Samsung and AMD, with the latter, for example, shedding some light on questions such as, "under what circumstances is FBCDC enabled on Vulkan." In the main, though Vulkanised proved to be an excellent opportunity to catch up with the key Vulkan developers from around the world.

May – Digital Dragons 2019
May also saw us attend Digital Dragons 2019 where Marton Tamas, our developer technology lead support engineer again spoke about our tools. Check out our blog post for the low down including a video of the whole presentation and the slides.
As you can see the DevTech team have been busy getting out and about – and these are just some of the events we attended in the first half of the year – there will be more coming later this year as we build up to some major announcements from Imagination about new products in the GPU space. We also have a GitHub page where we release our SDK – check it out!