First previewed at CES 2014, the Allwinner UltraOcta A80 processor is now making its formal debut at MWC 2014. The full set of specifications includes an eight-core big.LITTLE HMP (GTS) CPU paired with a PowerVR G6230 GPU, providing some of the best horsepower for graphics and compute available right now.
The Allwinner UltraOcta A80 is an octa-core processor with a PowerVR Series6 GPU
Allwinner is one of the leading semiconductor companies worldwide, serving the mobile market with a wide range of high performance, low power products that have been instrumental in enabling the emergence of numerous low cost devices, including tablets, phablets, portable game consoles, set-top boxes and many others.
The company's first two SoCs with PowerVR graphics, the Allwinner A31 and A31s, were a hit in emerging markets and were the driving force behind a new wave of affordable mobile devices for most of 2013. More recently, 4G tablets based on the Allwinner A31 and A31s were shown during CES and both chipsets were given a boost in system performance thanks to an update to the latest Android 4.4 KitKat operating system. Since their official announcement, Allwinner A31 and A31s SoCs have been used by top-tier brands worldwide including HP, MSI, Pegatron, Foxconn, and Kurio, making them some of the most successful quad-core tablet processors in 2013. For example, the Allwinner A31s-based Compaq 7/7+/8 range from HP has been very popular in emerging markets due to a combination of high-performance processing from Allwinner and Imagination, premium features and affordable pricing.
Introducing the Allwinner UltraOcta A80 processor
2014 is set to be an exciting year for Allwinner. Their new UltraOcta A80 processor offers a significant boost in graphics performance. Whereas A31 and A31s integrated a PowerVR SGX544MP2 GPU, UltraOcta is upgraded to a PowerVR G6230 graphics processor. This means a twofold increase in graphics and compute performance as well as an update in feature set.
The Allwinner UltraOcta A80 processor includes a two-cluster PowerVR G6230 GPU with 64 cores
The PowerVR G6230 GPU is based on the Rogue architecture, which has been designed to support a variety of APIs, including OpenGL ES Next and 3.0, OpenCL 1.x, Renderscript, and DirectX 10.
OpenGL ES Next is perhaps the most interesting of all, considering that it brings very exciting features to OpenGL ES 3.0: compute shaders, indirect draw commands, enhanced texture functionality and more. Since the PowerVR Rogue architecture has been designed with a forward-thinking approach for ultimate efficiency, Imagination has been one of the first mobile GPU vendors to announce our support for this new standard. Consumers can rest assured they are getting the best possible graphics engine available, which will be able to run the latest fully-featured applications.
PowerVR support for DirectX 10 enables OEMs/ODMs looking to build Windows RT tablets to access the best GPU available at the moment. And considering Allwinner has always had a cost-conscious approach to apps processors, end users can now have access to more affordable devices which make no compromises when it comes to cutting-edge, low power graphics technology.
64 cores ticking inside the PowerVR G6230 GPU
Perhaps the most exciting aspect of the PowerVR GPU inside the Allwinner UltraOcta A80 processor is what's under the hood, so let's take a brief look at its architecture.
PowerVR G6230 has two shading clusters, each with 32 FP32 ALU cores. This adds up to a total of 64 cores which are able to provide the required GFLOPS needed to crunch through the most demanding graphics and compute applications.
But the performance-optimized PowerVR G6230 GPU also has a dedicated FP16 engine designed to bring superior performance to most modern applications and UIs. This mix of FP32 and FP16 units actually takes the number of compute units way beyond 64 and provides the perfect balance for high performance, low power shading.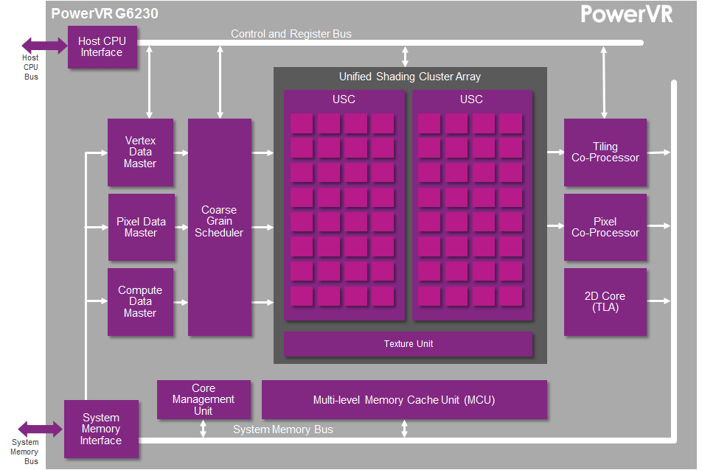 The PowerVR G6230 has 64 FP32 ALU cores
To complement the raw GFLOPS performance, PowerVR G6230 has a number of features designed to decrease memory bandwidth and reduce system power consumption. These features are best described by one term: PVR3C (PowerVR triple compression). PVR3C includes finely-tuned hardware technologies which enable lossy texture compression (PVRTC1/2 at 2bpp and 4bpp resolutions), lossless image compression (PVRIC) and lossless geometry compression (PVRGC) support.
Finally, the PowerVR Rogue architecture has been upgraded to a scalar-based processing engine that sets it apart from the vector engines used in competing GPU designs. There are numerous advantages in going to a scalar processing architecture, including higher resource utilization and easier optimal software development. This ease of development benefits both our compiler teams and developers, since it no longer matters if they vectorise their software or not.
What do you think of the Allwinner UltraOcta A80 processor? If you are at MWC 2014 in Barcelona, stop by our booth to see our latest graphics and compute demos running on our PowerVR Rogue architecture. Make sure you follow us on Twitter (@ImaginationTech) for the latest news and announcements from our silicon partners.