Imagination is the leading supplier of graphics processors in the automotive space. With nine GPU generations under our belt and fast approaching half a billion in total shipments into the sector, Imagination's IP delivers both comfort and safety to vehicles. Our GPUs are supporting the transition to advanced in-car experiences by combining engaging and responsive HMIs (human machine interfaces) with increasingly functional advanced driver assistance systems. The IMG BXS range is our current line of safety-critical GPUs designed specifically to meet the needs of car manufacturers and comes complete with a range of hardware and software-based features that maximise performance, maintain efficiency, and deliver on safety and security.
Which IMG BXS GPU is right for you?
Graphics processors are an essential part of a modern car's architecture. They deliver responsive and smooth user interfaces into the infotainment system and reliably update the information relayed to the driver via the digital cockpit. Demand for infotainment graphics processing will only increase as electric charging and autonomous driving mean people have more idle time in cars and need engaging in-vehicle entertainment. Not only that, but the GPU's ALU (arithmetic logic unit) has an inherent proficiency at rapidly processing mathematical workloads, which means that designers of advanced driver assistance systems (ADAS) are turning to the compute performance of GPUs in order to accelerate the ADAS workflow.
We have continued to invest in the IMG BXS GPU family since its announcement in 2020, matching new configurations to the needs of our customers. Today, the range consists of nine IMG BXS GPUs that are available off the shelf, starting with the area-efficient IMG BXS-4-64 GPU and scaling up to the IMG BXS-32-1024 MC4 GPU with its 128ppc fillrate and 4TFLOPS compute performance. The development of the IMG BXS GPU range adheres to ISO 26262 standards, and the products are ASIL-B certifiable.
But with nine Imagination IMG BXS GPUs to choose from, how do you know which GPU is the best fit for your use case?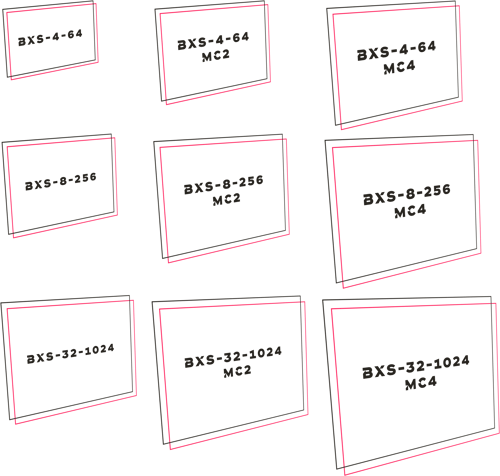 Imagination IMG BXS GPUs for automotive HMI
At its most basic, the Human Machine Interaction (HMI) in a car relates to the way that the car displays information to the driver and passenger and how they input requests to the vehicle. Screen requirements range from a single low-resolution screen to multiple displays with resolutions of 4K and above. In-car entertainment could be a simple display for radio, media, or maps, or it could include game or content streaming. It requires graphics processing as well as, in more advanced use cases, an element of GPU compute for in-cabin driver monitoring or gesture recognition.
Efficiency and low power are central to entry-level HMI GPU requirements. In these cases, the car would tend to have one 1080p infotainment screen on the centre console, and, in some cases, another screen as a digital cockpit in front of the driving wheel.
The IMG BXS-4-64 GPU is our area-efficient offering for this space, with a fillrate of 4ppc and has been included in products such as the Texas Instruments (TI) Jacinto™ processor family. Multi-core options for this processor are available for customers looking for increased performance or GPU multitasking. You can find out more about GPU multitasking by downloading and reading our IMG B-Series Multi-Core white paper.
At the time, Jim Kennedy, Platform Engineering Director for TI Processors, said, "Imagination's BXS GPUs enable us to introduce differentiated automotive processors with higher performance, lower bandwidth, and enhanced safety capabilities. IMG's new multi-core technology also helps us scale our technology for future processor designs."
This differentiation is enabled by key IMG BXS GPU features that optimise automotive performance, efficiency, and security. For example, the GPUs are designed with high performance in mind for multisample anti-aliasing, firmware processing, latency tolerance, and YUV camera input; customisable image compression technologies promote bandwidth efficiency; and they come with features such as Tile Region Protection (TRP) for secure rendering and Work Group Protection for both safety rendering and compute workloads.
IMG BXS GPUs Tile Region Protection in action
If the GPU is required to drive higher-resolution screens, then the 8ppc fillrate of the IMG BXS-8-256 GPU comes into its own. If multiple screens or multiple operating systems need to be managed by one GPU—for example, delivering safety-critical information to the digital cockpit at the same time as streaming video to passengers in the rear—then the recently released dual- and quad-core options of the IMG BXS-8-256 GPU are a great fit. For best-in-class HMI, including gesture or voice recognition and driver monitoring, the higher compute capacity of the IMG BXS-32-1024 GPUs, starting at 1TFLOPS compute performance and scaling up to 4TFLOPS, will deliver the processing horsepower required.
IMG BXS GPUs for ADAS
Their high levels of compute performance combined with in-built hardware and software mechanisms for safety and security make the top end of IMG BXS GPU range ideally suited for ADAS applications. The IMG BXS-32-1024 GPUs support L1 to L4 ADAS applications such as adaptive cruise control or lane keeping. For this level of ADAS, where the GPU is running image manipulation, or pre-processing, as well as AI acceleration for a group of sensors at a time, the performance range of the IMG BXS-32-1024 GPUs provides an efficient fit for platform designers. The quad-core version of the GPU in particular offers maximum performance (running as a 1xMC4 and delivering 4TFLOPs compute) or maximum flexibility (running as a 4xMC1 configuration, where each individual core operates as an individual GPU).
The safety-critical driver
Hardware is only part of the picture when it comes to automotive applications: safety-critical software is also a must-have. The safety-critical driver for IMG BXS GPUs is designed by the safety experts at CoreAVI. It is a high performance Vulkan based acceleration driver that offers ISO 26262 certification up to ASIL (Automotive Safety Integrity Levels) B. The driver allows developers to migrate their safety critical software stack seamlessly across different silicon implementations, dramatically increasing flexibility and scalability and reducing the total cost of ownership for safety systems. OpenGL applications can also be run on the driver. The IMG BXS range of GPUs meets the complex safety requirements for graphics in the rapidly evolving automotive market.
The #1 GPU for automotive
Imagination has been at the forefront of automotive graphics for nearly two decades. Our technology is helping the car industry transform the graphics processor from a simple pixel-pusher into the brains behind the autonomous driving revolution. We are continuing to invest in our automotive product line so that future generations of vehicles have the processing performance needed to achieve the promise of the autonomous driving revolution.
To find out more about Imagination's solutions for automotive, get in touch with the team today.