Over the past few months, we've seen a new wave of announcements related to the Internet of Things (IoT) and other ultra-portable devices integrating Imagination IP. One of the biggest buzzwords right now is wearable devices; there were several wearable concepts introduced at CES 2014, covering any and every use case, from augmented and virtual reality or entertainment to fitness, health, and many more.
At Imagination, we are well prepared to deliver innovative hardware and software IP that has been specifically designed to address the rapid growth in demand for these applications. Imagination is the only IP company that can deliver a full suite of low-power, feature-rich technologies encompassing CPU, graphics, video, vision, connectivity, cloud services and beyond. Our market-leading PowerVR GPUs and VPUs, efficient MIPS CPUs, innovative Ensigma RPUs and other IP solutions create the perfect foundation for developing new processors for ultra-low-power wearables that will be soon find their way into a myriad of devices such as smartwatches, health and fitness devices and more.
PowerVR and smart glasses
An example of a type of wearable device that has benefited from Imagination's IP is smart glasses. Google Glass has been the first; featuring a Texas Instruments OMAP4430 processor with a PowerVR SGX540 GPU, Glass is able to take pictures, record videos, search the internet, and navigate maps.
But in the hand of ingenious developers, it can do so much more. For example, a recent article in the MIT Technology Review highlights an app that can recognize objects in front of a person wearing a Google Glass device.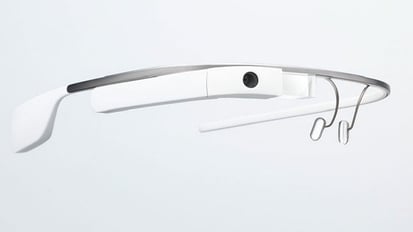 This type of functionality opens up a whole new range of applications related to computer vision and augmented reality, two applications where wearables have clear potential.
However, there were multiple PowerVR-based smart glasses introduced at CES 2014:
Recon Instruments introduced Snow2, an iPhone-connected heads-up display (HUD) for winter sports. The Recon Snow2 project is a collaboration between Recon and Oakley and can be found as a complete kit called Oakley Airwave 1.5. Recon however is working with multiple companies to build several products that are tuned to their requirements. Recon Snow2 features an integrated GPS and can display your speed, altitude, location, and act as a navigation instrument. For example, there is an iOS app that allows you to share your position on a map and locate your friends or family on the slopes.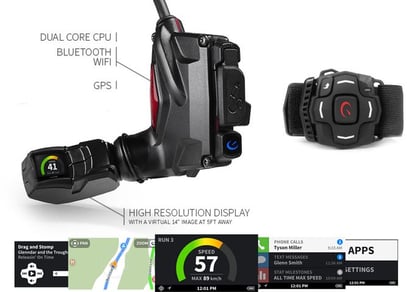 XOne is the first product from startup XOEye Technologies and took five years to design. XOne is a pair of safety glasses designed to improve efficiency and enhance safety for skilled labour jobs. The glasses rely entirely on audio and LEDs to communicate messages to the wearer. XOne integrates two 5MPx cameras (one inside each lens), speakers and a microphone, a gyroscope, and an accelerometer; the system is powered by a TI OMAP 4460 processor, running a custom version of Linux designed for enterprise use.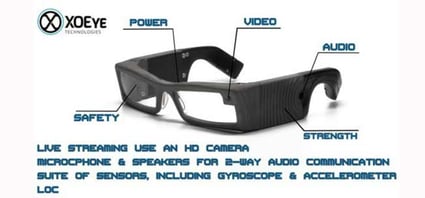 The Vuzix M100 is one of the first commercially available smart glasses. They are an Android-based wearable computer, featuring a monocular display, recording features and wireless connectivity capabilities. Vuzis M100 has been designed to cover a range of applications; powerful, small and light, the M100 is well suited for a variety of industrial, medical, retail and prosumer users.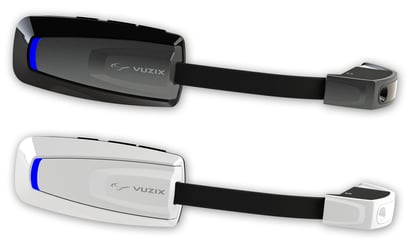 The Epson Moverio BT-200 smart glasses are designed for users who like to enjoy their multimedia and do their gaming on a pair of glasses. Epson has put a lot of effort into integrating the technology (an OMAP processor) with the physical design. Even better, the smart glasses run Android 4.0.4 and apps from the Epson store; another unique feature is how users interact with the device, which is mainly done via a hand-held touchpad controller wired to the glasses. Epson has been named a 2014 CES Innovations Awards honoree in wearable tech for its Moverio BT-200 smart glasses.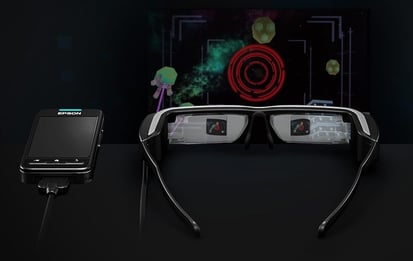 Lumus generated a lot of attention around its DK-40 wearable smart glasses at CES. They were very eager to show off the new developer unit in public focusing on how the monocular headset overlays a full VGA digital image over the right eye instead of using a small window for notifications. Lumus DK-40 runs Android, includes an OMAP processor and comes in multiple colours.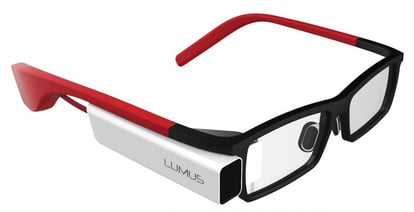 I hope you've enjoyed our recap of some of the most interesting smart glass designs revealed at CES 2014. If you are interested in this category of devices and want to know more about the wearable gadgets that use our IP, make sure you follow us on Twitter (@ImaginationTech) and keep coming back to our blog.