GoRetroid, the creator of the Retroid Pocket 3, is well-known in the retro handheld gaming community, most notably for its ultra-reliable products and highly competitive pricing strategy.
After being 'in the making' for a long time and promoted by GoRetroid for several months, the Retroid Pocket 3 was released in September 2022. With a starting price of $119.00 and a price increase to $129.00 for slightly more RAM, the amount of power packed into a device at this price point is surprising.
For the Retroid Pocket 3, GoRetroid has chosen to rely on using an Android OS to support the gaming functionality instead of other common OS's that are typically used with retro gaming consoles such as RetroPie or other Linux-based systems. This helps place the Retroid Pocket 3 ahead of many of its competitors, as an Android interface helps create familiarity for smartphone users and those newer to retro gaming. Instead of having to flick through a step-by-step guide or watch an in-depth YouTube tutorial, a large majority of users can experience a smoother process when loading and managing their games with a system that feels and looks familiar.
GoRetroid has since released the Retroid Pocket 3+, which is now available at a higher cost. However, this is far from meaning that the Retroid Pocket 3 isn't worth your time.
I have owned and played many retro gaming consoles and handheld systems and have a lot of experience in video game emulation, so I was eager to review the Retroid Pocket 3.
Specifications
The reason why the Retroid Pocket 3 is on our radar at Imagination, is that it contains our PowerVR GE8300 GPU, a high-performance graphics processor that is perfect for entry-level markets. The full specifications for the Retroid 3 are:
SoC: Unisoc Tiger T310
GPU: Imagination PowerVR GE8300
RAM: 2GB and 3GB options
Storage: 32GB internal memory (expandable with an SD card)
Display: 4.7-inch HD touchscreen with a 16:9 aspect ratio
Battery: 4000mAh
Connectivity: 2.4GHz + 5GHz Wi-Fi, Bluetooth 5.0
OS: Android-based GoRetroid game launcher and front end
First released in 2019, the venerable PowerVR GE8300 has proved to be a popular choice for many cost-sensitive mobile and consumer devices, offering a sweet spot of power, performance and area. No surprise then that it's found in many SoC to this day. For example, you'll find it in the still current Amazon Fire Stick 4K. Inside the Unisoc Tiger T310 SoC, produced using a 12nm process, the GE8300 is clocked at 800MHz, providing that balance of performance and battery life. (Those looking for a latest-generation GPU solution for their SoCs might want to look at the IMG BXE-4-32 MC1 GPU).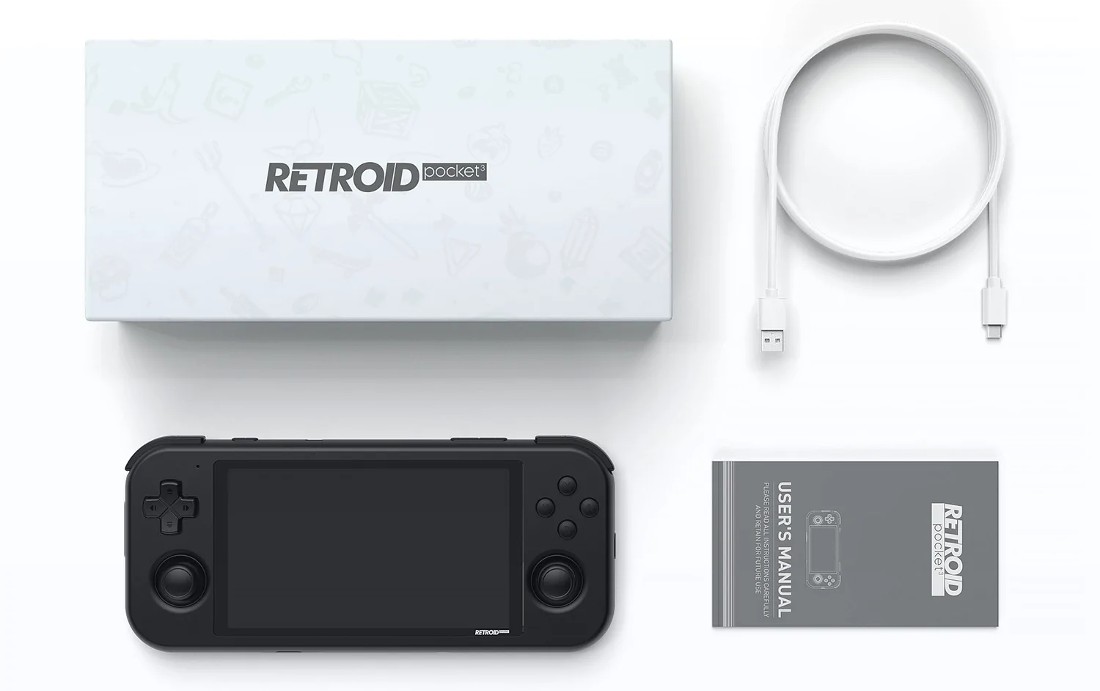 The presence of Bluetooth 5.0 inside the SoC means you can use both Bluetooth headphones and video game controllers, which is useful as you can connect this device to your TV via its micro- HDMI port, displaying games up to 720p, for a lean-back, sofa-based gaming experience. As well as a 3.5mm headphone jack there is a USB-C port, which is used for both charging the device and connecting it to your laptop or PC.
Given that the handheld runs Android as its operating system, the inclusion of a touchscreen makes perfect sense. I've used Android handhelds without a touchscreen before, and it's a pain. The 4000mAh battery lasts around 5-6 hours; however, this is completely dependent on what you are playing, as the system will naturally work harder on higher-demanding games and other factors such as screen brightness.
Appearance
Almost instantly, you can compare the Retroid Pocket 3's design to the Nintendo Switch Lite. It looks like the younger brother of Nintendo's handheld system. It's overall a clean, sleek, and comfortable design. GoRetroid kept it simple, which is great. Many retro gaming systems try way too hard to stand out with extra buttons and unique designs, which sometimes work, but why take the risk when you can use a tried and tested formula that suits all?
The screen itself of the Retroid Pocket 3 is fantastic. On full brightness (which will kill the battery), and with its smaller screen, its saturation and clarity look more impressive than the Nintendo Switch and Switch Lite. The colours don't pop as much as the OLED model of the Nintendo Switch, but the Retroid Pocket 3 beats out the other two—as well as pretty much any other retro handheld device at this price point.
The button layout is mostly fine; it follows the same structure many gaming systems have used for years. The analogue sticks feel great, as do the shoulder buttons. Inside your box from GoRetroid, you will find extra buttons, which you can replace should you wish to. This ultimately comes down to personal preference on whether you prefer more rubbery buttons or "clickier" ones. My only gripe with the buttons is the placement of the start and select buttons, which are at the top of the system. While this isn't a dealbreaker, it can take a little getting used to, especially if you are playing a game that requires these buttons to be accessed often.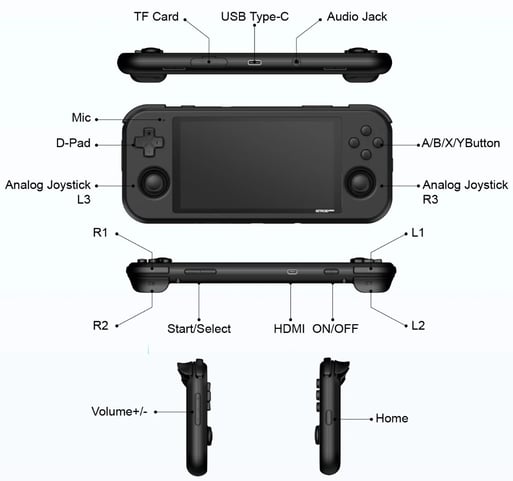 The only real negative for me about the design and appearance of the Retroid Pocket 3 is the lack of an LED light that shows whether the system is on or off. This isn't a device that you'll want to leave idle for too long, and when locked, the screen (depending on settings) will show no indication of whether the device is on or off. A little LED light somewhere showing the device is on, off, low on battery, or charging would have been great. It's something many of my previous retro devices have had, so I have grown accustomed to it, but if you aren't used to having this, you won't miss it.
The Setup
Ease of use appears to be at the forefront of GoRetroid's mind when building the Retroid Pocket 3. Upon starting up the system for the first time, you are greeted with a launcher listing a number of emulators available to instantly download. This allows you to dive straight into gaming once they have been installed, provided you have the ROMs.
With the Retroid Pocket 3, you have two options on how you can use the system. You can use GoRetroid's own Retroid Launcher. This acts as a front end and will catalogue and organise your games and ROMs for you (to an extent). It has a super-clean layout and resembles (again) the Nintendo Switch home screen, with tiles that you can navigate via touchscreen or controls. When selecting a console, such as Game Boy Color, the tile will open and provide you with a list of all the available ROMs you have. Simply select and play.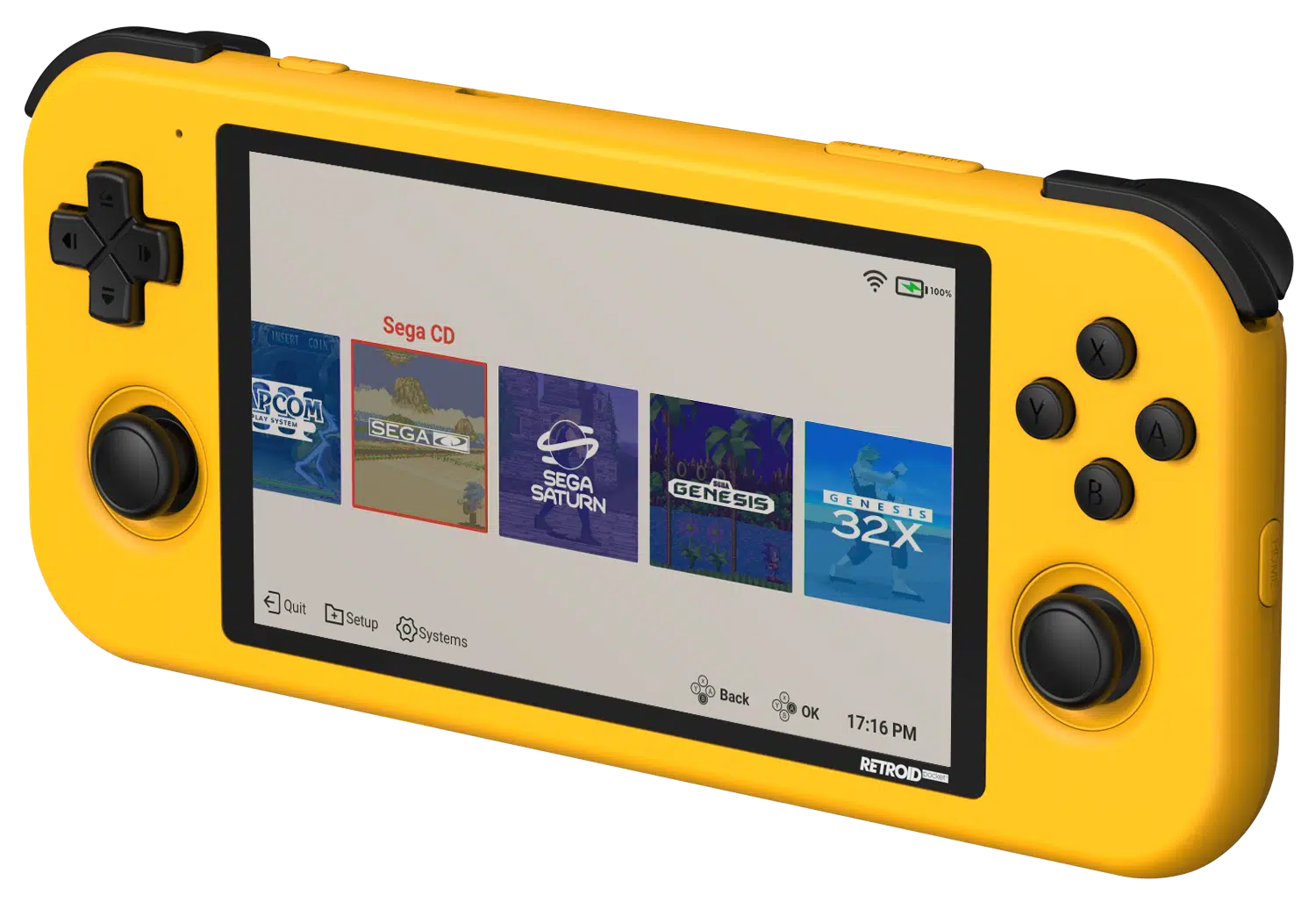 The Retroid Pocket 3 comes in many colours, and has it's own Retroid Launcher built in
Alternatively, you can treat the Retroid Pocket as an Android machine. The Retroid Launcher is essentially just another app on the device and can be treated as one. This means that the entire device can function like any other Android device, with a customisable home screen and your own apps and widgets, allowing you to arrange the layout as you see fit (within the limitations of Android, of course). It's important to keep in mind that, as this is essentially an Android device, you can download almost any app from the Google Play Store and make full use of the Retroid Pocket 3's controls within those games. For example, you can download Genshin Impact and play it on this device using the handheld's buttons (albeit on lower settings, as this game is a beast!).
Providing you have your ROMs ready to go and the correct emulators downloaded, which the Retroid Launcher can assist with, there isn't much else to do in terms of setting up that would require too much effort. However, there are some aspects of this to consider, which can be a little confusing or finicky for someone new to retro handheld gaming.
As this is ultimately an Android device, many of the applications you use will naturally be read as Android apps; this means that most, if not all, emulators will initially load with onscreen buttons (as if you were on a smartphone). With many, you can simply use any button on the Retroid Pocket 3 and the onscreen overlay will disappear, but there will be some in which you'll need to navigate the menu and change this. Settings and changes should save on most applications, so this is only a one-time occurrence, but the settings within some of these applications are not always the most user-friendly.
For those who want to personalise their experience a little more, you can dive deeper into the settings of these emulator applications, and play around with things such as speeding up (or the option to toggle it on and off), adding filters to make the video games look like they did back in the day—like CRT—or adding the greenish tone to original Game Boy games, and even amending the aspect ratio so it is just right. All of these can be amended if you take the time to find where they sit in the settings. My recommendation would be to watch a guide or two if you are new to that emulator, as one wrong change could significantly harm your experience.
As the proud owner of a Retroid Pocket 3, you will need to know your way around your device's directory. Many applications and emulators will not automatically locate your ROMs. You need to know where they are and how to get to them. This can be done in two simple ways. The first option is to save all your ROMs to an SD card and insert it into your device. That way you can select the external storage, and viola, it's all there. The other, if you aren't using external storage, is to plug your Retroid Pocket 3 into your PC or laptop and create a folder or clear path where you will save your ROMs. That way, whenever prompted, you know where to go. This is not common in other retro handhelds, as in my experience, they manage this aspect a lot better and it is usually automatic and seamless; however, they don't have the luxury of using the Android OS.
Overall, the setup is very simple if you just want to get into a game and go. Especially when compared to its competitors, which typically necessitate additional software downloads or lengthy step-by-step setup instructions. I'm confident that even those with little to no experience with Android or smartphones will be able to get up and running and gaming in no time. 
Performance
For its price point, the Retroid Pocket 3 is a retro gamer's dream and performs at a much higher level than the price of this product would suggest. The Retroid Pocket 3 can play almost everything up to the PSP smoothly. This includes, but is not limited to, NES, SNES, Game Boy, Game Boy Color, Nintendo 64, Game Boy Advance, Nintendo DS, PlayStation, PSP, Sega Master System, Game Gear, Sega Saturn, and most Dreamcast games.
As mentioned prior, the screen is beautiful and crisp, and it makes many of these classic games look better than they ever have. If you want to tinker around in the settings, you can upscale a few of these games to make them even more impressive! Couple that with the HD screen, and you'll be in retro-gaming heaven.
Anything above these listed consoles isn't worth attempting. For example, you can get GameCube and PlayStation 2 games to run, but they will be so slow that they'll be almost unplayable and not worth the trouble to get them to a semi-acceptable level.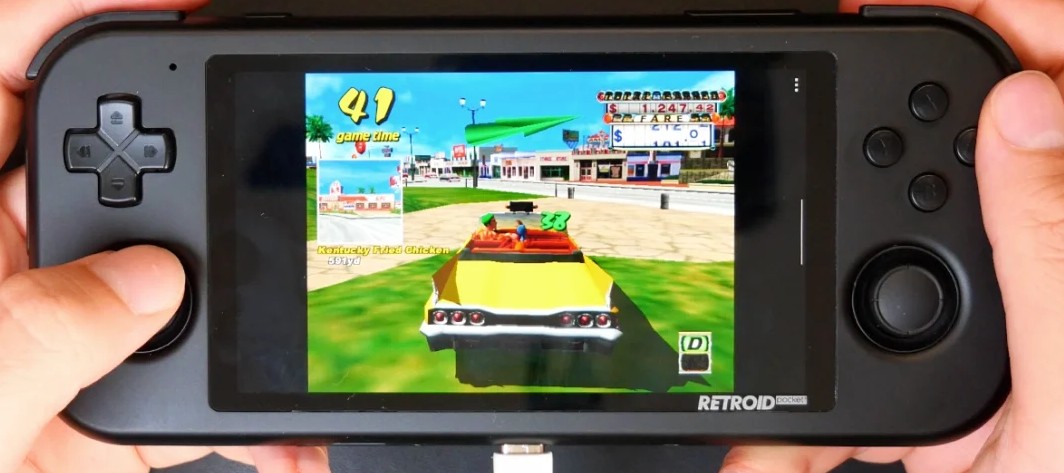 Crazy Taxi of the Sega Dreamcast is a nostalgic trip on the Retroid Pocket 3
It's also worth highlighting that even though the screen is great, sometimes the text in-game can be hard to read, especially when playing a console game that is not usually played handheld. That's when you grab your Bluetooth controller and hook it up to the TV!
Another thing to consider is that, as this is an Android device at its heart, you have access to a slew of cloud gaming options too—and they work amazingly. So long as you have an account with at least one of the cloud gaming options available to you, you have some real high-spec games at your fingertips that look and run great. You will need a constant (and strong) internet connection, though.
Usually, when purchasing a retro gaming system, you are aware of what it can and can't play, and again, for the cost of a Retroid Pocket 3, you are getting a very powerful system that blows away its competitors at the same price point, with the option of Android gaming, and a beautiful screen too. What's not to like?
Final thoughts
The Retroid Pocket 3 is one of the best retro handheld consoles available right now. You can't go wrong with picking this up and starting to play for $119.00–$129.00.
While it might not be the most pocket-friendly, unlike other retro handhelds, this is forgiven as the screen is one of the best available without costing you too much, and its performance is unmatched within this price range. With its larger size than competitors, it provides added comfort for both large adult hands and smaller hands. It also comes in a bunch of colours, allowing you to pick your favourite colour to add a little more personality or go for the more inspired looks like their "retro" design that mimics the original Game Boy's colours.
For me, it's well worth tinkering in the settings to get the most out of the console and its levels of performance, and to also invest in an SD card to store your ROMs, as you will want to play everything on here.