I was honoured to be asked to be on the judging panel of the Electronics Weekly (EW) BrightSparks 2022 awards, celebrating the brightest and most talented young engineers in the UK today.
The engineering industry, along with the wider STEM sector, has struggled for many years to attract and retain talent – something Imagination highlighted in its report, Digital Skills in Global Britain. For this reason, I firmly believe that we all need to champion this industry when we can, to shine a light on wonderful new talent, and to highlight the amazing career opportunities available to those interested in STEM, as early as possible in their educational journey.
Last month, I attended the awards ceremony at the IET in London and was struck not only by the diversity of talent but the breadth and depth of experience that these rising stars already have. Their enthusiasm for engineering was infectious, their curiosity profound, and their individual journeys deeply inspiring. Despite being under 30, the awardees were already leaders in their field, demonstrating a similar passion for the profession, whilst tackling critical global issues, all during the Covid-19 pandemic.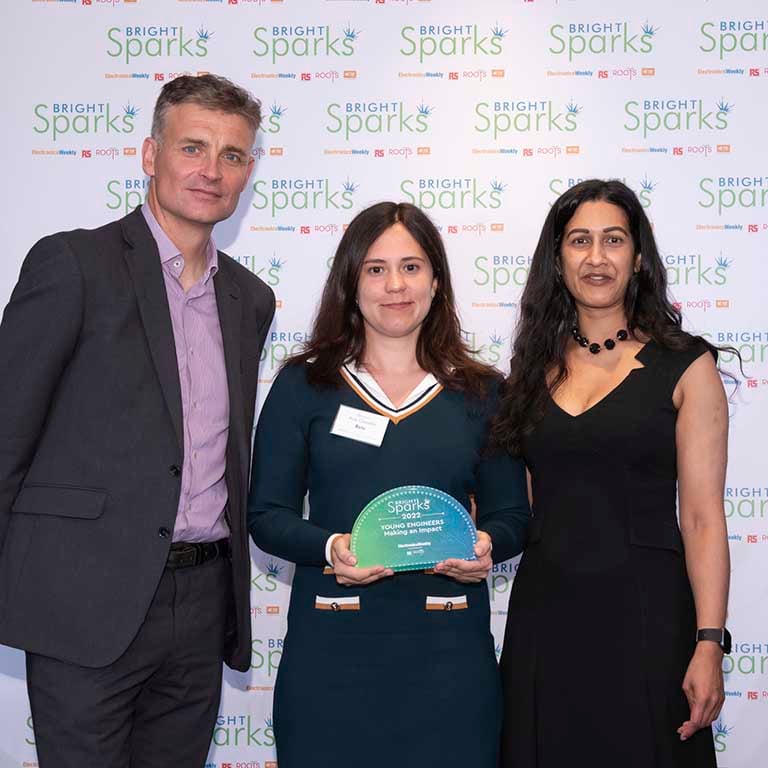 Ana Claudia Reis, Software Engineering Manager, Imagination, receiving her BrightSparks 2022 award.
This year, two engineers from Imagination featured in the cohort – Ana Claudia Reis and Daniel Ivanescu. I, and the whole company, are immensely proud of them both!
There was a real sense of pride about being included. Ana said, "it made me extremely proud to be part of a collective of such bright engineers. It is also very humbling to have been considered for it and my team deserves a commendation for this. Without them it would not have been possible."
For Daniel, it was inspiring. "To me, it means that I managed to make an impact. My "smart TV" project didn't get past the working prototype demo stage, but I think getting the attention of the EW judges must mean that there is interest in such a device and that alone is enough incentive to continue working on it."
It was also interesting to hear what inspired Daniel to join the industry. Like many engineers, it started with being curious and a desire to tinker. From a young age, he would play with toys or on his PlayStation and ask, "what happens if I do this, or maybe this instead?". He took this interest with him to university, where he met like-minded people who helped him to grasp the fundamentals of circuit design and microcontrollers. It was at that point he decided, "well, this is it, I want to work in this field."
Indeed, curiosity and the desire to solve problems stoke the fire in every engineer's belly. And whilst engineering is a deeply technical discipline, I like to think of the job as a confluence of art and science - great engineers bring immense creativity to the table to solve problems. We discuss these key skills in more detail in this Imagination blog post, Choose Life. Choose STEM. Choose Electronic Engineering.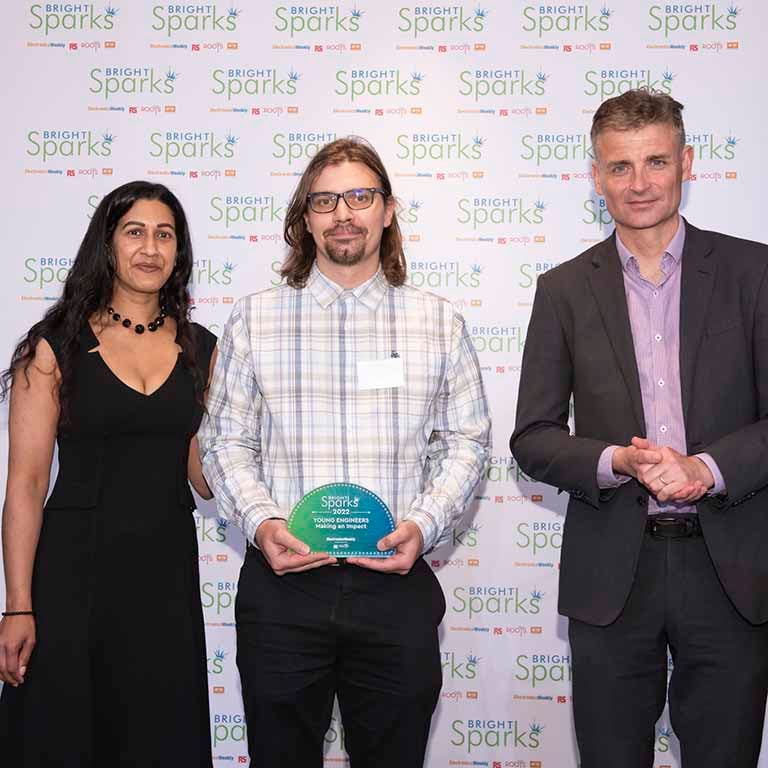 Daniel Ivanescu, Software Engineer, Imagination, receiving his BrightSparks 2022 award.
As an employer, it is imperative that we create a culture that promotes creativity and innovation, to enable our engineers to flourish. We're very proud of our hybrid working framework and the flexibility it gives our people, so it was great to hear how positive this has been for Daniel. "Heading into the office every few days is great, seeing familiar faces and bouncing around ideas, but also having the flexibility to think outside of the office."
We closed by asking if Ana or Daniel had any advice for someone considering a career in electronics engineering.
Ana said, "if you have a creative mind and enjoy tackling new challenges this is a career for you. If you have the drive, you can make it in this field no matter what anybody else tells you. I would say believe in yourself and opportunities will come."
Daniel said, "if you're just getting started, and are more on the software side, don't be afraid to delve into the hardware side of things a bit, and vice-versa. After all, one cannot work without the other. The easiest way to get introduced to both is to get an Arduino or a Raspberry Pi and play around with it."
My advice would be to never lose that childhood curiosity, to take every opportunity that comes your way, and to surround yourself with people who can help you to develop. Engineering inherently involves trying new things and learning what works best. The same principles apply when you explore your own career!