For TV industry watchers, it may seem that the development of television technology has stagnated in recent years. This is due to the resolution battle plateauing due to 4K becoming mainstream and a growing trend for millennials to prefer tablets and smartphones over the TV as the device of choice for watching online video and catch-up services. Similarly, the death of the set-top box (STB) has long been overhyped; the STB yet remains an essential element in the delivery of television services because it is routinely upgraded on a faster cadence than the television set itself.
It's fair to say the STB industry has appeared to be slower in terms of innovation when compared with "net top" OTT boxes, such as Amazon's Fire TV and the Google's Nexus Player (both of which incidentally benefit from Imagination's PowerVR GPUs). However, a number of forthcoming technological advances look destined to give the plain old STB a new lease of life.
Today, innovation is no longer exclusively centred on delivering more pixels; instead the emphasis is on creating "better" pixels, improving everything from image capture and transmission standards through to the decode and display technology. This has led to new features such as High Dynamic Range (HDR), wider colour and 360° video. And it's precisely these types of features that propel the hardware upgrade cycle, because they demand not just new standards but also higher levels of performance from the SoC.
Towards better pixels – HDR
There's no doubt that HDR significantly enhances the visual appeal of television, not just for 4K but also for existing HDTV services. Many companies are involved in HDR development but two standards are competing: HDR10 and Dolby Vision. HDR10 has become popular due it being license-free and is widely considered to be the baseline for HDR services. The standard was developed by Samsung and Sony. It uses 10-bit colour depth, and is the minimum requirement for Ultra-HD Premium certification for 4K televisions and set-top boxes. On the other hand, Dolby Vision is a licensable technology requiring dedicated hardware in the TV SoC. It uses 12-bit colour representation to widen the dynamic range and is now endorsed by all major Hollywood Studios.
Whichever HDR standard is chosen, there's a requirement to blend HDR video with graphics in the pixel display pipeline for user interfaces and an enhanced user experience. Imagination's PowerVR Series8XE GPUs are ideally suited to deliver high-performance, fully tone-mapped HDR graphics to complement existing HDR video assets in digital TV and STB SoCs. Moreover, PowerVR GPUs provide an opportunity to harness compute performance for picture enhancement and live image processing, improving the visuals still further, while negating the need for dedicated video processing hardware. Indeed, our customers have used PowerVR GPUs to provide new video standards ahead of dedicated decoders becoming available.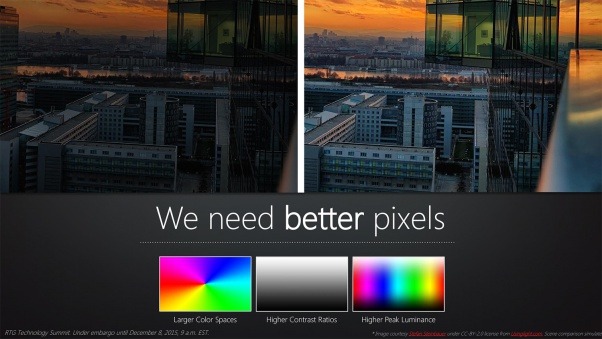 Meanwhile, innovation in HDR continues, with professional studios proposing that 12-bit is insufficient and that 16-bit signals are necessary to convey the entire range of brightness required for what they call "True HDR". So it's possible we'll see further development and perhaps an advanced set of HDR standards emerging in the not-too-distant future.
A full 360° view
No doubt you'll have seen companies such as Facebook and Google (YouTube) placing significant investment into 360° video, noting the potential for more immersive experiences. The worlds of augmented and virtual reality have long understood the requirement for 360° video and the extreme computation requirements it places on the SoC. Imagination's PowerVR graphics technology plays an instrumental role in the SoCs powering devices such as the original Oculus Rift VR headset, smart glasses and augmented reality experiences such as Google Glass, and indeed continues to be central to AR/VR developments today.
VR is one area that benefits significantly from advanced graphics. The screen technology must improve such that the viewer can no longer discern individual pixels, so it's clear that 4K and potentially even 8K displays will become commonplace. Certainly, there's always a necessity for high-performance graphics in VR headsets, and Imagination has been actively developing our PowerVR Wizard ray-tracing graphics technology that delivers fantastic, photo-realistic imagery within the low-power envelope considered vital for the untethered VR experience. Furthermore, the live capture and stitching together of multiple camera views for 360° video presents its own unique challenges, especially when dealing with differing exposures and processing the individual frames simultaneously to create the final video.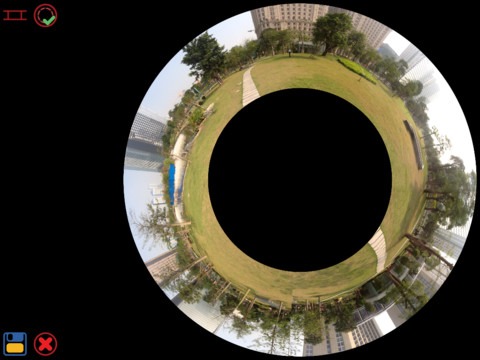 More interestingly, many STB vendors are now considering how their products intersect with 360° video, and are experimenting with integrating the technology directly into the set-top box. Most, if not all, will allow simple playback of 360° video on the TV screen through interaction via the remote handset, but the leading vendors are also actively exploring ways to integrate an untethered VR experience into the traditional broadcast STB ecosystem. This creates pull for more advanced 3D graphics technology in these products, far beyond what TV and STB SoCs are capable of today, and Imagination's PowerVR GPUs are again central to this advanced research and development.
4K is not (quite) enough
OK, I admit it's not all about "better" pixels, and in the spirit of improved TV experience and unparalleled picture quality, we cannot simply ignore 8K resolution. Japan's NHK has been resolute in developing 8K camera, transmission and display capabilities with partner organisations for more than a decade. Test transmissions of 8K commenced in Japan in August this year, with plans to launch full services ahead of the Tokyo Olympic Games in 2020. So yes… 8K is happening.
Screen technology also has to keep pace with 8K development and at IBC 2016, LG Display showcased an 8K flexible display comprising four 4K panels stitched together, which was thin enough to be rolled up in a similar fashion to the traditional projection screen. It's a brilliant illustration of just how far display technology has advanced in recent years, and it makes 8K display now feasible for deployment in the average home.
But that's where our obsession with resolution ends in TV; there's simply no point in developing 16K displays because the size of the screen would need to be huge for the pixels to become discernible at typical viewing distances. Instead, I've long since been an advocate of tiled display technology, where wall-sized screens can be created using a matrix of 4K or 8K panels. In this instance, the resolution of each screen stays constant, while the overall pixel density of the display is increased. It all calls for high-performance video and graphics capability in the SoC.
In summary
Imagination's PowerVR embedded GPUs support 4K resolution and the PowerVR Rogue architecture effortlessly scale up to 8K resolution today. However, the television industry continues to evolve new standards and advanced technologies, each of which demands higher performance GPU cores integrated into the SoC. HDR drives a requirement for GPU compute in live image processing and blending of HDR graphics; 360° video demands increasing complex processing for immersive AR and VR experiences, with impact also upon TVs and STBs as they compete to become part of the developing ecosystem; and 8K displays drive performance requirements. However you look at it, the future for PowerVR's role in set-top boxes and TVs is looking bright.