Want to game on the move? You no longer need a handheld gaming system. Even today's budget phones will do the job. We've been trying out some of the latest and greatest Android games on a relatively affordable handset – the Honor 8A. Based on a MediaTek Helio P35 SoC, which integrates the PowerVR GE8320 GPU, it performs fantastically well in a huge range of Google Play store titles, from fast-paced shooters to high-octane racing games. Part of the PowerVR Series8XEP family, the PowerVR GE8320 can run up to 680MHz and is optimised for affordable gaming on 1080p displays and supports the latest standards such as OpenGL ES™ 3.2 and Vulkan®, enabling developers to maximise the capabilities of the hardware.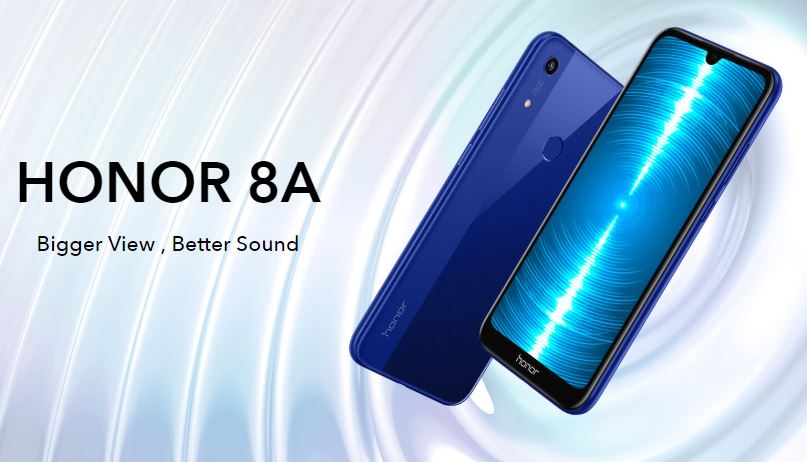 This means that you don't have to spend a fortune to get a great gaming experience – and as a case in point, the Honor 8A is available in the UK for a mere £140 from most major smartphone retailers – perfect for gaming without breaking the bank.
Today, we're going to talk about three great Android platform games, all with impressive visuals, well-paced action and great touch-friendly game design – and all play flawlessly on this PowerVR-powered handset.
Super Mario Run
Price: Free (£9.99 in-app purchase to unlock all the levels)
https://play.google.com/store/apps/details?id=com.nintendo.zara&hl=en
You can't really talk about platform games without mentioning the biggest star of them all. Super Mario Run has been out since 2016, but it's still one of the best 2D platformers on Android, partly because Nintendo took everything great about a Mario game and figured out how to make it work with just one finger on a portrait-mode touchscreen. It's not Mario as you know it, but it has the same look and feel.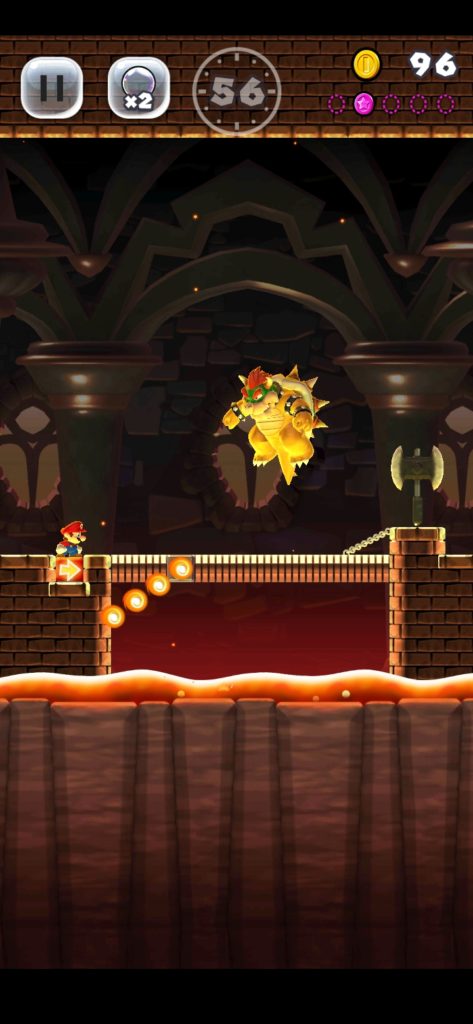 The meat of the game is in its World Tour mode, where Mario speeds through each of the 24 courses until he reaches his goal at the end. At first it feels like one of those one-tap runner games, where our hero continually races forwards and you tap the screen to jump, but Nintendo mixes things up with blocks that pause the action or make Mario run backwards, plus some nifty wall-jump moves. And if there's something you love about Mario, then there's a good chance it's in here, from Bowser and his iconic Goombas and Koopa Turtles to sneaky ghosts, moving platforms and fortresses floating on lava.
24 stages might not sound much – though you'll soon unlock a further nine – but this is a game built for replay, with high-score battles, collectible challenge coins and cool remix and Toad Rally modes. Here you compete with ghosts of other players on coins and sheer jumping style. You can also complete challenges to unlock the later stages, instead of coughing up £9 for the full unlock. The graphics look to have come straight from the super New Super Mario Bros. U, and they look beautiful and run silky smooth on the Honor 8A. Combine them with a classic Mario soundtrack, and you have a smart smartphone adaption that feels every inch the real deal.
Suzy Cube
Price: £3.99
https://play.google.com/store/apps/details?id=com.noodlecake.suzycube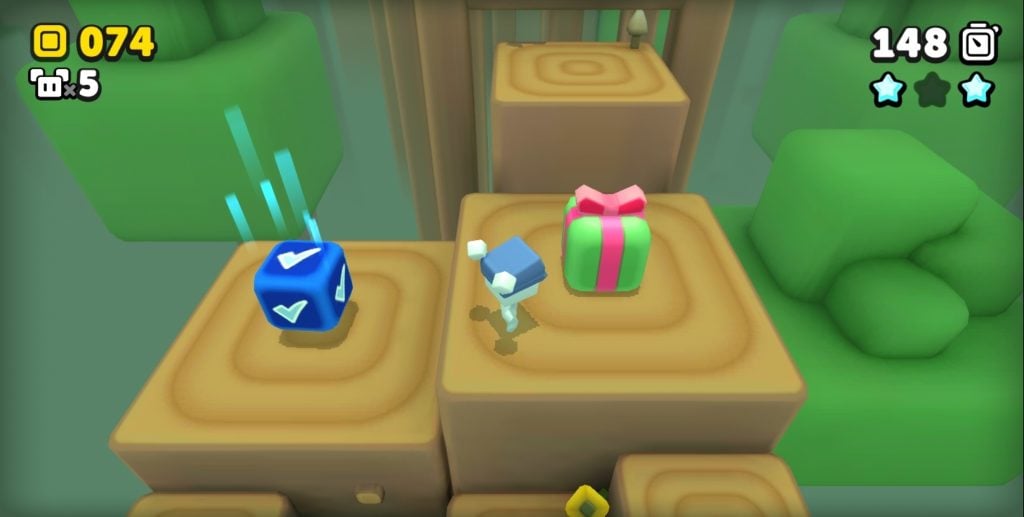 Of course, you might prefer your platformers in the modern 3D style, in which case Suzy Cube should be right up your street. It's the saga of a cute little cuboid rabbit on the trail of evil skull warriors and their stolen loot, and while it can't match a Super Mario Odyssey or Ratchet & Clank for visual quality, it's a beautifully put together package. The team at NorthernBytes Software has kept the world and its characters simple but treated them with beautiful shading and colour. The result is a game that looks lovely, but that runs perfectly on an entry-level phone processor with the right GPU.
At first, the gameplay seems deceptively simple, as Suzy runs and hops her way around the opening levels, but the worlds are crammed with dangerous enemies and acrobatic feats of daring, along with bounce pads, slippery ice slopes, launchers and collapsing walkways. The convoluted combinations of rotating geometry in later levels could have come straight from a 3D Super Mario game. What's more, Lucy can smash the occasional block to grab herself a hat, giving her extra moves like a double-jump and hover or a fierce downwards head-slam. These are often key to unlocking the game's many secret areas or grabbing its collectible stars.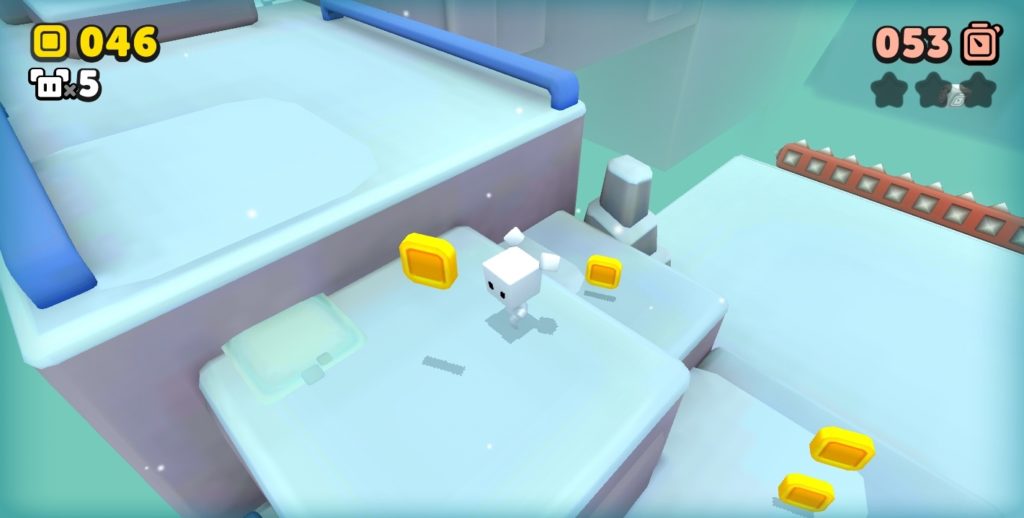 You can complete a level without finding these, but you'll need a certain number to make further progress in the game – one of the only irritations alongside the strict time limits. And while the developers have done a fantastic job of making analogue controls work on a touchscreen, there are still times when you wish you had the precision of a conventional controller (though the game supports the major Bluetooth controllers if you have one handy). Overall, though, it's hard to believe that a 3D platformer this good is running on an entry-level smartphone. It just goes to show what great coding and a PowerVR GPU can do.
Oddmar
Price: Free (£4.99 in-app purchase to unlock all levels)
https://play.google.com/store/apps/details?id=com.mobge.Oddmar&hl=en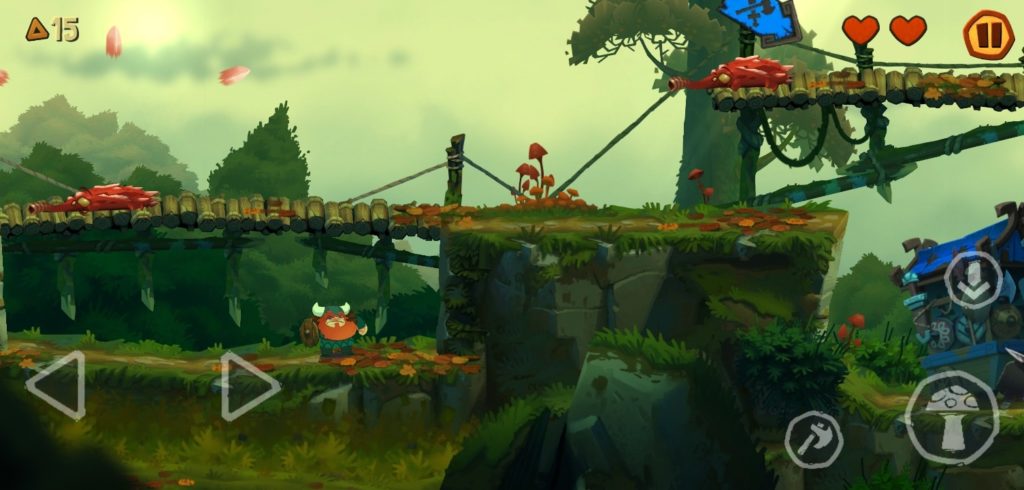 In 2011 Ubisoft reinvented one of its most beloved characters with Rayman Origins, showing just what you could do with an old-school 2D platformer if you had buckets of imagination and some gorgeous hand-painted art. An influential game, you can still see its impact today, not least in Mobje's game, Oddmar. It's a stunning 2D platform game in the Rayman style, with a Viking hero, the titular Oddmar, who can launch himself skywards with the aid of magic powers, bounce off walls and swing a mighty axe. He'll have to do all this and more as he speeds through gorgeous fantasy woodlands and over icy mountains, battling monsters and dodging deathtraps by the dozen.
The Rayman influence isn't just to be found in those sumptuous graphics, but in the madcap chase scenes that see our hero pursued by demons through lava-filled dungeons or by a troll, toppling trees and platforms in his furious bids to crush Oddmar. It's a smart and inventive title, packing new ideas into every level, while the difficulty is perfectly judged. The touchscreen controls aren't bad either, with a choice of swipes or taps for jumping and axe-swinging, and you can play with a Bluetooth gamepad if you find the going tough. Oddmar even packs in entertaining cartoon cut-scenes to bring the story to life.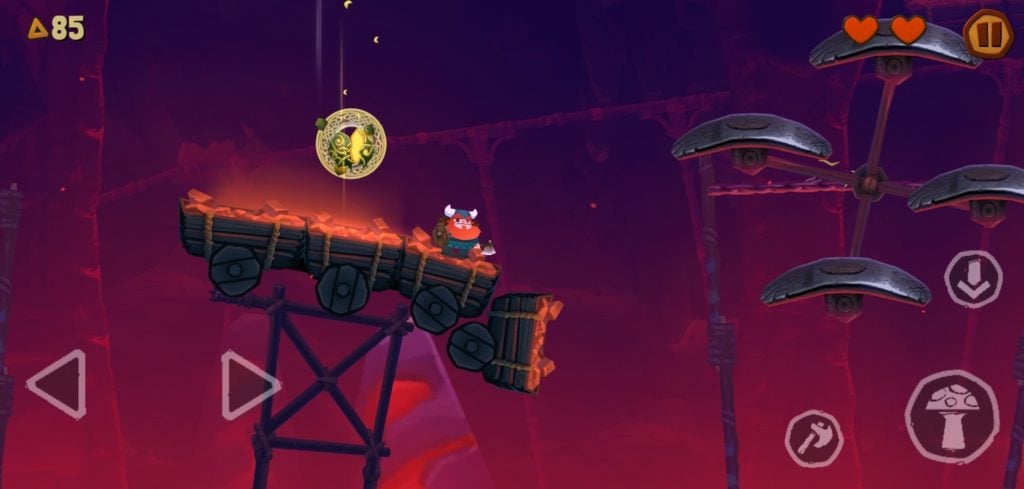 Side-scrolling platform games are two-a-penny, even on mobile, but Oddmar is one of the few that can stand up to the greats on console. Download the free app and you'll be amazed you can play something this good on a budget smartphone – and paying up £5 for the full set of levels will be one of the easiest decisions of your day.