The past year has done wonders for affordable consumer electronics devices. We've seen a major boost in areas like Latin America or Asia where many hero brands — both national and international — have introduced smartphones, tablets, 4K TVs or media streaming devices at very exciting prices.
For example, a year-end report published by the online marketplace giant Flipkart found that the popularity of affordable 4G smartphones has been soaring in India, clearly indicating a shift from feature phones to 4G-enabled devices.
The state of the ultra-affordable market
There are a few common themes that permeate throughout the affordable market segment.
Firstly, the resolution wars are far from over: in mobile, 1080p is becoming the standard for most devices while 720p is now seen as the minimum. Meanwhile, the TV industry is quickly adopting 4K at the entry level: we've seen Ultra HD television sets starting as low as $549!
Secondly, consumers have discovered that an accessible price tag doesn't necessarily imply a huge sacrifice in performance. In many emerging markets, mobile users are demanding more for the same price, putting more pressure on OEMs to include premium features in entry-level devices.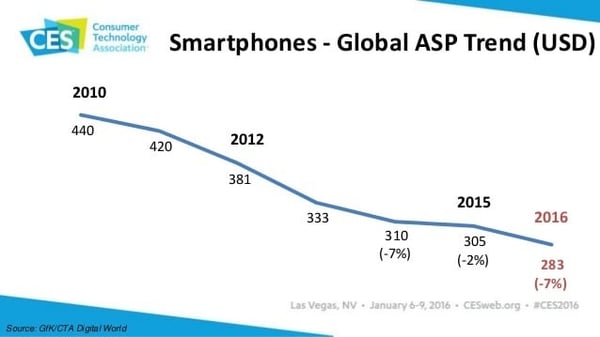 The average selling price (ASP) of smartphones is steadily declining
So how do OEMs satisfy consumer demands without going out of business in a highly competitive market? The answer is relatively straightforward: by providing an affordable product centered on the use cases of a cost-conscious consumer: web browsing, social media apps, and maybe casual gaming.
This requires an efficient chipset that can run the applications above well while also supporting high-resolution displays (720p and higher). A higher resolution automatically implies a more capable graphics processor to handle the higher pixel fillrates; but increasing the size of a GPU (or any SoC processor) increases the manufacturing costs of a mobile chip.
Ultimately, this means that chipmakers must have access to GPUs that strike the right balance between optimal fillrate performance, feature set, and silicon area.
Enter the PowerVR XE family
To address these requirements, we've introduced our PowerVR XE range, focusing on efficiency across the range, from the internal architecture and the layout optimizations to even system-level improvements. PowerVR XE GPUs have the best fillrate efficiency in the industry and support a wide number of texture compression and framebuffer compression options for reduced size and power.
For example, our OpenGL ES 3.1-capable PowerVR Series6XE family scales from one quarter cluster configurations delivering one pixel per clock to one cluster GPUs with optional lossless compression. The Series7XE family brings the API support up to OpenGL ES 3.2 and includes two performance-tuned GPUs: PowerVR GE7400 and GE7800.
Today we are introducing PowerVR Series8XE, a new GPU family aimed at the affordable mobile and embedded market.
Targeting the next billion mobile devices
When looking at the current state of the entry-level market, most mobile devices are still integrating OpenGL ES 2.0-only GPUs. The new Series8XE family enables our silicon partners and OEMs to upgrade the feature set of mobile SoCs to OpenGL ES 3.2 and Vulkan, therefore ensuring that these devices can support the latest applications and future advancements in APIs.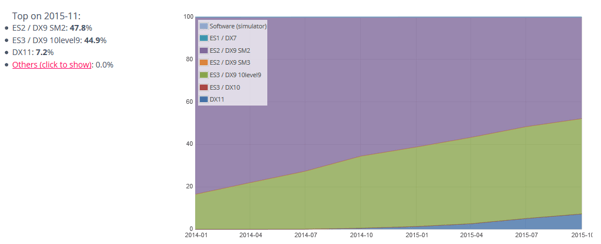 Supporting the new Vulkan API brings additional benefits for affordable devices. Since Vulkan reduces the driver overhead in graphics applications (a major CPU bottleneck), chipmakers are able to include a more power-efficient and smaller CPU and therefore achieve further cost reductions. For OEMs and developers, bringing Vulkan and OpenGL ES 3.2 to the ultra-affordable arena means they can reuse the software created for mid-range and even high-end parts in entry-level devices (develop once, deploy across the range).
An overview of the PowerVR Series8XE family
The first two GPUs from the Series8XE family are PowerVR GE8200 and GE8300 – offering two and four pixels per clock, respectively.
The diagram below presents the baseline architecture of the Series8XE family. We've made major improvements in our fillrate capabilities that translate to 60% – 100% better performance per mm2 for Series8XE compared to competing solutions.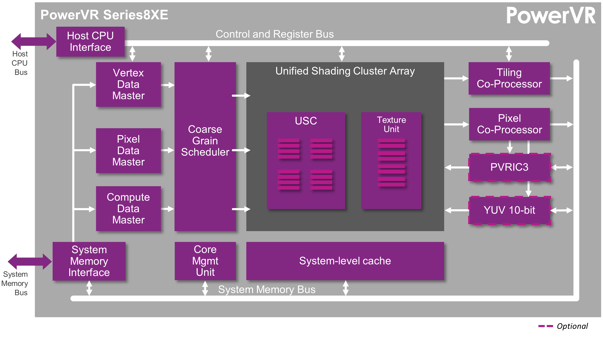 The internal architecture of PowerVR Series8XE GPUs
The enhanced Series8XE microarchitecture also helps us create GPU configurations that are up to 30 – 45% smaller versus competing solutions while maintaining the same fillrate.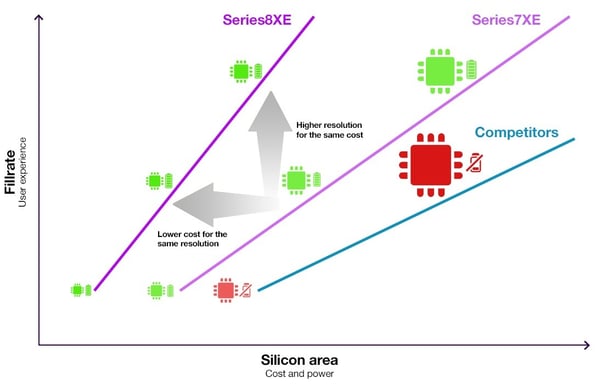 PowerVR Series8XE GPUs support higher resolutions at lower costs
Series8XE GPUs also include optional features that are very relevant for the set-top box and 4K TV market such as:
ASTC and PVRIC3 – improved lossy (textures) and lossless compression (render targets/textures) that reduces memory bandwidth requirements and system-level power consumption
YUV 10-bit support – native support for optimal integration with H.265 10-bit profiles
The PowerVR XE range provides a range of scalable solutions with the right features for ultra-affordable phones, tablets, TVs and automotive infotainment units. With the new Series8XE family, we're offering the most efficient GPUs ever designed that will enable even more accessible devices, longer battery life and better application support.
For more news and announcements related to PowerVR, keep coming back to our blog and follow us on Twitter (@ImaginationTech).
Editor's Note
* PowerVR Seriex8XE GPUs are based on an internal draft Khronos specification, which may change prior to final release. Conformance criteria for this specification have not yet been established.
** PowerVR Seriex8XE GPUs are based on published Khronos specifications, and are expected to pass the Khronos Conformance Testing Process. Previous generation PowerVR Rogue GPUs have already achieved conformance. Current conformance status can be found at www.khronos.org/conformance.
OpenCL and the OpenCL logo are trademarks of Apple Inc. used by permission by Khronos.
OpenGL is a registered trademark and the OpenGL ES logo is a trademark of Silicon Graphics Inc. used by permission by Khronos.