Have you ever looked at your $100 smartphone or tablet after watching Unity's 'The Chase' demo and said to yourself: "I wish my devices could run cool OpenGL® ES 3.0* content like that"? The good news coming out of CES 2014 is that soon they will, thanks to PowerVR Series6XE, a new family of Rogue GPUs we are introducing today.
Smartphone shipments alone will surpass one billion units in 2013, as the demand for low-cost smart computing and entertainment in emerging markets continues to increase and as the prices of devices continues to decrease. To put more perspective behind that number, the smartphone market in Asia is expected to be nearly twice as large as the U.S. market this year – and most of that market is based on entry-level and mid-range devices.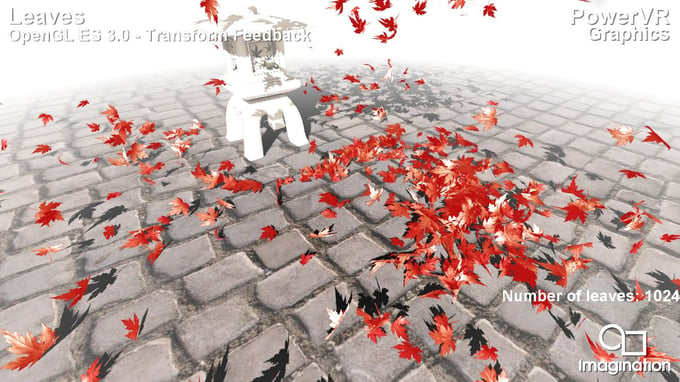 All PowerVR Rogue GPUs (Series6, Series6XE, Series6XT) fully support OpenGL ES 3.0
Designed to address this trend and fully support the latest graphics and compute APIs, including OpenGL ES 3.0 and OpenCL™* 1.x, the new Series6XE GPUs will power a new generation of affordable mobile devices, including wearables, smartphones, tablets, smart TVs and other consumer electronics.
The Chase from Unity is a high-fidelity OpenGL ES 3.0 mobile graphics demo.
Imagine best-in-class, high-quality graphics and efficient, low-power compute, all packaged into the smallest, fully-featured GPU IP cores designed to date. The result? A new line-up of three PowerVR Rogue graphics cores that deliver the same fillrate performance as equivalent Series5XT multi-processor configurations but offer much more in terms of features and functionality.
Full OpenGL ES 3.0 in a half-cluster PowerVR Series6XE GPU
The PowerVR Series6XE GPU IP family includes the following GPUs launched today at CES:
PowerVR G6050: with an innovative half-cluster design, this is the smallest fully-featured GPU core available from Imagination; it supports both OpenGL ES3.0 and OpenCL 1.x and provides a highly-efficient fillrate throughput which makes it ideal for a wide range of entry-level devices.
PowerVR G6060: this core augments the half-cluster design of the G6050 with the addition of PVRIC2, Imagination's second generation lossless PowerVR Image Compression, providing an optimal balance of small size and bandwidth reduction for products such as entry-level tablets or Full HD TV and STBs.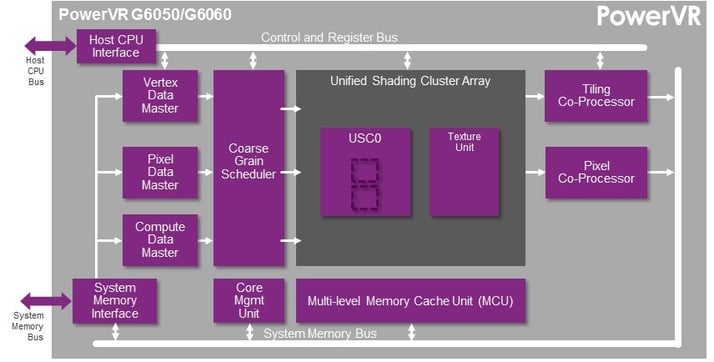 PowerVR G6060/G6050 GPU block diagram (OpenGL ES 3.0, DirectX 9_3, OpenCL 1.x)
PowerVR G6100: this is an updated and further optimized version of the original area-optimized Series6XE Rogue core that features a single Unified Shader Cluster (USC) combined with a high-performance texture mapping unit, enabling it to deliver the same raw fillrates as multi-processor GPUs from the previous generation.
PowerVR G6110: this single-cluster core is based on the G6100 design but updates it to our second generation PVRIC2 technology; this creates an important competitive advantage for this GPU in key products such as low-cost 4K Ultra HD TVs where bandwidth is a limited and valuable resource.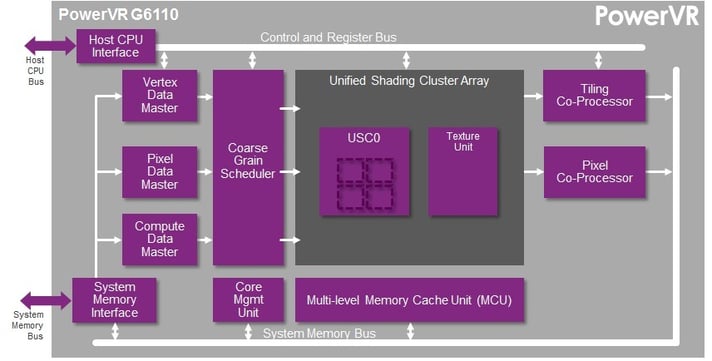 PowerVR G6110 GPU block diagram (OpenGL ES 3.0, DirectX 9_3, OpenCL 1.x)
What matters most for cost-conscious consumers
When it comes to entry-level and mid-range devices, finding the right balance of performance and features becomes a balancing act that not many can pull off, especially when you take area considerations into account.
Whenever consumers hear about entry-level, they usually think price, not features. While they can accept certain compromises for less expensive devices, consumers' expectations are always high when it comes to performance. If you are a device manufacturer, you want to offer customers the best possible experience for a certain price point; customers never want a trade-off in features if that severely affects performance. For most people, performance comes first, while the feature set is much lower on the priority list.
Leading technologies for more affordable devices
This is where our PowerVR Series6XE Rogue GPUs step in. By providing optimized solutions for entry-level and mid-range platforms, we are providing an opportunity for silicon vendors to aggressively compete in performance and features while keeping costs down.
There are several examples of how our innovative technologies enable this.
Firstly, our PVR3C lossless and lossy compression technologies significantly lower system-level costs by reducing memory subsystem and RAM modules requirements for SoCs and thus bringing device bill of materials (BOM) costs down.
Since memory traffic is a major source for heat dissipation, PVR3C lowers power consumption at the system level, reducing the requirements for more expensive cooling methods.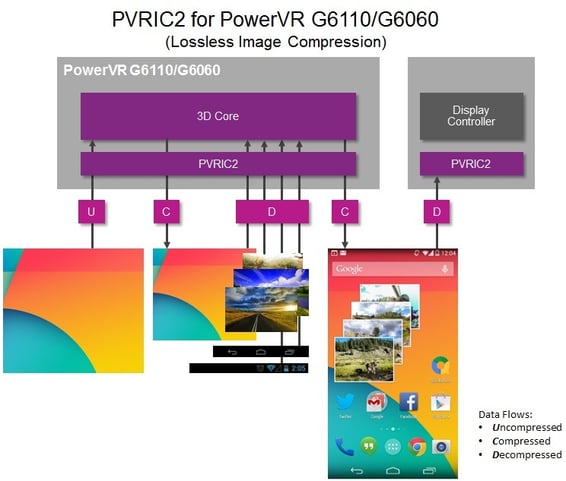 PVRIC2 for PowerVR Series6XE GPUs reduces memory bandwidth requirements
Secondly, Design Optimization Kits (DOKs) for PowerVR Rogue GPUs allow customers to optimize for power, performance and area (PPA) in a much more flexible way compared to competing solutions. Our DOKs have been proven to deliver significantly better results, shorter design cycle times, as well as reduced silicon area and power consumption. For example, silicon vendors that license our DOKs for the PowerVR G6100 core can achieve up to 30% reduction in area.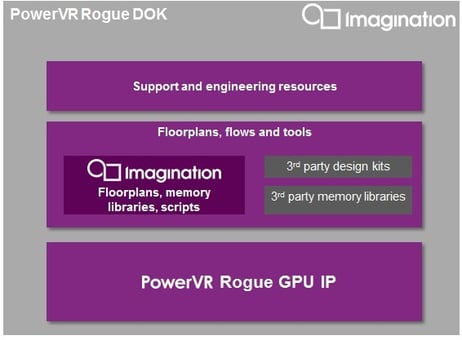 Imagination offers DOKs for PowerVR Rogue GPUs
Finally, one of the most important elements a consumer wants in an entry-level smart device is the knowledge that it will be compatible with mainstream and high-end solutions such as tablets, smartphones and other digital entertainment devices. Most mobile users own several devices including entry-level, mainstream and high-end systems. You want to avoid the negative experience where trying to get the same app to work across all devices becomes a chore; consumers are much more likely to dispose of the cheaper device first.
The new PowerVR Series6XE and Series6XT GPUs change this paradigm. They enable developers to target a scalable line of software compatible devices. The hardware feature set for all Rogue GPUs is transparent to app developers, meaning they do not have to worry about differences in instruction set. Even better, all Rogue GPUs are software compatible with the PowerVR SGX family, which makes porting code a breeze. This compatibility is valuable in helping developers and system integrators meet a wide range of market needs, enabling OEMs to create a complete range of devices that can essentially run the same software, albeit at different performance levels.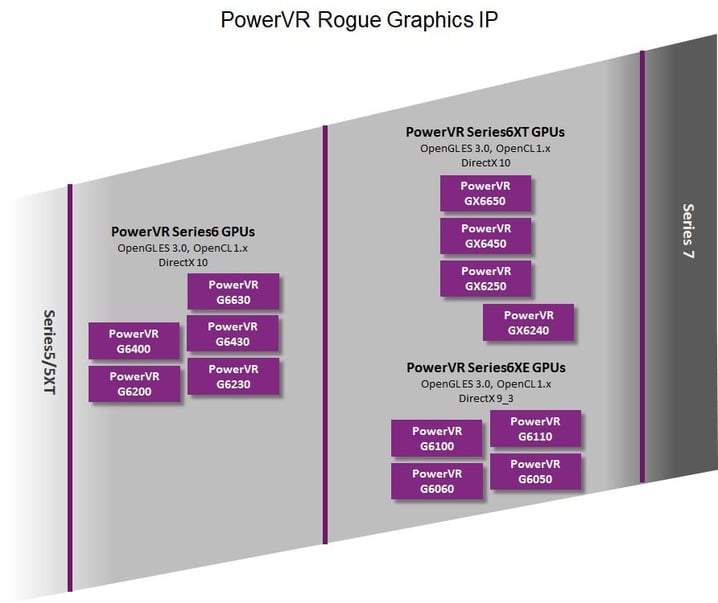 The current PowerVR Rogue graphics IP roadmap
Now that we've run through all the advantages of our new Series6XE GPUs, you can understand what makes them perfect for entry-level devices. It's certainly more than their raw performance or feature set; in that space, they already deliver greater performance per core compared to previous generation GPUs, all while supporting the latest graphics and compute API standards. What makes them unique is how they can efficiently enable tomorrow's low-cost solutions by merely using a single or half-cluster design to provide the same or better performance to a competing dual- or quad-core solution.
For more news and announcements related to our PowerVR Rogue GPUs, please come back to our blog and follow us on Twitter (@ImaginationTech). If you are attending CES or MWC 2014, stop by Imagination's booth to have a look at the latest demos and applications running on our customers' PowerVR-based platforms.
Editor's Note
* PowerVR Series6XE Rogue cores are based on published Khronos specifications, and are expected to pass the Khronos Conformance Testing Process. Previous generation PowerVR GPU cores have already achieved conformance. Current conformance status can be found at www.khronos.org/conformance.
OpenCL and the OpenCL logo are trademarks of Apple Inc. used by permission by Khronos.
OpenGL is a registered trademark and the OpenGL ES logo is a trademark of Silicon Graphics Inc. used by permission by Khronos.