Smart glasses are an example of high-end output wearables; whether they're used in industrial applications or to augment our everyday life, smart glasses are the poster child for computer vision applications and require significantly more horsepower than a traditional smartwatch.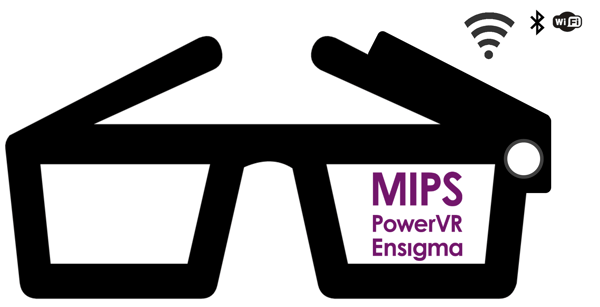 Smart glasses can be used for industrial applications or to augment everyday life activities
Designing processors for smart glasses
If you're building an SoC for a state-of-the art wearable and need the ultimate best in performance per mW and mm2, a MIPS P-class CPU can be an ideal choice. You can use the latest IoT-optimized 28nm HPC process node from TSMC and keep the CPUs running at reduced frequencies to ensure the design still adheres to the strict power consumption and area requirements of wearables.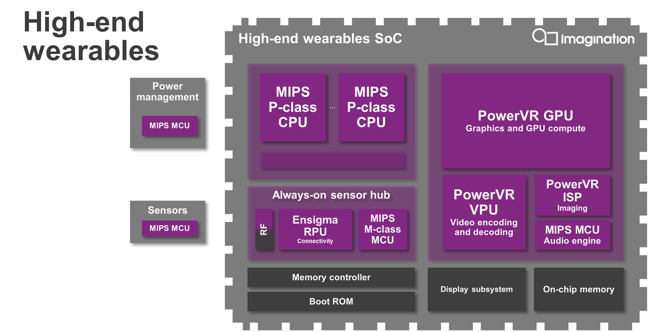 An example of a chipset for smart glasses
Since smart glasses need to see and understand the environment around them, SoCs must be designed to handle vision processing in real-time while still focusing on power efficiency.
There are several unique features we've added to our PowerVR multimedia IP to enable that:
PowerVR Raptor ISPs have the ability to transmit image histograms and video-specific statistics to the encoder to improve performance and reduce power consumption; this feature also reduces bitrate requirements for high quality encoded video
PowerVR GPUs, VPUs and ISPs have optimized data paths to reduce memory latency for computational photography algorithms
Deep Colour (i.e. 10-bit YUV) support across our entire PowerVR range (Series6XT GPUs, Series2 ISPs, Series5 VPUs) improves image quality and encoding efficiency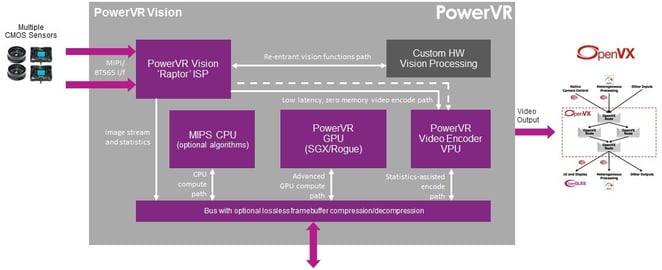 The PowerVR vision platform can run advanced computer vision algorithms
Smart glasses need to be able to communicate with the world around them. Our recently announced Ensigma combo RPU IP processors offer the latest high-speed wireless standards required for smart glasses: 802.11n/ac, Bluetooth Classic and Smart, digital and FM radio.
Case study #1: Dhanush Advanced from Ineda
Dhanush Advanced includes a dual-core, multi-threaded MIPS I-class CPU that can comfortably multi-task apps while running an operating system like Android or Linux; additionally, Dhanush Advanced contains a multimedia subsystem which includes PowerVR graphics and video encode/decode processing units.
Dhanush Advanced is excellent fit for high-end wearables that require high resolution rendering, handle complex image/video processing and also support low power video recording and playback.
Case study #2: Sitara AM437x from Texas Instruments
Texas Instruments recently announced a single-core Sitara AM437x processor with a PowerVR SGX GPU. The company has also introduced a Linux SDK and an evaluation kit for developers who want to start writing apps for high-end wearables and other IoT applications.
One of the first devices to use the new Sitara SoC is Icis, a pair of smartglasses from LAFORGE Optical; you can find a review of the device here.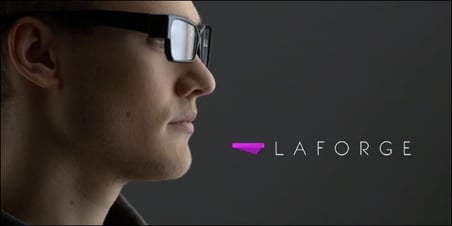 Icis smartglasses from LAFORGE Optical
Icis is a Bluetooth-connected notification device that delivers real-time updates from social networks or information from navigational applications linked to the GPS on your smartphone or tablet.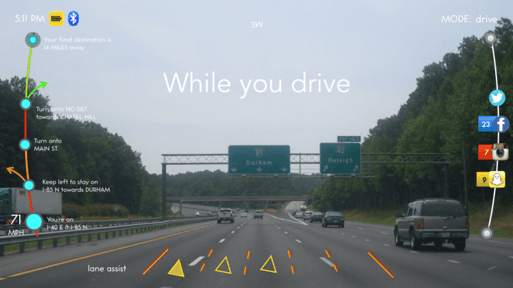 Icis offers an intuitive user interface
---
This article is part of an on-going series that focuses on what Imagination is doing to ensure our partners are able to create the next wave of chipsets for every category of wearable devices.
Here are a few related posts that describe how companies can combine our hardware and software IP to create truly differentiated wearable devices:
If you want to be in the know on everything related to wearables and Imagination, subscribe to our blog and follow us on Twitter @ImaginationTech, Facebook, and LinkedIn.