One of the first things I saw at CES was in a restaurant when someone walked past, closely followed by their suitcase – like an oblong BB-8. The theme continued that evening as Samsung Electronic's President and CEO H.S. Kim unveiled a robot AI-assistant that literally follows you around – though presumably only where it's flat.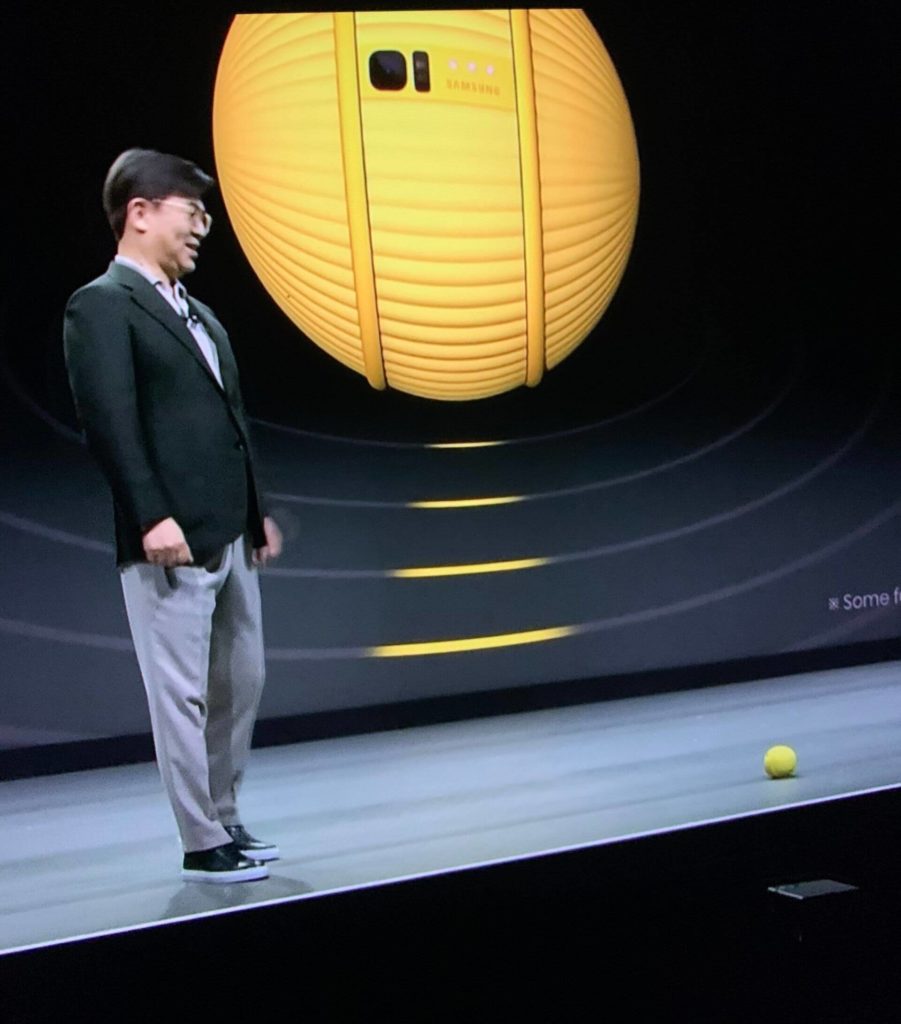 On the first day of CES proper, I headed to the automotive hall. One of the biggest booths there was Audi, who for some bizarre reason had chosen to deck out its show floor with hanging plastic strands that you had to wade through to get to see anything, which was challenging. At least it was hiding some interesting stuff. Audi was showing off a HUD concept that shows the car's user interface and other content to the driver. Most of what I was shown would be only useful when the car is stationary – as it's probably not a good idea to be watching a film when you're driving. That said, it's a nod to what could be done when autonomous driving becomes possible.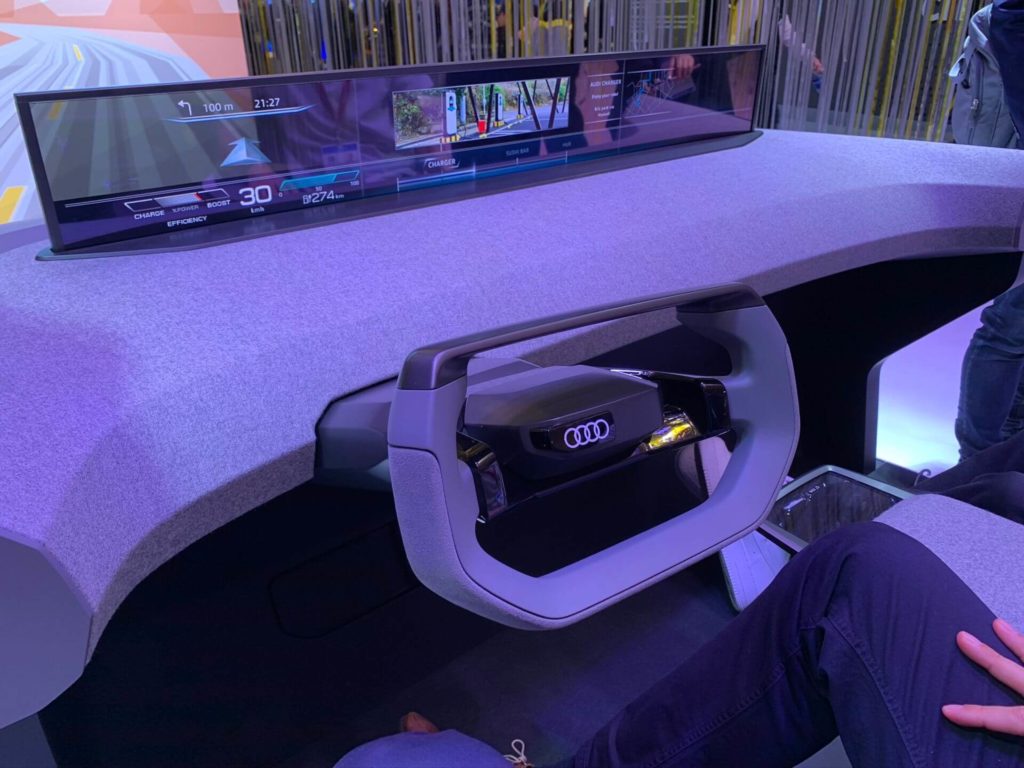 The German automaker also showed a wide transparent display that showed content "on-demand" – so only showing important information in front of the driver or using different parts of the screen to provide other information. At one point the whole thing was showing a menu from a restaurant over the entire display, useful if you are parked. There was also a film playing in the centre and the display then rose up to give the viewer a bigger canvas to watch on. Pretty cool stuff.
Also, of interest at the Audi booth was a car equipped with cabin personalisation AI from Cobalt industries. It describes itself as a self-contained biofeedback system that uses several sensors to pick up on your mood. I was told it uses facial recognition technology to see your expression and can pick up on your driving style to detect if you're angry – and will even emit soothing scents – as in smells – into the car to calm you down. It's actually real and will be available in the next few months.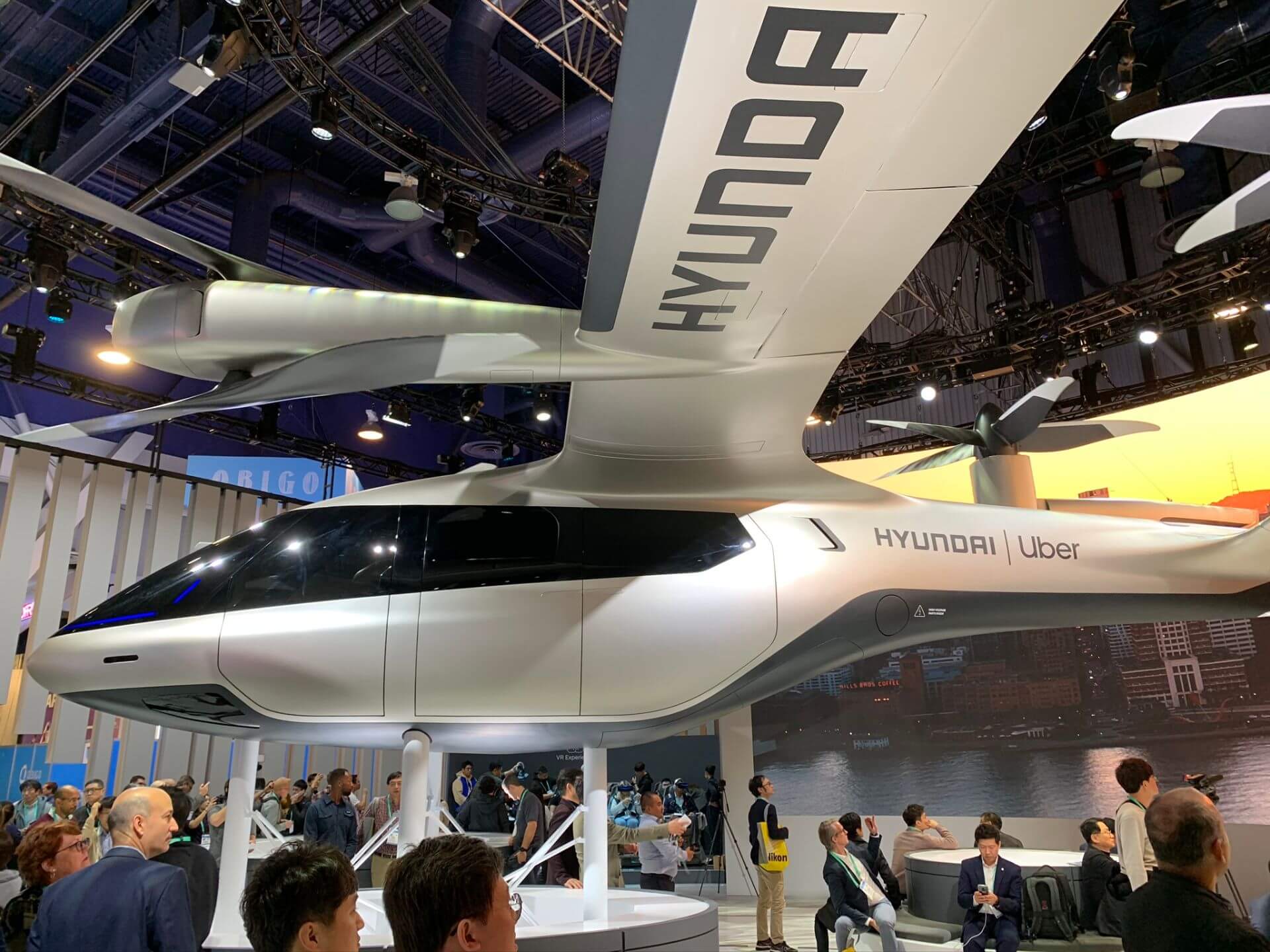 Honda was looking a little further into the future with a VR experience that gave you the sense of what it might be like to live in a smart city of the future.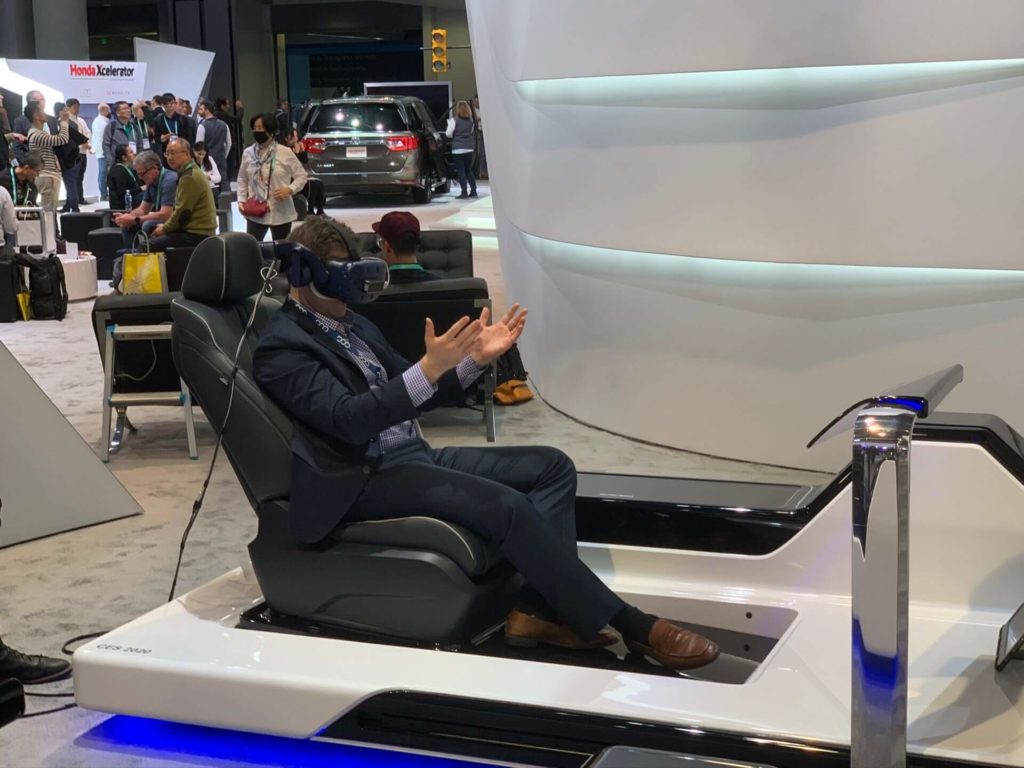 Once you don the headset, you find your vehicle pull up beside you and you sit down (in an actual chair) and are then transported away at speed only for the car to take over and drive fully autonomously when it detects traffic. (I couldn't help wonder why all the cars wouldn't take the quicker route, but let's not get bogged down in the details). Again, we were shown how you could use your time in the car productively – which for some reason involved ordering a cake for one of your children's birthday. One of the most impressive sequences was when the whole roof of the car turned into a screen and suddenly, we were under a virtual night sky, before turning transparent again. Finally, we were in a drone-copter, that took off vertically (VTOL) to fly us home. Oddly there were no other craft and we seemed to have the skies to ourselves – I imagined the future would be busier.
I then went on another trip in a vehicle with futuristic technology – but this was entirely real. It was a test car featuring LiDAR from Robosense. LiDAR is one of three technologies competing for use in powering driverless cars and it was good to see it in action. The car was not autonomous in any way but the LiDAR mounted on the roof and the sides and as my demo and I were driven along we could see how it built up a 3D picture of the environment arguably in an easier fashion to computer vision-based camera systems.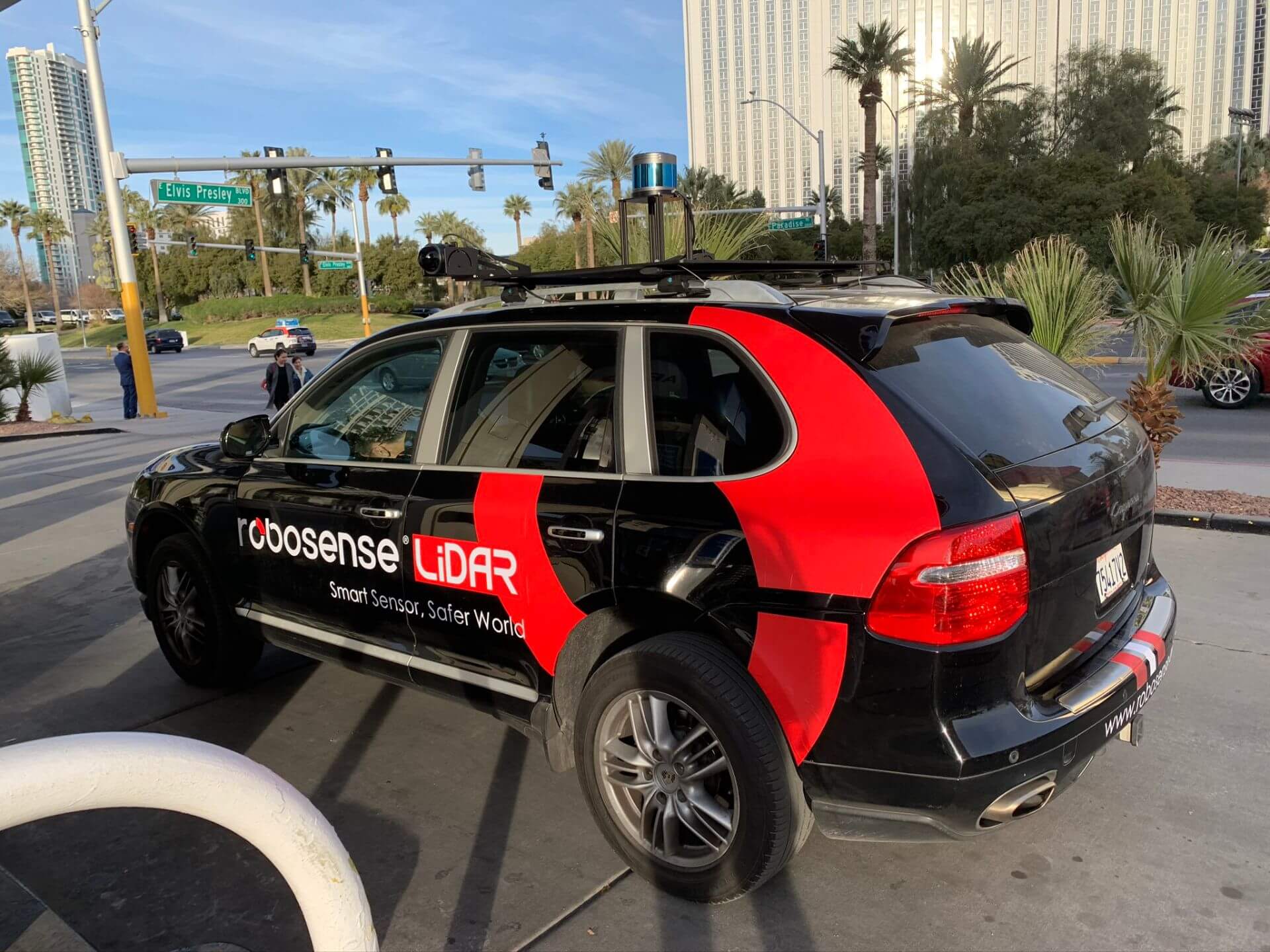 A third variant is thermal-based cameras, and this was also in evidence of the show floor. Who says I don't look hot?
Mobileye is one of the world's leading autonomous driving companies, and its hardware is used in millions of cars around the world. On the show floor, it announced that its robo-taxi project in conjunction with Volkswagen would begin this year in Jerusalem, and if it can deal with the road behaviour there, it should be able to cope anywhere.
For cars that still require a driver the push to digitisation is continuing apace. Gentex was showing its very cool digital rear-view mirrors that take a camera feed from the rear and sides to give a much clearer and wider-angle image that regular mirrors. These are naturally a high-cost option but that won't bother the lucky owners of the Aston Martin DSB Superleggera that features its hybrid, cameras-equipped mirrors. I tried it out – of course, any excuse to get inside an Aston Martin.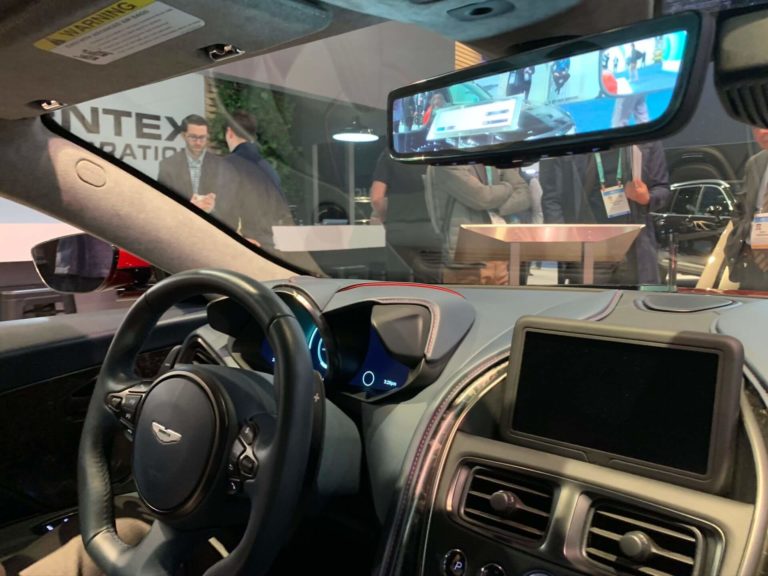 The company also showed vehicle pillar display, so that's actual display built into the outside of the cars – showing you that there's a security system in place as you approach gives information on the state of the car – such as tyre pressures.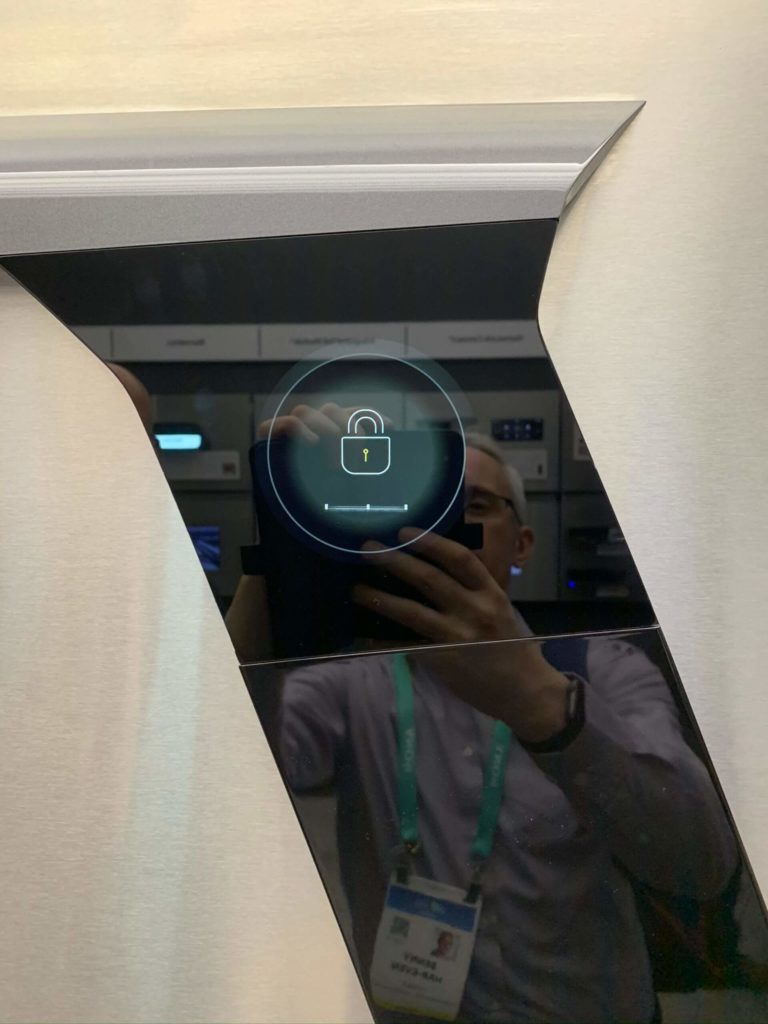 The show floor was also filled with numerous companies showing many examples of ADAS indicating that these types of systems are really going to be ramped up and become more mainstream in the next year.