The dust is starting to settle over one of the largest consumer electronics shows of the year so it's the perfect time to review some of the best technologies we've seen during a very busy week for Imagination in Las Vegas. CES 2013 saw a record number of consumer electronics companies exhibiting, with exciting new products being revealed for the first time and interesting trends or technologies unravelling around 4K TVs and Connected Home products. Indeed – and quoting the official figures from the show organizers here – CES 2013 featured more than 150,000 attendees, attracted over 35,000 visitors from more than 150 countries, unveiled some 20,000 new products, and utilised a record 1.92 million net square feet of exhibit space.
All about 4K and PowerVR GPUs
At CES this year, 4K screens were ubiquitous. And not just in TVs; Panasonic chose CES to reveal a tablet computer based on their 4K IPS screen technology. This was the primary focus of the show with all the major TV vendors promoting 4K screens as the next stage in TV evolution. A full range of screen sizes are now available for 4K, from 20-inch "retina" panels through 55-inch OLED and above to 110-inch LCD. But remember that whichever screen size is chosen for 4K TVs, they all have to effortlessly process and display 8 MPixel images. Content providers are gearing up for the 4K era; in the interim video up-scaling technology is a key technology trend on Blu-Ray players, set-top boxes and within TVs themselves, to create content suitable for 4K display from an HD source.
Imagination is helping enable this revolution, with both our PowerVR video and PowerVR graphics IP cores already more than capable of processing 4K content at the sustained high frame rates necessary to create breath-taking images. At the heart of the 'smart' revolution in consumer electronics, the PowerVR Series5/5XT and the newly-released Series6 GPUs set a new benchmark for high performance, ultra-low power graphics IP cores. These GPUs have increasingly become the standard for SoC designs targeting smart TVs and STBs in the past year. For example, LG's H13 is the first SoC to feature PowerVR Series6 graphics; aiming at high-end smart TVs, this platform offers over 100 GFLOPS of compute performance, while providing a comfortable fillrate for 4K resolutions.
HEVC is the enabler for 4K
As expected the new HEVC standard (also known as H.265) for video encode and decode is gaining market traction; there were several demonstrations at the show using HEVC 4K content. Trial broadcasts of 4K content encoded using HEVC are also underway.
Mobile video transcoding is also getting more and more popular. Intel's Atom Z2420 'Lexington' smartphone processor for emerging markets as well as their Atom Z2760 'Clover trail' SoC include both PowerVR graphics and video processors, demonstrating Intel's commitment to provide a complete multimedia solution for the mobile and embedded markets.
Overall 2013 is widely expected to be the year that 4K blossoms, from content creation through to delivery; hence SoC solutions with HEVC video decode and encode are beginning to become more and more important.
Smart TV becoming smarter
Manufacturers continue to make steady progress with their own smart TV software solutions. They all use complex UIs with multimedia sharing and content discovery capabilities but we will probably see a greater focus on how people interact more naturally with their devices in the near future. As smart TVs acquire hundreds of GFLOPS of processing power by integrating efficient mobile GPUs like Imagination's PowerVR Series6 or Series5XT IP cores, controlling your TV will become a much more intuitive experience, combining traditional interfaces with gesture or voice controls.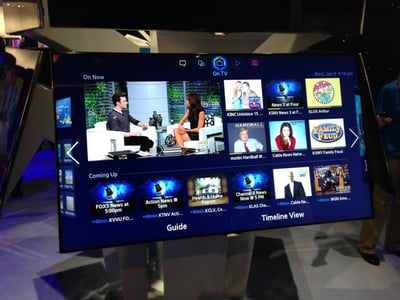 LG Smart TV UI
Meanwhile, Google TV 3.0 is becoming a viable platform for smart TVs, with TV OEMs eager to leverage the Android experience that's proven so popular on smartphones and tablets, and moves a familiar environment directly onto these TV platforms. Of course, the Google Play app store ecosystem comes with Android, so again this increases the GPU performance necessary for smart TV.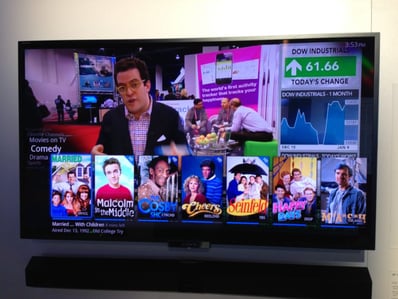 Google TV 3.0
Curved OLEDs, Laser TV, V.VoIP and ovens with PowerVR GPUs
TVs with curved OLED screens were demonstrated by both LG and Samsung. It's an interesting technology: flexible display could find application in smartphone and mobile but curved TVs may not enjoy full acceptance, given the cost delta with similarly sized flat screen. Either way the processing requirements for curved and flat screens remain identical.
LG had an impressive demonstration of ultra-short throw projection systems with their Hecto Laser TV. This creates a 100-inch picture from a distance of only 22-inches. Presently this only creates a HD (1920 x 1080) resolution picture, however the results are impressive. From a distance this looks like another large flat panel TV: the images are vibrant enough to be viewable in a bright room, due to the advanced projection technology. Overall, ultra-short throw projection technology is interesting because it has the potential to generate image sizes far beyond the capability of traditional TVs in a much smaller form-factor; and if successful it will no doubt drive demand for 4K and 8K projection systems in the future.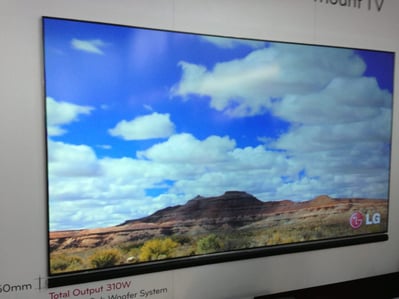 LG Hecto Laser TV
V.VoIP was another common theme across all Tier 1 Smart TV platforms, even those without an embedded camera. V.VoIP applications are often delivered as part of the TV app store but could be also found integrated within the device's list of pre-installed and pre-optimized apps. Skype is a simple solution to V.VoIP but if you want advanced features such as the ability to transfer calls seamlessly between devices then Imagination's HelloSoft V.VoIP technology offers a portfolio of highly-portable software for wireless and fixed consumer electronics products. The highly optimized client offers superior voice and video quality, efficient call switching and enables mass deployment of low-cost, power-efficient solutions. And features such as echo cancellation and noise reduction mean crystal clear V.VoIP for smart TVs, even in the busy living room environment.
SoCs with PowerVR graphics are starting to appear in some interesting places within the connected home. US appliance company Dacor have launched their new range of smart ovens with a 7-inch touchscreen interface called the Discovery IQ Controller. Integrating a Samsung SoC with an embedded PowerVR SGX540 GPU and Wi-Fi connectivity, the oven uses the Android operating system. In addition to being the main control panel for the oven, the system enables access to apps and multimedia through the Google Play store: the user may research new recipes or view cooking video demonstrations directly on the oven itself. The controller can be accessed and operated remotely – both inside and outside of the home – via a tablet or smartphone, whilst status messages are relayed back to the owner. All clever stuff and a vision on how the connected home is developing courtesy of Imagination's technology.
Final words
If we would have to summarize CES 2013 in just a few words, they would reiterate the continued drive towards convergence of all connected devices (not just those with a screen). There is a significant opportunity here for our partners to combine our MIPS,Meta, Ensigma and PowerVR technologies to provide flexible and differentiated products that address a wide range of performance points. Wi-Fi connectivity for example is now almost ubiquitous across "smart" products while the 4K resolution is an ideal fit for PowerVR, as graphics and video performance requirements increase to over four times today's specification. Video upscale issues can be solved using our PowerVR video IP; and future families will fully support HEVC video decode and encode which will be essential for 4K transmission and OTT services.